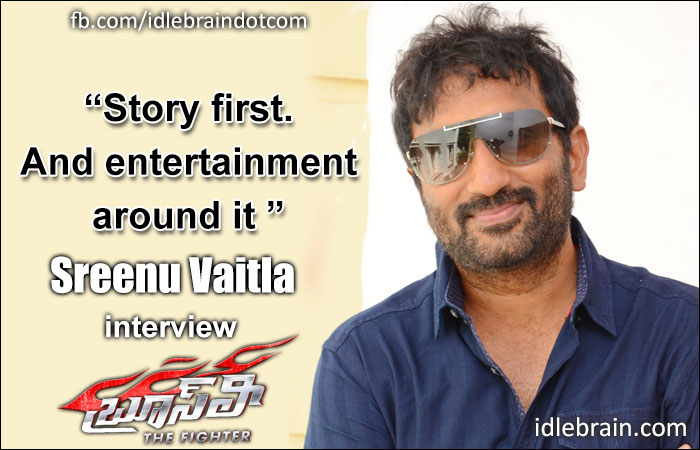 12 October 2015
Hyderabad
Sreenu Vaitla never used to acknowledge his faults and failures earlier. Now he is a changed man. He says that he learnt lessons from the failure of Aagadu and try to make good films henceforth. Here is an interview about his changed perspective and Bruce Lee -
What went wrong with your previous film Aagadu?
There are two ways of making films. One is to have a good story and narrate it by weaving entertainment around it. The other one is to have entertainment as main object and weave the story around it. I followed both ways. Aagadu belongs to second category. I always feel that family emotions are integral part of my stories. Aagadu doesn't have family emotions.
How did Aagadu failure affect you?
I felt sad for 3 days. But started working on Bruce Lee script from 4th day onwards. I learnt my lessons from failure and it helps me to be a better director in the future.
The entertainment in Bruce Lee is said to be different from your trademark entertainment. Don't you think it's risky?
I had one kind of entertainment in my films from Anand to Venky. From Dhee to Aagadu I had another kind of entertainment. Bruce Lee will have different kind of entertainment. People will not get disappointed with entertainment as long as it's fresh and flows integrally with the basic story.
As a movie lover, you like certain kind of films. As a director, you are expected to direct certain kind of films. How do you deal with that conflict?
Personally, I like intense love stories like Gangster (Hindi). Since I make big budget movies, I had to balance my movies with commercial elements. We have to deliver what audiences expect from us. In the future, I will try to deliver what I really like as a movie lover.
How is it like working with Ram Charan?
It was a superb experience. For me, creative freedom is more important than remuneration. I had that kind of freedom so far including Aagadu. But after a flop, it's difficult to get such kind of freedom. Thanks to Chiranjeevi and Ram Charan, I am given complete freedom while making Bruce Lee and I made sure that their trust in me paid off.
What do you think are the strengths of Ram Charan?
Ram Charan has inherited all good qualities of Chiranjeevi. Ram Charan doesn't hurt people. He has warmth. He has great maturity levels. I think it's because of his upbringing.
Ram Charan is an amazing dancer. More than his dances, I like the grace in his dances. I love his voice. I am fond of his hairstyle. That's why I asked him to have a thick hair like he had for Chirutha. His performance is balanced. He never overperforms any scenes. Lot of people doesn't know that Ram Charan has a great sense of humor. His sense of humor and comedy timing will be seen in Bruce Lee.
Tell us about convincing Chiranjeevi for cameo?
Chiranjeevi has done a cameo in this film because he liked the story and there is a situational demand for a big actor to a cameo in that scene.
Nadiya presence is spelling success these days. Chiranjeevi and Charan combo film Magadheera has done wonders. Is it the sentiment to have them both in Bruce Lee?
No. I used to have such sentiments till Aagadu film. If a film flops, I never touched a few actors though they were terrific performers. But now, I am a man who learnt lessons. Nadiya and Chiranjeevi are there in the film because they are required, not because of the sentiment.
What is the story of Bruce Lee?
It's a family story. Son in the family loves his family a lot. His family faces an extraordinary problem. The story of the film is about how that son fights and solves the problem. Kriti Kharbanda plays the role of Charan's elder sister and her character is pivotal in the film.
How did you execute the film in just 5 months?
We started the shoot in May and shot 1 and half songs. The main part's shoot was started on 7 June and we wrapped up the film on 5 October. It's the quickest big film executed by me. Everybody worked hard for it and we didn't compromise on quality. I give major credit to the cinematographer Manoj Paramahamsa in this aspect.
You have drinking scenes in all your films starting from Anandam. Can we expect one from Bruce Lee?
Yes. There is a drinking scene. But don't expect high entertainment from it.
What's your next project?
Heroes were decided before story was formed for most of my films. Now I am having two fresh story lines. I will decide about hero after completing the script. I am hoping that these story lines will take me to next level.