Story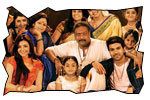 Balaraju (Prakash Raj) is a righteous man who wants to help his village and people around him. He makes his son a doctor and builds a hospital so that his son can take care of it. But his son prefers going to USA. Balaraju breaks ties with his son. After a couple of decades, Balaraju's grandson Abhiram (Ram Charan) comes to know about the history. He wants to reunite his father and grandfather. Abhiram lands in his grandfather's village as an agriculture student. Rest of the story is all about how he wins over the heart of people around him and unites the broken ties.
Artists Performance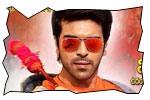 Ram Charan:: Ram Charan didn't have opportunity to do sensible roles in the past except for Orange movie. He grabs the opportunity to work for a family drama with both hands and shows his other side in this movie. There is an improvised dialogue delivery in few scenes where he mixes comedy with mass elements (like Chiranjeevi does). He is extremely good in emotional scenes.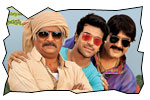 Others: Prakash Raj and Jayasudha have brought in a lot of culture to the characters they have played. We can't imagine these two roles without them. It's Srikanth who steals the show because his character is very entertaining. Srikanth makes us laugh amidst emotional scenes. Kajal Agarwal looks glamorous and there is back nudity in a scene. Kamalinee Mukherjee is apt and she has a back nudity scene too. Rao Ramesh did a venomous character with ease. Posani Krishna Murali entertains with limited screen time. Adarsh Balakrishna gets a meaty role as a hot-blooded village baddie and justifies the role.
Technical departments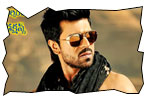 Story - screenplay - direction: The basic story is about an NRI youngster going back to his native village in search of his roots. Krishna Vamsi has handled the story and scenes very well. He fills up most of the scenes with right amount of emotion. The scenes involving Ram Charan, Prakash Raj and Jayasudha are handled exceptionally well. He has injected entertainment through the character of Srikanth and the romance thread of lead pair. The screenplay of the film (how he created conflicts and resolved them) is interesting. But, the flow of narration is inconsistent. The take off point is not handled impressively. The climax episode should have been blended into story more convincingly. Krishna Vamsi sticks to his strengths and makes sure that he delivers an interesting movie. The best scene in the movie is the pre-climax episode in which Jayasudha opens up to Prakash Raj and tells her inner conflict.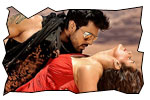 Other departments: Three songs (Neeli rangu cheeralona, Ra Rakumara and Bavagari Choope) scored by Yuvan Shankar Raja are shot well on screen. The 3rd song (Gulabi Kallu) is a disappointment. Background score is alright. Cinematography by Sameer Reddy is good. I have liked the shot (drone camera?) in which hero is introduced in village. Dialogues are situational and well written (without going for prasa/pun). Editing should have been smooth in some scenes. Production values for this film are optimal.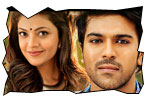 Analysis: Krishna Vamsi has touched the an excellent subject in Govindudu Andari Vaadele and made sure that there is something for every class of audiences. The script of the film has potential to become a classic if executed well by taking time. But the output look inconsistent and hurried up. The heart touching content makes you eyes moist and there is entertainment too. Ram Charan should be commended to do a pure family drama when comedy and entertainment is ruling the roost. His risk is paid off and GAV will be a big hit. You may watch this roller coaster ride of emotions despite inconsistencies and unrequired action sequences!!