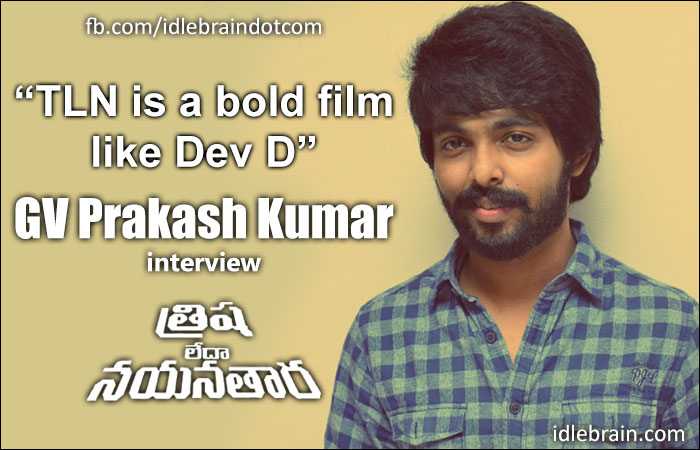 27 October 2015
Hyderabad
Singer, music director, producer and actor - GV Prakash Kumar is a multitasker. He has got introduced to film industry as nephew of AR Rahman and went on to create his own identity and achievements followed. Here is an exclusive interview with GV Prakash Kumar whose film Trisha Leda Nayanathara is going to release on 5 November -
Background:
I am born into musical family. My grandfather RK Shekhar (father of AR Rahman) was a great music director and worked for several Malayalam films. I was made to sing 'Chikku Bukku Rayile' when I was six by AR Rahman. The kid's voice in that song was rendered by me. I feel that singing and music is in my genes. I was pitching in songs before even knowing about pitching. I was running a school band during my school. I assisted several music directors like AR Rahman and Vidya Sagar at an young age. I was the keyboard player for Pawan Kalyan's Bangaram movie. I have also worked for Rang De Basanthi while assisting AR Rahman.
I made my debut as music director with Veyil film which is produced by Shankar. My first straight Telugu film as music director was Ullasanga Utsahanga. I have also worked for Darling, Endukante Premanta, Yuganiki Okkadu, Raja Rani, Nanna and Ongole Githa. I have worked in Hindi films as music director for 3 of Anurag Kashyap's films (Gangs of Wasseypur I, II & Ugly). I have also worked for Akshay Kumar's Joker. I have also produced a film.
During the time of Raja Rani, Murugadoss has come up with an offer to make me a hero. He wanted to produce a musical with me as hero in association with Fox. Later on, the project has got delayed. But the word has come out that I was to debut as hero. Then Allu Arvind has cast me in Darling film which is a remake of Telugu blockbuster Prema Katha Chithram. It was a blockbuster in Tamil too. My second film is Trisha Illana Nayanathara. This film has become a big hit and collected 4 times the budget. The Tamil trailer has garnered 2 million views on youtube.
Tell us about Trisha Leda Nayanathara?
I play the role of an youngster called Jeeva who is popularly known as virgin boy among friends circle. This is my 1st film as an actor in Telugu. As the title suggests, this movie tells youth not to lose hope. If you don't get Trisha, you might end up Nayanathara. If you don't get Nayanathara, you will get somebody else. The era of a guy becoming devdas after love failure is a thing of past. New generation knows how to move on. TLN is a next generation cult love story. It's a bold film like Dev D with ample glamor and double meaning dialogues. It will have best of the dialogues. We are planning to release the film on 5 November in over 200 screens in Telangana and Andhra Pradesh.
You are having 4 career options (singer, actor, music director and producer) now?
I sang for films at the age of six when I wasn't even know what goes into playback singing. I wanted to become a music director. I didn't have any acting ambition and I became an actor by accident. My aim is to excel in all four fields equally well. I have not stopped singing and music direction because I have become an actor. I will be composing music for Ilayathalapathy Vijay's 50th film. My dream is to have AR Rahman and Yuvan Shankar Raja to compose music for films I have acted in. Farhan Akhtar is my biggest inspiration in this aspect.
Your first two films as an actor are hits. How do you judge films?
I have worked for almost 50 films as music director. When you work for so many films, you will develop judgement about what works with contemporary movie lovers. I would like to travel the commercial route till I establish myself as an actor. Then, may be I will start experimenting.
Tell us about your next film Bruce Lee. Are you going to change the title in Telugu?
No. Just like how they released it as Bruce Lee 2 in Tamil, I might release my film as Bruce Lee 2 in Telugu. Bruce Lee is an action comedy with a bit of dark humor in it. It will be like action comedies that were made in 80's (like Rajnikant's Guru Sishyan). I play the role of a coward. His mother makes him watch Bruce Lee films during childhood so that he learns how to defend himself.
What are your future films?
My 3rd film will be Bruce Lee. I will be doing another film with Sam Anton who directed Darling. I will do a film in the direction of M Rajesh who directed SMS.