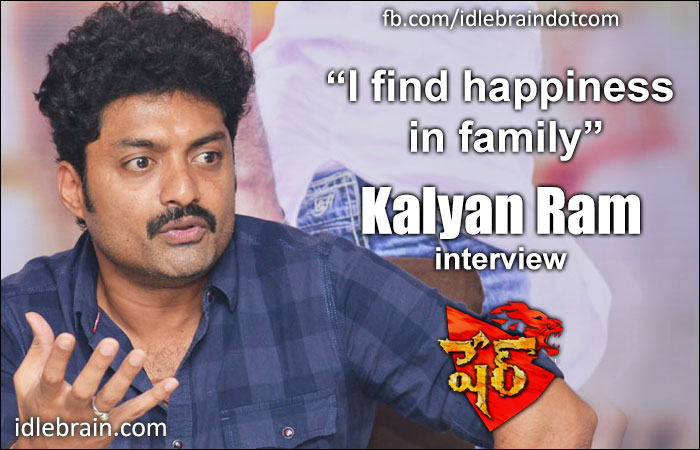 29 October 2015
Hyderabad
Kalyanram Nandamuri who is also the producer of most of his films has let a new producer Komara Venkatesh to produce his latest movie Sher in the direction of Mallikharjun. Sher is hitting screens on 30 September. Here are the excerpts of an interview with Kalyanram -
Tell us about Sher?
I work as an engineer and my character is like a boy next door. Sher is a commercial family entertainer. Director Mallikharjun has directed my second film Abhimanyu and another film Kathi. I have full confidence in the ability of Mallikharjun which is why I offered him to direct Sher. I wish that Sher will become successful for the sake Mallikharjun.
Your last film Patas was a hit. Did you do any script changes for Sher after the success of Patas?
The story of Sher was okayed even before the start of shoot of Patas. We haven't changed the storyline, but added some more entertainment quotient to heroine characterization and with the scenes involving Brahmanandam.
What do you think has gone wrong with Om 3D?
The twisted narration and serious tone has marred the experience of the audiences. If you are narrating a serious subject, then it has to be exceptionally good. Otherwise, it should be an entertaining film where entire family watches it to forget mundane problems. Too many flashbacks, too many twists and narrative style has failed to engage audiences.
Did you learn from the failure of Om 3D?
I felt let down when Om 3D didn't work. Now, I feel that I am in a position where hits and failures affect me psychologically. If I get a success, I think less. If I get a failure, I analyse more. The failure of Om 3D will not deter me from experimenting in the future.
Why did you become emotional in Sher music launch?
If you criticize my profession, I am completely okay with it. But, it somebody criticizes my family, I can't take it. For me, family comes first. I find happiness in my parents well-being and in my family. I feel that my achievement lies in keeping my family happy and insulating them from rumors.
My Dasara turned out to be a fabulous one because I have succeeded in making my son learn cycling. I took him to the roads of our colony and made him learn cycling. Things like these give me immense joy. I don't respond to rumors and try to insulate my family from those rumors. I know what I am and my family trusts me.
What is you next film and when can we expect a film with NTR?
My next film is yet to be finalized. There will be a movie with NTR as hero soon. I will announce details officially at a later point of time.