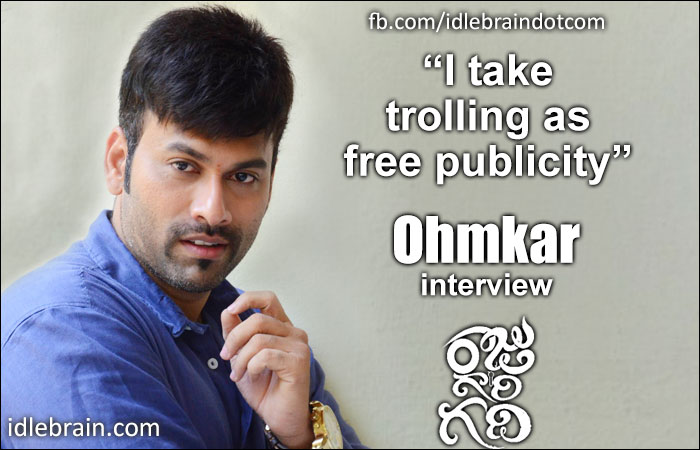 29 October 2015
Hyderabad
Ohmkar is probably the only male anchor who became so popular in Telugu TV. His long term goal had always been to become a director. He became a successful director with Raju Gari Gadhi which is giving multifold profits to the buyers. Here is an exclusive interview with idlebrain.com in which he talks about his life journey -
Background
My father is a doctor and we belong to a middle class family. I was ambitious right from the childhood. I wanted to be famous. I had two options to become famous - one is to be a cricketer and second one is to be a movie director. When I told about this to my dad, he asked me to concentrate on studies and complete graduation. He said that he will let me be whatever I want if I complete graduation. I have completed bachelor in physiotherapy. After completion of graduation, I got a job in Medwin. I asked my dad if I can enter films. He knows a small time producer who was doing a small film with Akash as hero. I went there for 10 days to observe how the film is made. I didn't like the attitude and the language used by the assistant directors and production team. I told my dad that it's not my cup of tea. I have an younger brother and an younger sister to take care. I started working for Medwin again.
One day I saw an advertisement in Deccan Chronicle regarding a position of male anchor in IN cable. I joined IN cable as an anchor and worked there for an year. I had minimum resources and it helped me understand the technicalities. At that time, anchoring was dominated by female stalwarts like Suma, Jhansi and Udaya Bhanu.
Then I joined Aditya Music (which was later rechristened as Gemini Music). I hosted a program called Ankitham. It changed my life. I worked there for one year. After that I got an offer from Vishnu Induri for a reality show called Maya Bazaar for Zee Telugu. I was earning around 5000 rupees as monthly salary during that time. When I explained Gemini Kiran about my decision to change channel, he supported me and let me go.
I have joined Zee Telugu in it's early days and worked for Maya Bazaar for over an year for 50 episodes. I learnt doing online (live editing of TV shows) over there. Then I approached Zee Telugu with the concept for a kids show titled Maya Dweepam. I started my production house OAK entertainments and produced Maya Dweepam. It has generated an unexpected rating.
Then we started another show called Aata which is modeled after Naach Baliye on Star TV. Anuradha - Zee Telugu's programming head supported us a lot. Aata created career for many choreographers and singers. It gave a career break to me.
During the 3rd season of Aata, my brother Ashwin participated. But nobody knew that he is was my brother. He entered into finals. Then we realized that people might perceive that some fixing might have been done if he wins the title. Hence I requested Ashwin to voluntarily get eliminated. He gave 'Raayini' song from Dasavatharam as his last performance which has got standing ovation. After his performance, I have revealed that he is my brother and eliminated him. I have also announced that I will make it up by launching as hero soon.
Chinni Krishna came up with the story of Genius. We have started the film with Ashwin as hero in Dasari Kiran production. We launched the film in a big scale at Green Park hotel with Allu Arvind doing honors. After a few days of shoot, Dasari Kiran said that we were running into financial crunch and we need to replace hero for project survival. Ashwin understood and step down as hero. He has acted as one of hero's friends in Genius.
Genius was a commercial failure because of three reasons. One is cost escalation. We planned it for a budget of 6 crores and it went up for 10 crores. We planned for 70 working days and it went on for 100 days. We also had a wrong release date of 28 December. Genius was taken out of theaters due to Sankranthi releases (Naayak and SVSC). There are the three mistakes I made. I am a quick learner and decided not to repeat those mistakes again.
Raju Gari Gadhi
I wanted to do a small budget film. Horror comedy is the only viable genre. I have allocated a budget of 3 crores. I went and met Nimmagadda Prasad (MAA TV). He liked the concept and gave 1.5 cr as satellite money even before we started the shoot. I mobilized rest of the money to make Raju Gari Gadhi. Union strike happened immediately after we started the shoot. It went on for a month. The wages got doubled and budget might shoot up by another 40 lacs. I made adjustments to the script to reduce 40 lacs.
We have planned for 50-days shoot and wrapped it up in 42 days. We were ready with the first copy by January 2015.
We wanted to title the film as 'Mahal', but it was already taken. I thought about a crazy title and decided that 'Raju Gari Gadhi' would create good curiosity though the film is less about Raju Gari Gadhi.
I wanted to launch audio on 17 September for Vinayaka Chaviti. We made a small video with lots of celebrities (including Venky and Nani) creating curiosity about Raju Gari Gadhi. That video went viral and created craze for the project. On September 17th, we announced the movie and released theatrical trailer. The response was so magical that, we sold the movie to Sai Korrapati and Anil Sunkara in 24 hours. They gave advance to me without watching movie. They have decided to release RGG on 4 December. When Akhil got postponed, they saw an opportunity and released the movie for Dasara on 22 October though we got very less number of theaters. When hit talk was generated, the number got doubled by Monday. They are increasing screens in 2nd week as well. Most of the exhibitors have started making profits already. Made with a budget of 3 crores, RGG is poised to collect a theatrical share of 10 crores. I am indebted to Nimmagadda Prasad, Sai Korrapati and Anil Sunkara for their faith in me.
There is a play scene between Poorna and Shankar with references to Pawan Kalyan and RGV. Is it a reply to RGV's tweets targeting Pawan Kalyan?
No. I am a huge mega fan when I started my career. I am a big power star fan. We wrapped up shoot in January. Much before RGV targeted Pawan Kalyan. When people fear ghosts, they use God's photo. Since Pawan Kalyan played Lord Krishna in Gopala Gopala, we used his still. Since Shakalaka Shankar is known for his RGV mannerisms, we created that playoff!
You are being trolled a lot. How do you handle it?
Did you notice any other anchor being trolled in such a way? I guess, I am the only one. I take it as compliment. Some people imitate me in good light and some people imitate me to make fun of me. They do it in audio functions and events happening in abroad. This is something I can't stop. I take it as free publicity and move on. I am a positive guy.
Why is your name spelled as Ohmkar instead of Omkar?
After the debacle of Genius, a famous numerologist has called my brother and told that Omkar name is bad as per numerology as it ends up in 16. He has suggested Ohmkar which ends up in 30. I was also going through bad phase with Genius flopping and Human Rights protest on having children participants in Aata. I feel that luck is as important as hard work and talent. I feel that change of spelling helped me now.
What's OAK entertainment?
O, A and K stand for Ohmkar, Ashwin and Kalyan. Ashwin is my brother and hero of the film. Kalyan is the executive producer. I am established now and I want to take care of Ashwin and Kalyan henceforth.
What's your future projects?
I have two scripts ready with me. One has emotional content that suits big star. I plan to make a film with big star in half the budget without compromising on the remuneration of the star. Efforts are on. Let's see how it goes.