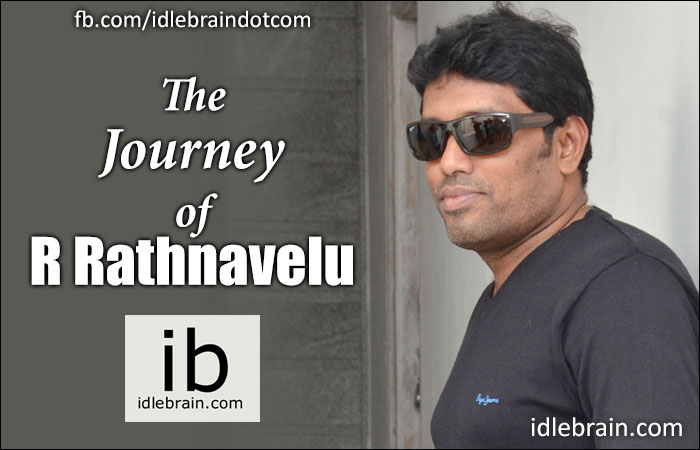 24 November 2015
Hyderabad
Rathnavelu is more than a cinematographer - self disciplined, passionate and focussed. He believes that cinematography is an integral part of filmmaking where involvement starts at script level and ends after delivering the final product. Here is an exclusive interview with this highly successful cinematographer R Rathnavelu
Background:
I come from a non-filmy family. I am passionate about photography since childhood and used to take photographs using a still camera. I was passionate about taking photos of nature. I used to be a fan of Mani Rathnam and PC Sreeram combination films and used to watch them repeatedly for cinematography. It was PC Sreeram's films that inspired me to become a cinematographer. When I expressed my wish to parents, they wanted me to complete graduation first. I completed B.Sc in Physics and then joined Film and Television Institute of Tamilnadu with specialization in cinematography. Great cinematographers like PC Sreeram, Rajiv Menon and Ashok Kumar have graduated from FTIT. Rajiv Menon came to institute to shoot for a commercial and I was amazed by looking at his techniques. He was five years ahead of his contemporaries in terms of techniques. I met him and expressed interest to work for him. He has asked me to complete my film school and meet him. Getting placement as cinematographer was very difficult. During my graduation time, Door Darshan has given advertisement and it required 150 cinematographers. FTIT was producing 10 cinematographers per batch. Most of my classmates applied for it and joined DD. But I had a strong fascination to work for films. I met Rajiv Menon after graduating from FTIT. He has interviewed me in 1993 and took me in. I had worked with him for over 40 commercials. I was lucky that he was selected as cinematographer for Maniratnam's Bombay film. It was a dream come true to work in cinematography department for Manirathnam's film.
I started working independently after Bombay film. I have done a few commercials. My first feature film was Aravindhan. It was a commercial failure. I have decided to wait for a good collaboration. Bala has asked me to work for Sethu. It was his debut film which had a realistic story. Hero is dynamic in first half and becomes a mental patient in second half. I had to choose different color pallette for first half and 2nd half. For the first time, I have used dirty green color for mental asylum backdrop in Indian cinema. It was appreciated and I had won awards for cinematography. I had offers for 13 films after Sethu release. But I had to wait for the right script again. Bala came to me for Nanda film. Surya used to have lover boy image and Nanda made him an action and violent hero. I have experimented with lenses and used wide-angle lenses extensive for Nanda film. Cinematographers use them to exploit vast backgrounds. But I used wide-angle lenses so aggressively that I took extreme closeups. PC Sriram complimented my work that Nanda has the best usage of wide-angle lens in Indian films. Then I have worked for 8 films and all of them ran for 100 days. I got Bollywood offers, but was comfortable working as a king in Tamil/Telugu than going to Bollywood and struggle there.
Arya
One day, Dil Raju has called me. He made me meet Sukumar and I was given a narration. I was extremely impressed with script. Sukumar had seen my Tamil films and insisted on hiring me. That's how Arya was made. I played with colors to make an impact. I used blue color for subdued heroine character. I used energetic colors for Bunny character. I used dark colors for Siva Balaji character. I have used soft-lighting so that entire film looks pleasant to eyes.
Jagadam
My second straight Telugu film was Jagadam. I have used warm and rusty colors in that movie. It's difficult to maintain such colors consistently. But I got compliment for the consistency in that movie. I have also used Super35 camera for that first time with Jagadam and I am happy with the output.
1 Nenokkadine
Nenokkadine is a tough script to any cinematographer. It's the most challenging film I had done in my career. There are some scenes which are illusions, but should look like reality. There are slight differences between real shot and illusion shot. Hence we need to shoot them again by showing those nuances and intricacies. One example is the scene in which Mahesh Babu kills with a beer bottle. It's an illusion. In that scene, you can observe light falling from top. I have interpreted as the light from hell.
The London basement fight is one of the most satisfying works I had done. A London-based gaffer was working for the film. He has worked for several Hollywood films including Shutter Island. It's a closed parking lot and as per the story, the power goes off. I have to shoot using the light which is supposed to be the bike's head light bounced off walls. Director wanted a power generator. Producers are concerned that using low light might be misinterpreted as compromise in production values. I have to satisfy both director and producers with my work. I used only 3 torch lights and 3 LEDs to shoot it. Since it's a closed car parking, I needed to create smoke effect. We pumped smoke in air. The gaffer who had been suspicious till then came and hugged me after looking at the output in monitor.
We have used Red Epic camera to shoot 1 Nenokkadine. When digital camera was introduced in 2003, it was a failure as it didn't fit in the entire workflow. We didn't have proper post-production technology to complement digital camera. Things got improved and now we have seamless workflow in post-production to complement digital camera.
Mahesh Babu complimented me that he has his best skin tone in 1 Nenokkadine film.
Robo
I have the habit of preparing camera report for the script. Each scene will be written from camera point of view. The camera report for Robo has 1600 pages in it. Post-production of the film takes place in 20 different places at the same time. All of them should on same plane to get the perfect output. My camera report helped in graphics and post-production.
There were some shots in Robo where we have to shoot one each with scientist and chitti. Generally, they shoot one in real scenario and enact the other one using blue matt. But we shot both scenes in real sets. It was a difficult task to repeat the same scenario. I used white, metallic silver and chrome color while showing good Robot. And used black, grey and red color to show bad robot. The team that did animatix for Hollywood films like Jurassic Park and Iron Man has did work for Robo. Robo is the first Indian film which is done using animatrix platform. It cost around 1 and half crore rupees to create Robot using animatrix.
Kumari 21F
Kumari 21F is an young and vibrant script. Initially Krishna Nagar was considered as backdrop to the story. But, I wanted a dreamy and isolated colony. If we shot with Krishna Nagar background, we have to create a noisy and crowded environment. I also wanted to shoot in confined space (small apartments). Generally cinematographers prefer vast working space as it allows them to manoeuvre the equipment. I have played with lighting. Lighting plays a big role in Kumari 21F. I shot the film with less equipment and used mostly natural light. I tried to communicate the emotion of scenes through visuals using light and composition. Visuals of climax are being talked about now. During the last 15 minutes of the film, there will be less dialogues and visuals convey the emotion. I and Devi Sri Prasad have worked for Kumari 21F without taking any remuneration as a mark of respect to Sukumar.
Became a fan of Mahesh Babu
I am currently doing Brahmotsavam with Mahesh. Mahesh Babu is like a kid when it comes to expressing his joy. After seeing the first frame on the monitor for 1 Nenokkadine film, he came to me and said that the skintone is so real and commended me that I am the only one to get such a skintone onto the screen. He is an amazing actor. He gets into groove so seamlessly from action hero to family hero. I have become a fan of Mahesh for his professional work and personal attitude.
Will direct a film soon
I have the experience of working with finest directors like Bala, Gowtham Menen and Sukumar. I discuss script with directors before accepting the film. I have direction orientation. I will direct a film soon.