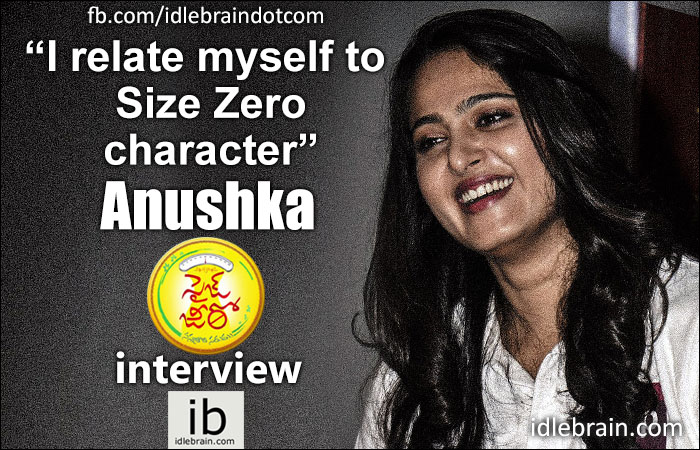 25 November 2015
Hyderabad
Anushka is probably scaled heights as a heroine which no other heroine in Telugu has achieved for decades. Anushka spells grandeur and success these days. After the successes of Baahubali and Rudramadevi, Anushka's 3rd release of the year Size Zero is hitting marquee on 27 November. Here is an exclusive interview -
From a glamorous heroine in Super (2005) to a remarkable heroine with 3 of most craziest projects in 2015 (Baahubali, Rudramadevi and Size Zero). Did you foresee such a phenomenal career?
It was director Puri Jagan and producer Nagarjuna who saw something in me to cast me in my debut film Super in 2005. But, it was Arundhati (2009) that turned tables around for me. Total credit goes to Shyam Prasad Reddy and Kodi Rama Krishna. Lot of people advised Shyam Prasad Reddy against me for Arundhati as it's a risk to cast me for the role. But Shyam Prasad Reddy knew that he would pull it off with me as main lead. Arundhati was the biggest stepping stone for my career. After Arundhati, I have gone many similar scripts and tried a couple of them. Then Krish came up with a character of sex worker in Vedam. I was selected for Arundhati. But for Vedam, I had a choice. I went by my gut feel and did the role of Saroja - a prostitute. I am proud of that character.
My association with Rajamouli goes a long way. I don't have to think twice when Rajamouli offers me a role. That's how Baahubali happened. When Guna Sekhar narrated me the script of Rudramadevi, I was fascinated. The story is almost like a fiction, but it really happened.
How did Size Zero happen?
PVP called me and asked me to listen to a script to be directed by Prakash. I went to the wedding of Prakash and Kanika a couple of weeks back. Kanika came to me and narrated me the script. I got connected to the character.
Story of Size Zero is about mother of an obese girl trying marry her off to any eligible NRI groom. The girl doesn't care about her outer personality and thinks that a prince charming will come to marry her.
How did you connect with the obese girl character despite being such a highly successful actress?
I worked as school teacher and yoga teacher before becoming an actress. I understand what goes into being obese. Some people are obese because of genes (hereditary), medical reasons and due to body composition. I identify with it because like how obese girls are under scrutiny in real life, actresses too are under immense public scrutiny. We have to ride the waves of people's expectations.
Beauty shouldn't be measured with an inch tape. Eat healthy and be physically active. Don't wait till life doesn't give you a choice.
We should follow 'earn your meal' adage that's used by our ancestors. They used to go for hunting and then get the catch to eat. Since, earning money isn't physically taxing anymore, adults should workout to have a meal and children should play (physical games, not on iPad) to earn meal.
Anushka is regarded either a glamorous heroine (Vikramarkudu/Billa) or a fierce heroine (Arundhati/ Rudramadevi). You look obese in Size Zero. Why do you think audiences get motivated to watch an obese Anushka?
Connectivity to the character! My character in Baahubali as an example. I play an old woman with highly unglamorous makeup. But, she has a mission in the film and fits in the larger scheme of things. Audiences wanted her to taking revenge through her son.
My character in Size Zero is obese. But, it's an identifiable character. Though, Size Zero title looks elite, the content is a middle-class content. You will understand what I say now when you watch it on big screen!
Actors develop a sense of judgement about likability of film-under-shoot over a period of time. What's your gut feel about Size Zero?
Size Zero is a simple film. When I go out, I stand before mirror. If I like my look, there are chances that others too end up liking my look. If you had enjoyed moments while doing shoot, movie will work well with crowds. I enjoyed moments while shooting for Size Zero. It will work at box office, but can't predict the scale.
How much weight did you gain for Size Zero and how are you losing it now?
I gained 17 kgs for Size Zero. Now, I am in the process of losing it. I had a shoulder injury while performing sword fight for Rudramadevi. I am getting physiotherapy from Mr. Kannan, Chennai. Losing weight is a slow and gradual process. I had reduced 7 kgs so far. My daily routine includes physiotherapy, workout and healthy food.
When is Baahubali 2 starting?
The shoot will start on 17 December 2015. I will be attending on 17 December and then join for my portion on 26 December.
Are you doing any other films?
Yes. I have signed Singam 3 with Surya. Shooting will start in December 2015.