Story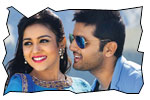 Nitin (Nithiin) is a bubbly youngster who is smitten by Nandini (Mishti) at the first sight. Nandini is a multifaceted person who makes a living by giving tuitions in various art forms to kids. She uses Nitin to rent a penthouse owned by an elder man Reddy garu (Nassar). Rest of the story is all about why Nandini uses Nitin and how Nitin responds back!
Artists Performance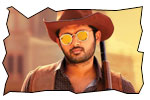 Actors: After success of his films Ishq and Gunde Jaari Gallanthanyyinde, Nithiin has added more of action to this film. The characterization is also peppier. He didn't shy away from doing gay pretension in one of the comedy scenes. His dances in title song are good to look at. Mishti Chakraborty looks good and acted well. Nassar has played a vital role. The comedy by Ali should have been fresh. Dhanya Balakrishna played heroine's friend.

Technical departments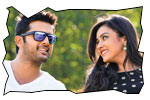 Story - screenplay - direction: Karunakaran is known for romance, fun elements, montage songs and family emotions. He has succeeded in getting romance, fun elements and family emotions right in the first half. But the content in second half doesn't suit the strengths of Karunakaran. Most of the second half happens in Barcelona with Ali playing the bakra. Second half should have been more convincing and more entertaining. A few fun scenes in first half are hilarious (kid pulling tummy inside after noticing heroine, the secret behind heroine's tutions etc). Screenplay in second half is not good.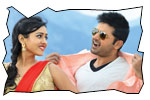 Other departments: Music by Anup Rubens is just okay. Title song is shot, choreographed and placed well. Cinematography by I Andrew is nice, but the Barcelona episodes are not vibrant enough. Dialogues written by Harsha Vardhan are very good. Editing is alright. Production values are good.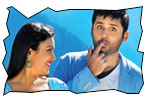 Analysis: Though starts off on a unimpressive note, the first half of the film is nice and entertaining with Karunakaran's trademark episodes. Second half goes awry as the story happens in Barcelona. Strengths of the film are Nitin and first half. The screenplay in second half should have been better. We have to wait and see how normal audiences embrace the movie.