Story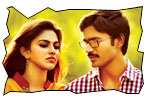 Raghuvaran (Dhanush) is a BTech graduate in civil engineering and belongs to a middle class family. He is passionate about civil engineering and doesn't want to make money by shifting into software field. His straightforwardness is another shortcoming. He takes life easily, but still eyes only civil engineering as his career. A key incident makes him more determined. Raghuvaran BTech film is all about how passionately he achieves a goal and becomes a role model.
Artists Performance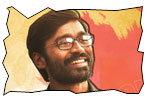 Actors: Dhanush has oodles of talent and is a perfect guy to play any underdog role. He essayed the role of a misunderstood and passionate guy with perfection. He has used Rajinikanth's style in heroism oriented scenes and dialogues. Amala Paul is adorable with demure looks. But, it's Saranya who steals the show as a mother. You will empathise with her throughout the film. Samudrakani (director Sambho Siva Sambho) is wonderful as a strict father. Vivek entertains in the second half. Dialogues written to him are humorous. Surabhi who played important character is alright.

Technical departments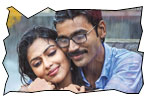 Story - screenplay - direction: It's a nice and idealistic story with ample scope for masses and family crowds. The best thing about this movie is casting and characterizations. The director has carefully woven mother sentiment into this youth subject. It's a story of a middle class family. The character of Dhanush appears irresponsible to start with, but the angle of passion towards his civil engineering career is revealed later. First half of the film will be extremely likable. Since second half has entirely different orientation, it's not attractive as first half, but the mother sentiment makes sure that second half makes sense. There are quite a few endearing scenes (like Dhanush beating goons after realising that father is not in the house, the entire camaraderie between the two wheeler and Dhanush, hero watching TV serials, hero/heroine introduction scenes and romance episodes. etc)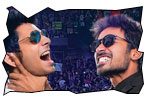 Other departments: Music by Anirudh is good and background score is excellent. Cinematography by Velraj (director too) is superb. Dialogues written by Kishore Tirumala are a big plus to the movie (Kishore Tirumala is going to direct a film of Ram in Ravi Kishore's production). They are refreshing compared to the dubbing dialogues we hear these days. Editing by MV Rajesh Kumar is fine. Lyrics (especially mother song) written by Rama Jogaiah Sastry are meaningful and appropriate. Sravanthi Ravi Kishore has done the dubbing of the movie with highest quality and finesse.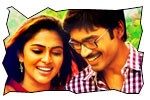 Analysis: First half of the film is nice with youth elements and Dhanush's characterization. Second half has different orientation. Plus points of the film are first half, Dhanush characterization and dialogues. On the flip side, second half might disappoint the viewers who expect it to have the same fun as first half. I would have loved to see a Telugu hero do such kind of film. On a whole, Raghuvaran BTech is a decent movie and you may watch it!!