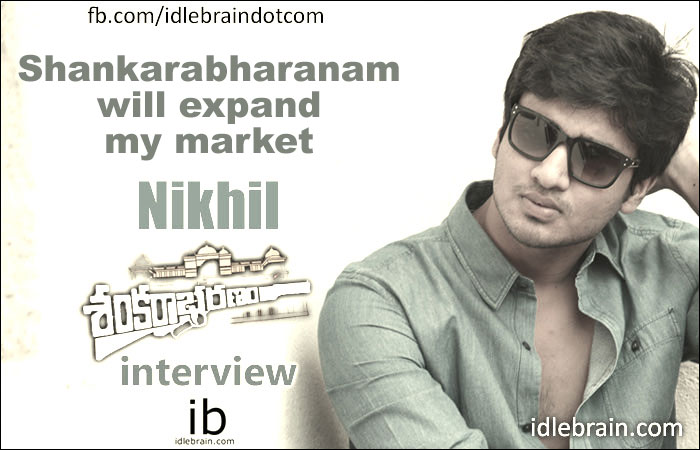 02 December 2015
Hyderabad
Nikhil who has delivered 3 different films and scored successes with them is all set to deliver an entertainer in the form of Shankarabharanam. He feels that Shankarabharanam is a detour from different films he is doing and looking to expand his market. Here is an exclusive interview with idlebrain.com -|
Can you analyze the result of your last movie Surya vs Surya?
Producer has sold the movie for profits. Distributors broke even. It's not a hit like Karthikeya and Swamy Ra Ra. But, it gave confidence that a different film with such a whacky concept can be made and will get encouraged. I will continue doing different films.
You have had a string of 8 flops till Swamy Ra Ra happened. You scored flop earlier because you had done routine commercial films. Why did you choose to do Shankarabharanam which looks more like a commercial film?
I accepted Shankarabharanam not because of Kona Venkat. I did it because I loved Phase Gaya Re Obama film. Kona Venkat took the central point of Phas Gaya Re Obama and added what Telugu film lovers love. I like Kona Venkat for his honesty. After the release of Pandaga Chesko, he said to me 'ituvanti template cinema malli teesthe, janaalu intikochi calling bell kotti maree kodatharu'. He has made a conscious effort not to follow routine template with Sankarabharanam. There are no sets and we shot the entire film in real locations.
I have done three different films. Shankarabharanam is a detour. I had been missing a section of audiences because of different films. My market is weak in territories like Ceded and Vijayanagaram. I am hoping to gain market in these areas with Sankarabharanam. Though Sankarabharanam has masala outlook, it's has an idealistic story at heart.
There are no gravity-defying stunts in the movie. We followed logics when it comes to physics. Only one item song is there. Rest of songs are montage/situational songs.
What's the story of Sankarabharanam?
I play a character of NRI who doesn't like India much. But he is forced to visit Bihar due to certain unavoidable circumstances. Bihar is known for rampant kidnappings. Various kidnapping gangs are after him as they think he is worth 100's of crores. That's the premise of Sankarabharanam. It's a crime comedy.
How did Sankarabharanam helped you as an actor?
I have never done the role of NRI in the past. I tried to give a balanced performance (neither overdoing nor underplaying). It's a challenging task for me, but achieved it!
Tell us about other important characters?
Nanditha plays the character of a local Bihari girl whose is in love with USA. There is no love story in the film. It not a family film too. Anjali plays the role of a lady don which is played by Neha Dhupia on the original.
Was it tough to shoot in Bihar?
Kona Venkat wanted real locations for the film. We shot the film mostly in the borders of Bihar neighboring MP and Maharashtra. It was a tough experience. We used to get up at 4 am and reach location by 7 am. There are no hotels. But, locations are fantastic and authentic. Very picturesque. We shot most of the film at Motihari in Bihar.
Shankarabharanam is witnessing a big release. How do you feel about it?
It's scary. My film Karthikeya was released in 20 theaters in Vizag territory. Shankarabharanam is going to release in 75 theaters. In Hyderabad city, there is 80 theaters release for Shankarabharanam. In USA, Shankarabharanam is releasing in more than 90 screens. At the same time, the demand is coming from exhibitors. Hence there is such a big release. I am always tensed during my releases. This time too I am very nervous. My market is growing with Shankarabharanam.
How do you handle the race among heroes in films industry?
Success is a must here. Nobody helps you if you fail to succeed. Fortunately, there are more number of producers and less number of heroes. That's why heroes keep getting projects despite delivering string of flops. I had 8 continuous flops before Swamy Ra Ra happened. I bounded back and consciously putting efforts not to fail again. Nobody is anybody's competition here. Each and every one of us have their own space. Each one of us has certain strengths. I am happy with my slot. New people are coming and succeeding. As long as you are honest with intent and respect the intelligence of public, you have better chance of survival. I tend to select a good script and hope for the best.
Tell us about your future films?
My next film is a fantasy film to be directed by VI Anand (Tiger fame). There will be three heroines. Avika Gor is signed for a heroine role. The work will begin towards the end of December. Chandoo will direct Karthikeya 2 later. I am going to spend an year on Karthikeya 2. It will be a huge film for me.