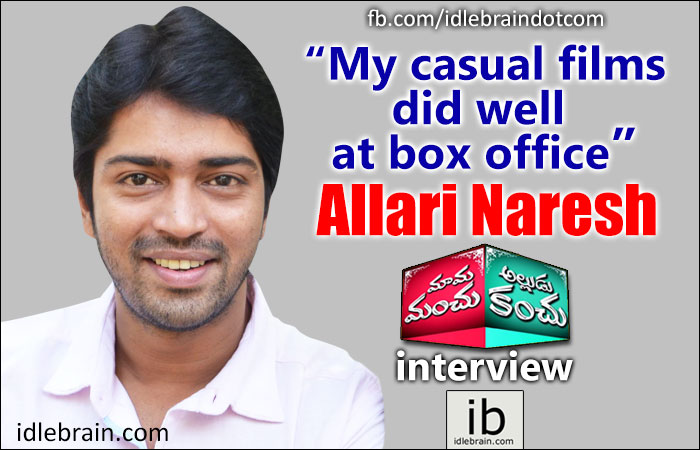 23 December 2015
Hyderabad
Allari Naresh has started his career with Allari in 2002 and completed 50 films in a span of 13 years. In an exclusive interview with idlebrain.com, Allari Naresh talks about 25 December release MMAK and his journey so far -
How is it working with Mohan Babu?
I got an opportunity to work with seniors like Mohan Babu, who has an unmatchable style. I thought that working with him and matching him in scenes was going to be an arduous task. I went to his house for an ice-breaking session. I told him that there are two types of things we generally do - 1. improvise scenes and 2. follow script blindly. I follow improvisation process as it works well in my films. Mohan Babu asked me to be comfortable and do it in my way. He asked me not to think of him as a big actor and asked me to treat him just like any co-star.
Let me give you an example how flexible and cooperative Mohan Babu is. There is scene in which Ali calls Mohan Babu an 'item raja'. It was not there in the script, but Ali improvised it. Mohan Babu felt that it will help the scene come hilarious and asked us to keep it that way.
Tell us about MMAK story?
It's an official remake of a Marathi film. It has Mohan Babu's character having two wives. Director Srinivasa Reddy improvised it by making Mohan Babu's part as an extension to Allari Mogudu film. That movie ends with Mohan Babu standing with two wives (Ramya Krishna and Meena) with kids in their hands. He took that thread and shown Mohan Babu and his wives after 25 years when kids grown up.
It will be a Tom and Jerry kind of comedy between Mohan Babu and me. You expect the similar kind of Tom/Jerry scenes in 2nd half in such kind of films. But, we help each other because we need to cover a big problem up. Ali plays a crucial character and he has a big screen space. Varun Sandesh plays a vital role and he becomes a big hurdle for me.
Tell us about director Srinivasa Reddy?
We have done Bommana Brothers Chandana Sisters together and teaming up again after a huge gap. It was Srinivasa Reddy who convinced Mohan Babu to cast me. This script needs both actors to have a tug of war. Since it's a movie with big star cast, he has optimized shoot by scheduling it perfectly. We shot the entire film in 40 working days.
It's been 13 years since your first film Allari was released. MMAK is your 50th film. Did you anticipate this growth?
When I made my debut with Allari, I was skeptical about my acceptance with audiences/trade. A hero is supposed to do action, comedy and sentiment. Allari was a quirky comedy in a new pattern. I thought that I might last for 5 films. I am happy that I have completed 50 films and will do many more.
Name five favorite films in your career?
Allari
Nenu
Kithakithalu
Gamyam
Sudigadu
What's your most disappointing film?
Laddu Babu is my most disappointing film in terms of efforts. I had health issues, gone through weight loss and my shoulder was dislocated twice. Getting that prosthetic make-up was like lying in a coffin box. I have realised that it's not the efforts of actors, but catering to the audience's taste that makes a film hit. Kithakithalu was done in 30 days in a most casual manner and it was a big hit in my career.
What kind of films are you choosing now?
Right now, I am choosing comedy films that suits my strength. All the films I have experimented and put a lot of efforts became flops. I have experimented too much in the last few years with different genres like socio-fantasy, 3D action film, con film, prosthetic make-up film etc. I might do different films if my character is entertaining like Gamyam and Sambho Siva Sambho.
Lot of new heroes are succeeding. Do you feel competition?
No. Each one of us have our own space. It will be good for industry as we can expect multi-hero films like in Bollywood.
What's your next film?
My next film will be directed by Eeswar Reddy who directed Siddhu From Seekakulam with me in the past.