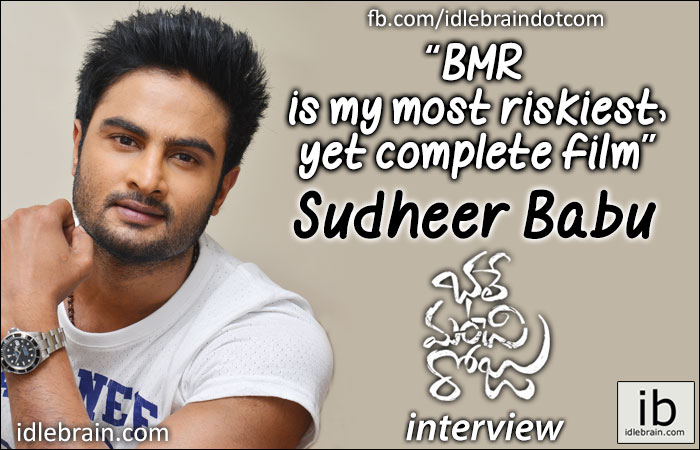 26 December 2015
Hyderabad
Sudheer Babu has always been putting more efforts than what is needed for the character he play so that he can impress upon the audiences with his commitment levels. In this exclusive interview, Sudheer Babu talks about his 25 December release Bhale Manchi Roju (this interview was taken before the release) -
Tell us about your last movie Krishnamma Kalipindi Inddarini?
I went out of my comfort zone and did Krishnamma Kalipindi Iddarini. I have got good response as an actor as I had to portray depth in emotions.
Tell us how Bhale Manchi Roju happened?
Director Sriram Adittya is a short film maker. I have seen a couple of his short films and convinced about his ability to make a film. He made a short film with things (no people in it). It's a suspense thriller that was shot in 48 hours. It has bagged awards too. He is a Wunderkind in my opinion. The output of the film is way more brilliant than what I had imagined when he narrated the story. I also liked his work ethics. He has to say no to Google since his aim is to become a film director.
Bhale Manchi Roju has a new point narrated in a fun way. Heroism is created by story and fun is derived out of the situation. It's a story that happens in one day. You have new location coming up in every 3 minutes.
Bhale Manchi Rohy is the most riskiest, yet most complete film in my career.
Tell us about the producers?
Vijay and Shashi are my friends. Vijay is my roommate and college mate. We stayed in the same room for 7 years, even after graduation. Vijay has amazing judgment about films. We used to watch films and analyse them together. Vijay is a bigger fan of superstar Krishna than me. It's Vijay who is instrumental in production and promotion of Bhale Manchi Roju. He has been wanting to produce my films since my debut. I thought this is the right time for Vijay and Shashi to produce a film with me. It was Shashi who distributed my debut film SMS in USA. My project with them is just one phone call away.
Mahesh Babu said in music launch that all it takes for you is a blockbuster to become a star?
That's his affection towards me. I will struggle and become a star one day. I don't want overnight stardom. I always wanted to add something to script at personal level. That's why I concentrated more on fitness and dances though my character doesn't need them. In this movie, I have done a six pack and you can see my body shots in it.
We have so many heroes from South India. How did you end up getting Bhaagi role?
I play villain in that movie. They wanted somebody who can do daredevil stunts. They saw my films and called for auditions. They were convinced and cast me in that role. Villain is stronger than hero in Bhaagi and I am sure that I will get a lot of fame for my work. My part of shoot will be complete by end of January.
What's your market at present?
My market has grown from 2 crores to 7 crores now.
What are your future projects?
I haven't committed any film yet. If you observe my career, I had always worked with debutants or relatively new directors. I will continue to do so.