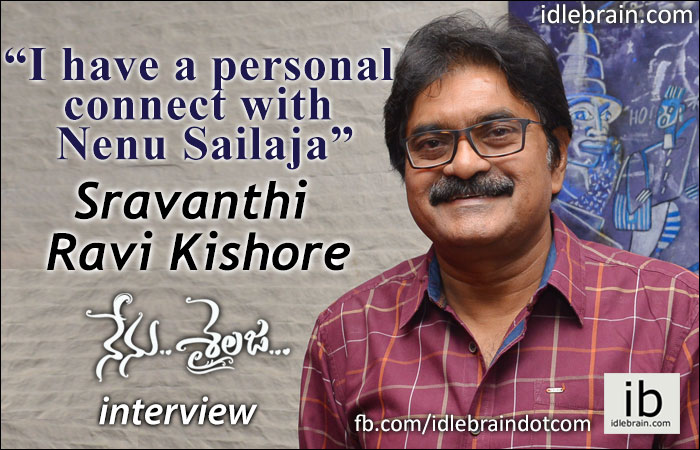 10 January 2016
Hyderabad
Sravanthi Ravi Kishore who has produced classics like Ladies Tailor, Maharshi, Nuvve Kavali and Nuvvu Naaku Nachav hasn't been tasting successes in recent years. His latest film Nenu Sailaja became super hit for it's different content and family emotions. It's doing a great business in India and USA. Here is an exclusive interview with this classic producer -
What went right with Nenu Sailaja?
I think I had been trying in recent times to make movies for audiences thinking that they might like them. In the process, I forgot that I was also an audience. Nenu Sailaja is one such film where I personally love the script and identified with a character as well.
Kishore Tirumala came up with father-daughter story and narrated it first. After I gave a go-ahead, he has developed the love story. The hero character in this film has a lot of nobility. The heroism of the character is elevated through nobility, not through fights/dialogues. You can find such kind of nobility in Venkatesh character in Nuvvu Naaku Nachav film.
Though hero comes to heroine's place under guise in second half, the approach is totally different.
The families of hero and heroines are completely contrast in nature. Hero's family is extremely extrovert and they communicate everything freely. The family of heroine is completely introvert and they have trouble communicating within the family. There is silence and disturbance in parents-kids relationship. Satyaraj wants to prove himself to his father by becoming successful. At the same time, he can't spend time with his little daughter as he has to grow in profession to secure a financial future of the family. It's a conflict most of married men, including me face in their lives.
Tell me how it's applicable to you?
Making movies is my passion. I didn't spend much time with my family because of my profession though I wanted to spend time. During Nuvve Kavali, I had to come to hyderabad and shoot the film by keeping my family at Chennai. Because of the success of Nuvve Kavali, I was able to send my kids to USA. They are settled and happy because I am successful in my profession.
I have seen the deleted scenes and they are pretty good. Why did you delete them at the first place?
The first copy of the film came to around 2 hours and 35 minutes. But distributors and exhibitors insist on having 2 hour duration films. If you think it's due to audience's comfort, you are mistaken. There are benefits for exhibitors if the runtime is less. It saves power cost. In multiplexes, they can have five shows instead of 4 shows. Due to the demand from distributors and exhibitors, we had to cut the duration from 2:35 hours to 2:13 hours. My film Nuvvu Naaku Nachav had a runtime of 3 hours. Nobody complained. Trivikram's Atharintiki Daaredi had a runtime of 2 hours and 55 minutes.
What's the magnitude of Nenu Sailaja success?
If I make a flop movie, I can predict on day 2 about the loss I was going to incur. But, it has become difficult to predict magnitude of success for films now. In Kukatpally, Nenu Sailaja achieved a rare feat of going housefuls for entire first week in Arjun theater. In RTC Crossroads, 26 out of 28 shows were full in Shanthi. I haven't sold satellite rights prior to release as the offer was less than what I had expected. Right now, I have all three major satellite TV channels chasing me. Lots of producers from other languages are approaching me for remake rights. I am not selling it to whoever offers big money. I want to sell it to the producer who will do justice to the script.
Tell us about director Kishore Tirumala?
I used to take credit for success and failure of all my films till Nenu Sailaja. I told Kishore that he will get the credit for success/failure of Nenu Sailaja. I trusted him and asked him to be confident about his work. He has travelled with me for a couple of years. He has worked as dialogue writer for Raghuvaran BTech and he has also contributed to Shivam film.
When he narrated story to me, I have asked him to write point of view for hero and heroine. He gave it on 7-7-14. Then he took another 7 months to complete the bound script. Then we went for shoot.
Despite Nenu Sailaja being his first film, he has shot 28 scenes in the first 7 days of shoot in Pollachi. He has tremendous coordination among technicians. He has shot the film in 56 working days.
What are the best compliments you got for Nenu Sailaja?
My daughter called from USA and asked me to take her for shopping when she visits India next time. Sai Kishore's (director of Allari Naresh's James Bond) daughter Dolly has played the role of childhood heroine in this movie. Both sisters were crying with emotion during the interval of the film. I saw somebody clapping when Vijay Kumar hugs Satyaraj. These are the things that make me happy as a producer.
What's your next film?
You are as good as your last release in film industry. I want to enjoy the success now. I am happy that the ordeal of Shivam failure is over with in 100 days as I got Nenu Sailaja success. I am not in a hurry. My next film will be in the combination of Kishore Tirumala and Ram. I have asked Kishore to take as much time as he want. This film will be produced by Krishna Chaitanya (elder brother of Ram). Krishna Chaitanya who is a professional pilot has sacrificed his career as he wants to become producer. He has worked in various capacities for Sravanthi Movies for the past few years. The next production of Sravanthi Movies will be produced by Krishna Chaitanya and it will be presented by me.