Story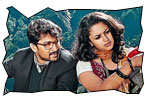 Subramanyam is a materialistic IIM graduate whose aim is to become big in quick time. In the process, he does everything in order to become boss of the company. Just when he gets engaged to his boss's daughter Ria (Ritu Varma), a childhood friend of him - Rishi (Vijay Devarakonda) enters his life. Then they end up meeting a free-spirited girl Anandi (Malavika Nair). Rishi is spiritual oriented and money doesn't matter to him. His ambition is to travel with Subramanyam to Doodh Kashi, a magical place in Himalayas. The rest of the story is all about how he makes it happen!

Artists Performance

Actors: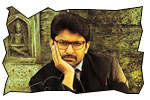 Nani: Nani has played the role of a materialistic guy who takes a step back and look at his past to redeem himself. Nani has balanced two shades of the character in a convincing way. It's a complex character to play. The other two main characters have same characteristics throughout the movie where as Nani's character changes as the movie progresses. Yevade Subramanyam will be a feather in Nani's career as an actor.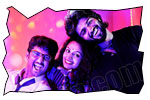 Others: Krishnam Raju is very natural and has done a meaningful role in this movie. Vijay Devarakonda who made his debut with Life is Beautiful in a role of a rich bad guy impresses everybody with his portrayal of a free-soul Rishi. The bearded look and bindaas body language has enhanced the characterization. Malavika Nair is a natural actress and did an exceptional job. Ritu Varma is nice as a materialistic girl. We can see Showkar Janaki is a brief role after a long time.

Technical departments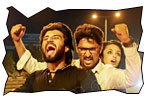 Story - screenplay - direction: The story of the film is about friendship and self-discovery. New director Nag Ashwin has come up with a nice script which is very rare in commercial Telugu cinema. It's a romantic comedy with a deep philosophy associated with it. There is sentiment, friendship, love, comedy and philosophy. There are no forced commercial elements and director has narrated the story without deviating from the main point. Screenplay of the film is nice though it's little dragged in the middle of second half. The metaphorical parallel between the caterpillar becoming butterfly and Nani's self discovery talks a lot about the director's talent and sensibilities. Nag Ashwin belongs to the class of new-age sensible directors like Sekhar Kammula, Krish, Chaitanya Danthuluri and Kranthi Madhav. And he will go a long way if he continues this conviction.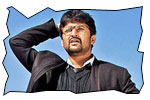 Other departments: Cinematography by Rakesh and Naveen is very good. The visuals of Himalayas are outstanding. Music by Radhan is very good and it also uses a Tamil tune composed by Ilayaraja. Dialogues are marvellous. Dialogues written for Krishnam Raju's character are superb. Editing by Kotagiri Venkateswara Rao is fine. Producers Swapna Dutt and Priyanka Dutt should be commended for not only doing such a well-intended film, but also for having such a grit to shoot in Himalayas for 40 strenuous days (The himalaya scenes in JVAS was shot in sets by their father Aswini Dutt).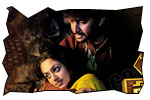 Analysis: First half of the film offers fun. Second half is about self discovery and visiting Doodh Kashi. This is a film that appreciates simple things in life and gives the real definition of living. At the same time, it's not a preachy film. Most of the film is narrated with humor. Plus points of the film are profound philosophy, performances, dialogues and sensible direction. On the flipside, the episodes leading to Doodh Kashi should have been more sharp. On a whole, Yevade Subramanyam is a nice movie and you may watch it!