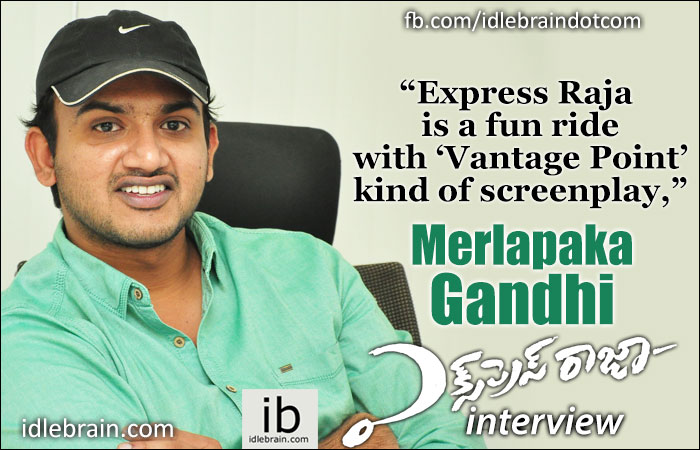 11 January 2016
Hyderabad
We have very few successful directors who have done film school. Merlapaka Gandhi who made a debut with the successful Venkatadri Express is coming up with another film Express Raja. He talks about 'points of view' screenplay and the story behind his name -
Heard that your real name is Che Guevara?
Yes. My father is fond of Che Guevara and he named me as Che Guevara. I am born and brought up in Vedullacheruvu near Renigunta. My relatives and friends started called me Chegu, Jaggu etc since they found it hard to pronounce Che Guevara. Then my father changed my name to Gandhi when I was 5.
My father Merlapaka Murali used to be a journalist and worked in Eenadu and Andhra Jyothy newspapers. He likes writing novels. 24 of his novels were published in Swathi magazine. I studied in Tirupathi till intermediate and then did my B.Tech. in Allagadda.
I wanted to become a director since I was in 10th class. But my father wanted me to finish studies first. After completing B.Tech, I told my father that I would do a diploma course in cinematography so that even if I fail in movies, I can live by doing wedding photography. My father agreed and I have joined LV Prasad institute in Chennai for cinematography course. I was never interested in cinematography and I used to attend direction classes. Sujith (Run Raja Run director) was my senior in that film institute.
How did you develop interest in writing?
My father used to encourage me. He used to give me 25 rupees for every book I read. My first book was 'The Adventures of Tom Sawyer'. After joining LV Prasad film school, I have started writing stories and doing short films.
Tell us how you developed Venkatadri Express script?
The first line I thought about is that a guy who wants to go to Tirupati missed his train in Hyderabad and boards it at Tirupathi. Then I added father character who gives son a last chance to stay at house and it has added tension factor. Then there is a heroine who gets tagged along. And then I wrote characters of Saptagiri and Thagubothu Ramesh for entertainment aspect. Most of the characters I have written are taken from real life.
Your father was against you entering films. What's his reaction after Venkatadri Express success?
When I narrated the story of the film, he was not impressed. He is a romantic. All his novels have ample romance in them. He felt that Venkatadri Express lacked romance. But, he felt happy after the success.
Tell us about Express Raja?
I got this story idea during the shoot of Venkatadri Express's climax. It has entertainment, love story and a thrilling aspect. I followed 'Vantage Point' kind of screenplay. A new character gets introduced for every fifteen minutes and it offers additional information. It's a screenplay based fun film. There is a father - son story too. The conflict of hero-heroine is fresh and their breakup point is new.
You shouldn't miss the beginning of the film. The first 10 minutes is very important!
You seems have written some funny characters in Express Raja?
Yes. Each and every character offers entertainment. All these characters are taken from real life.
Dhanraj as Inumu: Dhanraj plays a variety role of an iron pirate. There are no dialogues for him. Movie starts with him and ends with him. There is a twist in the movie whenever he appears. His character will be a major highlight.
Shakalaka Shankar plays an interesting character and he runs 'Dhanalakshmi Dance Troupe'. Urvasi does a spoof of Vasantha Kokila film. Brahmaji plays the role of a guy who manages dictionary sellers at traffic junctions. Sharwanand sells dictionaries at traffic junction at a point of time in story.
All these funny characters appear natural in screenplay of the film and none of them are forced.
What's your next film?
I have a storyline with me and I need to develop it.