Story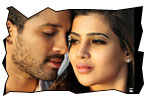 Viraj Anand (Allu Arjun) is son of Sathyamurthy (Prakash Raj). Sathyamurthy is a billionaire businessman with great human values. Sathyamurthy dies in an accident. Viraj has 300 crores worth property and loans for the same amount. He has an option to go for insolvency and save 300 crores. But he foregoes 300 crores to make sure that his noble father's image is not tarnished. Rest of the story is all about how far Viraj goes to live up to the values his father has imbibed him.

Artists Performance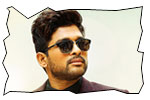 Actors: Allu Arjun is an entertainer and he performs exceedingly well in a character that goes to any length to protect his father's reputation. He danced well as usual. He has modulated his dialogue delivery in different ways in this movie. One of such different modulation is inspired by Chiranjeevi's drunken scenes. Samantha is cute as the main leading lady. Adah Sharma is limited to first half of the movie and she is fine. Nitya Menen is limited to second half and her role doesn't require an actress of her calibre. Prakash Raj is perfect for the role of father. Upendra is played vital character. Rajendra Prasad played a character of varied attributes. Rao Ramesh is his usual self. Ali is alright. Brahmanandam's character introduction is good. Sampath Raj is wasted in a role of limited screen-time. Vennela Kishore's role is ineffective. Though acted in a few scenes, Sree Vishnu is brilliant. Chaitanya Krishna played a small role of a docile lover. Sneha played Upendra's wife and she is adorable. Sindhu Tolani does a nice role.

Technical departments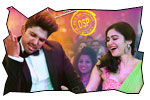 Story - screenplay - direction: The basic story idea of son upholding the values and esteem of his deceased father is a very potential one. Trivikram is a director who has thrived on family values in his films (except for Khaleja and Jalsa). He revealed the basic plot point in the first 10 minutes of the movie (like he did for Attarintiki Daaredi). He had one heroine dedicated to 1st half, another one to second half and the main heroine for entire movie. He had 3 major character artists as villains who later become good men (each one is related to one heroine). Since, the story involves three romantic threads and has conflicts with three character artists/villains (each villain has a family problem), it's very difficult to write a screenplay that keeps reminding audience of the main goal of hero. In Attarintiki Daaredi, it had a single goal of impressing his maternal aunt and has a straightforward narration. But in SoS, it's a three phase action plan of convincing three people in order to uphold his father's esteem. Because the screenplay is not gripping enough, the emotional connection (audiences traveling along with hero and sympathising with his problem) becomes tentative.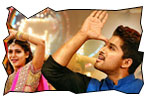 Other departments: Songs scored by Devi Sri Prasad are alright. I personally liked Super Machi song on screen. Background music is okay. Trivikram who is the best dialogue writer in Telugu film industry comes up with nice humor-laced and thought-provoking dialogues. Cinematography by Prasad Murella is picturesque. Art direction by S Ravinder is good. Action sequences composed by Peter Hein are partly good. Prawin Pudi is fine with editing, but runtime looks lengthy (it's director call anyway). Producer S Radha Krishna (Chinababu) has spent a lot of money on production and casting.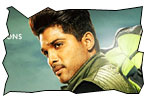 Analysis: Both Allu Arjun and Trivikram are at high point of their career after delivering Race Gurram and Attarintiki Daaredi respectively. Hence, we expect another hugely satisfying film from their combination. Son of Sathyamurthy has got good intention and good moral values. But director Trivikram didn't succeed in giving a smooth ride for us this time due to ineffective screenplay and too many characters (subplots too). The success of the movie depends on how family crowds lap it up.