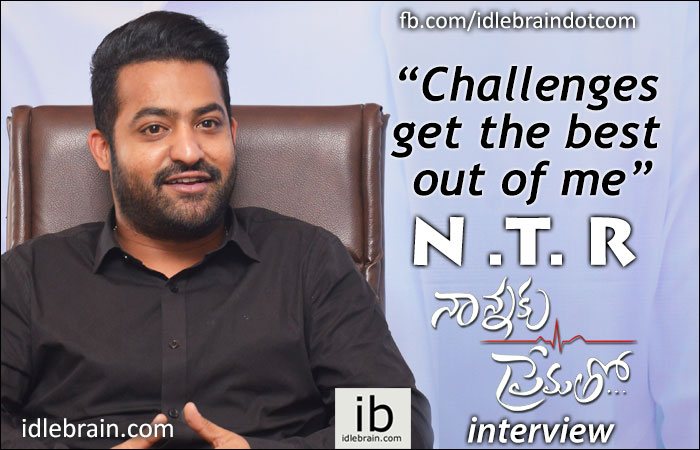 12 January 2016
Hyderabad
NTR says he is out of the mass masala league and he is interested in content oriented films. His last film Temper was an example. His latest release Nannaku Prematho and his next film Janatha Garage are also content-based films. NTR speaks about Nannaku Prematho and his new approach towards selection of scripts in this interview -
Your crew has been working so hard without sleep and bath for the past few days to meet the release deadline. Why?
I don't want to miss out on Sankranthi season advantage. Now it's just a 2-weeks game for any film at box office.
We have 4 potential films for this Sankranthi?
When Adurs was released for Sankranthi 2010, two more films (Namo Venkatesa and Sambho Siva Sambho) were released. All films made money. I am sure all four films will be successful this time. There is enough appetite for Telugu film lovers to take more films for Sankranthi season.
Do you take Nannaku Prematho prestigious because it's no. 25?
This film is prestigious for me because it's directed by Sukumar. 25 is just a number.
What's the reason for having such a story-oriented trailer?
It's better to tell the story and prepare the audience with trailer than cheating them when they come to theater.
How is it like working with Sukumar?
Sukumar is the most hardworking director. We used to have shoot from 7 am to 8 pm in London. Traffic used to be huge and it took hours for us to get back to hotel. Sukumar used to spend time with his team on next day's scenes till 3 am. He used to sleep just for 2 hours a day. A film of this type doesn't need such physically taxing efforts, but Sukumar is such a passionate director. He loves his job.
Hero character in Sukumar's film has grey shades in it?
It's a story of a son who fulfils the last wish of his father. My character is a clear-headed guy with no negative streaks. Movie has a mind game. But, it will be understood by everybody.
You look and perform differently in Nannaku Prematho?
Yes. The credit should go to Sukumar. If you observe Asian guys born and brought up in London and Europe, they have light beard and a haircut like me. We tried to have an authentic look. Mine is an over-expressive face. I tend to rise eyebrows in certain scenes and blink a lot in some other. But, Sukumar used to come and suggest not to do it. I tried to do as per story. It's pretty easy to do expressive characters, but very difficult to do controlled roles. NTR used to say it was easy to do Ravana, but difficult to do Rama as Ravana is over-expressive and Rama is serene and under control all the time. At the same time, I am not radically different in my work in this film. Audience expect certain things from me and they will not be disappointed.
What's different in father - son relationship of this film?
I can't reveal the basic line here. But it's not a new story. But screenplay is new and backdrop is fresh. It's about how a son fulfils his father's last wish. The last 40 minutes of the film is important.
You didn't seem to have many dance numbers in Nannaku Prematho?
I realised that there is no point in dancing like a maniac in all songs. From Temper onwards, I have decided to dance like a maniac in just one song. In this film too, one song will have terrific dance number. All other songs have limited dances and go with the flow of the story.
What about stunts?
I have changed my style of fights too. My fans started messaged me not to have those goons bouncing off type of fights. From Temper onwards I have decided to have fights that are relevant to scene.
Now you are stressing more on content than on mass elements which are your forte?
Yes. I feel that 2015 is the marquee year for Telugu cinema which brought change. All well-made films with different subjects did extremely well. And routine films were discouraged. I had a personal experience with Temper film as it had a different point in it. I made routine mass films earlier and learned my mistakes. I will do content based films henceforth.
Why didn't you do Oopiri?
The dates were clashing with that of Nannaku Prematho. Since Nannaku Prematho get-up is unique, I can't do another film simultaneously. But, I love the script of Oopiri.
What do you enjoy while performing?
I enjoy doing challenging roles. Temper role has negative characterization in the first half. The emotions in Nannaku Prematho are very difficult to perform. Challenges get the best out of me.
When will the shoot of Janatha Garage will start?
The regular shooting of Ganatha Garage will start on 10 February. I will enter the sets a week later. There will be a film on my home banner NTR Arts (Kalyanram as producer) soon.