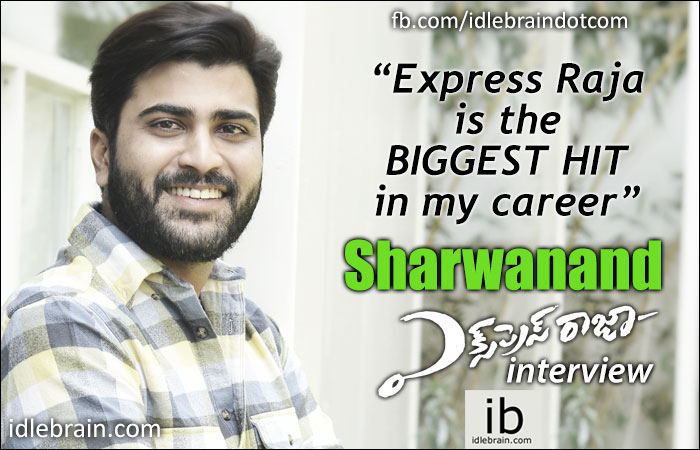 16 January 2016
Hyderabad
Sharwanand is an actor who is conscious of doing good scripts. He has built a credibility over a period of time by selecting right scripts. His last three films - Run Raja Run, Malli Malli Idi Rani Roju and Express Raja are examples of how he shifts between genres. Sharwanand talks about success of his latest film Express Raja -
Tell us about the success of your last movie Malli Malli Idi Rani Roju?
It's a great film and I am proud of it. I was tensed before release as it's an emotions-based film with no entertainment. I am happy that people liked it.
How did Express Raja film materialize?
Brahmaji called me and asked me to listen to the script of Merlapaka Gandhi. Gandhi took a day to narrate 1st half and then narrated the second half on another day. Though it's a complicated screenplay, his narration was crystal clear.
Gandhi is a director of conviction. He knows how to extract work from actors. He has superb judgment as well.
How is the response to Express Raja at box office?
I saw the film in Devi 70mm. Crowds are enjoying and laughing in theaters. Entertainment worked in the film and screenplay is good. It's a racy film with each character connected to main story.
Run Raja Run is the highest grosser in my career. Express Raja is all set to collect double the revenue of Run Raja Run. It's the biggest hit for my career.
Tell us about UV Creations?
Vicky (brother of producer Vamsi) is my classmate and Vamsi is my senior in college. UV Creations is like my home banner. They produced Run Raja Run with such a high budget when I was in flops. When UV Creations produce a film with me, I need not worry about production and promotion. I am happy that they made Express Raja a hit again.
How do you select scripts?
I look at the conviction of directors. If the script has potential and if the genre is different from my previous films, I would love to work with that director. Getting the right director is very difficult.
How do you handle peer pressure?
We can only select script what we think are good. Result depends on various other aspects. I set internal targets for my market and aim to achieve them. We can only do a good script and hope that it clicks at box office.
What is your next film?
It's becoming increasingly difficult to get the right script and a right director. I have finalized one script. The director is working on it. It will be announced soon.