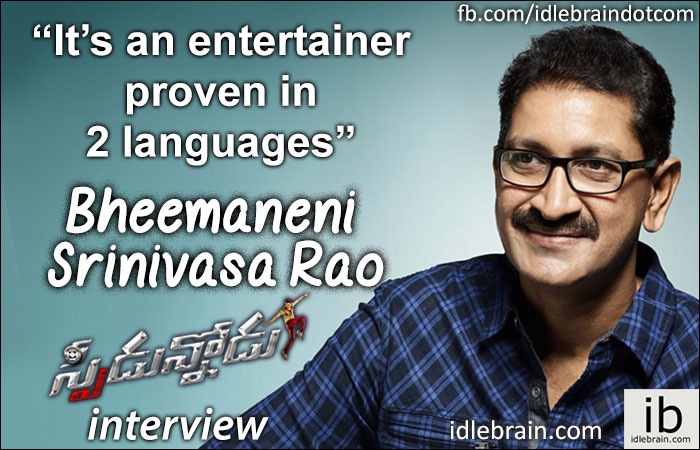 3 February 2016
Hyderabad
Bheemaneni Srinivasa Rao is branded as a remake director and his track record consists mostly of hit remakes with various heroes like Venkatesh, Pawan Kalyan, Jagapati Babu and Srikanth. His last movie Sudigaadu was a runaway hit. His latest film Speedunnodu featuring Bellamkonda Srinivas is releasing on 5 February. Here are excerpts an exclusive interview -
Tell us about the response of your previous film Sudigaadu?
Sudigaadu turned out to be the biggest hit in the career of Allari Naresh. For me, it's a different genre. My films are known for family emotions. Rajamouli called me and appreciated Sudigaadu by saying comedy scenes are like sweets and if you eat too many sweets, you lose the flavor. He said that I engaged audiences throughout the film though it's full of spoofs.
Why is there a three years gap between Sudigaali and Speedunnodu despite delivering a hit?
I watched Tamil film Sundarapandyan and it connected to me very well. The best film among my films so far has been Suswagatham. Sundarapandyan also has such kind of terrific content. I have narrated the film to many heroes including Ravi Teja and Sunil. They have also considered doing it. But somehow it didn't materialize. Big heroes opined that this subject is not of their stature. This subject is too big for small heroes. That's when I felt Bellamkonda Srinivas will fit in the shoes perfectly. There is a gap of 3 years between my two releases because I take time to modify scripts for remakes.
What is the story of Speedunnodu?
It's a story on friendship. There are five friends who studied in the same college and they decide for a reunion after 5 years. The heroine becomes the bone of contention among them. It's about how they fight for love and then realise the importance of friendship. We generally find love between the lead pair as main conflict point in all films. But for Speedunnodu, love is secondary and friendship is the main conflict point.
What is the reason for producing the film despite being in a position where you can find a producer?
If you observe the track record of my films, I have worked mostly for production houses run by RB Chowdary and Editor Mohan. They operate from Chennai and we had to shoot in Telugu states. Hence, production has become an integral part of my work since my debut. Since Chandra Sekhar - the producer of Sudigaadu was new, I took care of production as well. Earlier, I have produced and directed a film titled Dongodu with Ravi Teja as hero. It was a hit. A film with Bellamkonda Srinivas after Alludu Seenu film is always a good business decision. Sundarapandyan is a proven hit in two languages (Tamil and Kannada). We made table profits by selling Speedunnodu much ahead of release.
Tell us about casting?
Bellamkonda Srinivas's debut film Alludu Seenu made terrific pre-release business and collected extremely well at box office. He has got good appreciation for fights and dances. He is an youngster with a burning desire to make it big. Hence he puts a lot of effort to improve his work. He is looking more handsome and stylish in this movie. His acting has improved by leaps and bounds in this movie compared to his debut film.
Actress Sonarika is popular among audiences as the Parvathi on TV channel. She suited well for the homely character of heroine and she performed in natural style.
I heard that around 2 crores was spent on Tamanna song (including her remuneration)?
Yes. We wanted the last song to provide the requisite high. An item song with Tamanna is the right choice. When you look at the output, you will feel it justified. We haven't compromised on richness in visuals. Generally, moviemakers prefer shooting 3 songs in Europe as a package as it costs around 1 crore. But we spent 80 lacs to shoot just one song in Swiss.
Tell us about technicians?
Vijay Ulganathan who has worked as an associate of KV Anand has done cinematography. Visuals are strikingly rich and he is an excellent technician. Music by Vasanth is a big advantage and songs have become hit already. He has composed songs like a star music director. Kiran who has done art direction for films like Sri Ramarajyam has worked for this movie. The sets erected for songs like Bellamkonda and Bachelor Babu showcase his skills. Praveen Varma and I have worked on the dialogues part. Executive producer Vivek Kuchibhotla has been instrumental in executing the project efficiently.
It's been over 20 years since you made debut as director and you have directed only 11 films at a steady pace of one film per two years. You have a high success rate?
I am a slow and steady guy. I am not the kind of person who try to cash in. I don't know anything but films. I will continue directing films till the moment I feel that I am capable. Otherwise, I will retire and enjoy watching films. I don't believe in short cuts and always work hard. I am not greedy and am content with what I do.
Doing a remake like a two-edged sword. If it becomes a hit, they say director just copied original. If it fails, they say that director doesn't even capable of copying a film frame to frame. How did you achieve such a high success ratio while doing remakes?
I just take the soul and essence from the original. Then I change the content to suit our nativity by adding entertainment and sugar-coating the emotional/raw content. I make sure that music is good and songs are catchy. I am very particular about movies being non-preachy.
What's your gut feel about result of Speedunnodu?
I have worked for over 1 and half years for this film. I am confident about the success of the film. The magnitude will depend on various factors.
What is your next project?
I don't think about next film till the current film's promotion is over. I will think about it after Speedunnodu box office run is over.