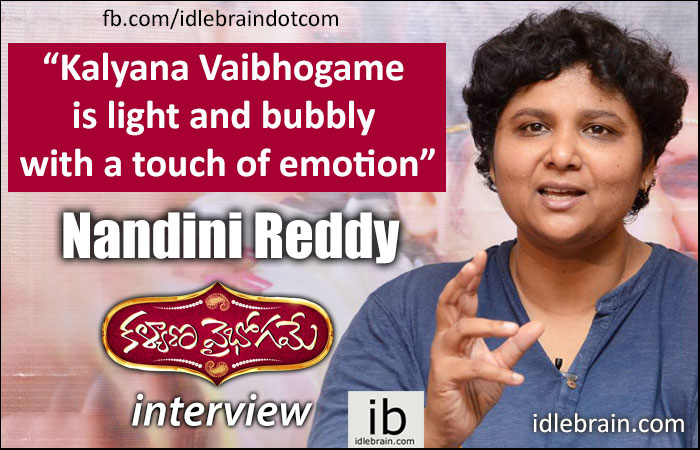 03 March 2016
Hyderabad
She made her debut with an admirable film Ala Modalaindi and followed it up with a forgettable film Jabardasth. Nandini Reddy talks about after effects of delivering a flop and about the essence of 4th March release Kalyana Vaibhogame -
What went wrong with your second film Jabardasth?
Everything went wrong. I was trying hard to secure after the success of my first film Ala Modalaindi. It took me 16 years in film industry to get my first project. I didn't want to fail with second film, hence I signed stars and had a big producer. I succumbed to many pressures in the process. My inability to stand up against pressure is the reason. I take the credit for failure of Jabardasth.
You felt that you were singularly targeted by people (critics and industry people) for the failure of Jabardasth?
Yes. I felt sad and victimised. I had that feeling until I saw Shandar. I became a fan of Vikas Bahl with Queen film. I went to Shandar expecting another good film from him. I felt that it was horrible and had antagonising feelings towards the director. That's when I realised I have set good expectations for my films with Ala Modalaindi and antagonized movie lovers with Jabardasth as they expected another good film.
You look pretty strong. Why did you give in to depression?
I might look strong from outside. But, I am sensitive and vulnerable. I was depressed with the failure of Jabardasth. Six months after the release, Bunny has asked me to come to his sets. When I looked dejected, he gave me a complete dressing down. He told me that flops are inevitable for any director. He has asked me hear what my heart says and follow my gut. He offered help from his side. He gave me immense confidence.
Tell us about casting of Kalyana Vaibhogame?
I was impressed with Naga Shourya when I watched him in Chandamama Kathalu. I had fixed him as hero before writing the story. That's why the character's name is Shourya. I narrated this story to Shourya in Vyajayanthi office. My debut film Ala Modalaindi was also supposed to be produced by Swapna Dutt, we shifted to Damu later. Likewise, Kalyana Vaibhogame was supposed to be produced by Swapna Dutt, but shifted to Damu again. I have the habit of having actors names as characters names. I had a difficulty in finding heroine character despite going through profiles of hundreds of girls. Manirathnam's Mouna Ragam left a huge impression on me. A part of characterization in Kalyana Vaibhogame is inspired by it. Heroine's name in Mounaragam is Divya. I used the same name for this film as well. I spotted Malavika Nair during the music launch of Yevade Subramanyam. I liked her childlike attitude and cast her.
Tell us about the numbers of Kalyana Vaibhogame?
We know that the market is limited for a film of this profile. Producer Damu has spent more than what a film of this profile costs. We have shot the film in 58 working days. The total runtime of the film is 2 hours and 26 minutes. We have ensured the quality and rich look of the film because I and Damu are in sync.
Tell us about Kalyana Vaibhogame story?
Story of Kalyana Vaibhogame is written from heart and written without the fear of failure. Boys and girls of this generation have the fear of commitment (for age group between 20 to 25). The first half of the film dwells on showing the characterizations of lead pair. They don't fall in love. They get married in the midpoint. They wanted to take divorce. Since there is a space of 6 months before divorce is granted, they decide to stay as friends at same place. They understand each other and fall in love. Love is the last thing to happen.
Story looks pretty good and novel. What do you think will work for the film?
All scenes in this film will be realistic. There is no drama and entire film is pretty natural. The scenes and characters of the film are relatable. There is no preaching in film and we didn't try to show any solution. Kalyana Vaibhogame is light and bubbly with a touch of emotion. You will come out with a smile while returning from theater.
Kalyana Vaibhogame is releasing on your birthday (4 March)?
You know that it's pure coincidence :)