Story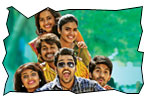 Nookaraju (Parvateesam) is a rookie student from Srikakulam who comes to Hyderabad to do his masters in a private college. Nookaraju's prime aim is to go after posh and good looking girls. Bhavana (Sukriti) - a classmate helps him with studies. Jai (Sumanth Ashwin) is an understanding youngster who studies in the same college. He falls in love with a girl (Sri Divya) he saw on bus and he is in search of her. Sid (Viswant) is a son of a strict professor (Pragathi). His mother wants him to do regular studies, but he prefers fine arts as he loves playing guitar. He falls in love with Priya (Tejaswi Madivada) who comes from USA to study in their college. Rest of the story is all about how these three couples settle things in life.

Artists Performance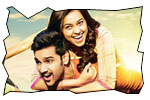 Actors: Sumanth Ashwin has done similar roles (good boy) in the past and he comes up with a convincing performance. Viswant is natural as a guy who fears his mother. Parvateesam provides entertainment with his Srikakualam dialect. His fits bill as he looks innocent as well. Sri Divya comes up with another dignifying performance as a girl with substance. Sukriti is natural and fresh as a kind-hearted girl. Tejaswi Madivada has finally found a role that actually has some material. Her charm is effectively used in this film. Pragathi is good as a mother who controls lives of her kids. Nitya Naresh is cute with curly hair.

Technical departments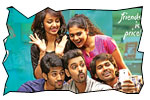 Story - screenplay - direction: Story and premise of the film has the format of Happy Days. It's a story about three couples pursuing masters in a college. Sai Kiran Adivi who has worked in new production houses so far has got the support of a big banner and a strong technical unit for this movie. Having three threads running simultaneously in a movie is helpful in engaging audiences provided the stories are decent enough. He has chosen an idealistic story for the main couple (Sumanth Ashwin and Sri Divya). He has used oft successful 'follow your heart' story for another guy (Viswant who wants to pursue music and fall in love with a girl). And the third story has a little similarity to Nikhil - Gayatri thread of Happy Days. Sai Kiran comes up with a decent execution though it gets little predictable in the second half and prolonged towards the climax.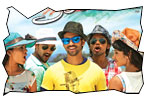 Other departments: Though the music is good, Micky J Meyer has repeated his trademark tunes. I personally liked Mila Mila song. Cinematography by Vijay K Chakravarthy is picturesque and tasteful. Some of dialogues written by Abburi Ravi are very good (ex: Friendship has no limits), but some of the dialogues in second half lack imagination. Editing is fine. Production values by Dil Raju are excellent.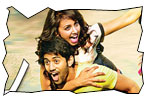 Analysis: First half of the film is decent and entertaining. Second half is predictable. Plus points of the film are feelgood factor, three intertwined stories and technical values. On the flip side, a novel and gripping second half would have done wonders. Second half predictability mars freshness. The success of the film depends on the patronage of youth!