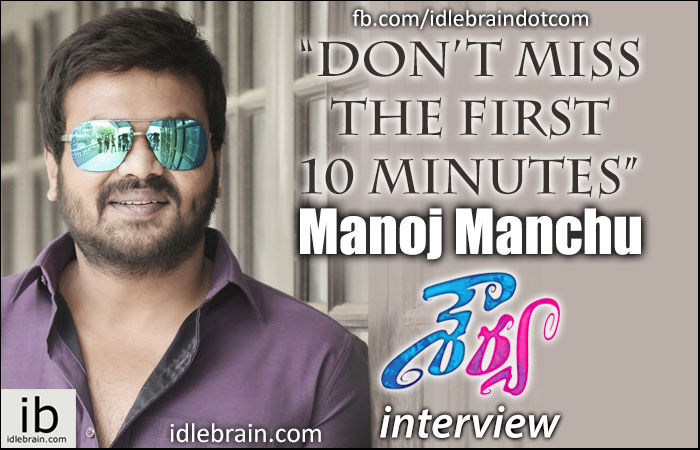 03 March 2016
Hyderabad
Manchu Manoj who is known to be hyper with his roles has changed style and coming up with a dignified role and get-up as Shourya. Here is an exclusive interview on the eve of Shourya release on 4 March -
Why is there a gap after Current Theega?
It's mostly due to my wedding. Shoot of RGV's Attack is complete. I am waiting for it to be released.
Tell us how Shourya happened?
I call Dasaradh as guru since the time of Sree. When Dasaradh narrated me the story of Shourya, I hugged him and told him that it will be a beautiful film if he can translate the same to the first copy.
How different is Shourya?
My characters in films are mostly eccentric and hyper. I play the role of an innocent and introvert guy. There are no fights in the film. There are no fights in the movie.
This film is about an incident for which three versions are shown. A story of this kind is not easy to handle. Dasaradh has done fabulous job and makes sure that it appeals to all classes of audiences.
The makers have highlighted it as a thrilling love story?
Yes. The first 10 minutes look seemingly smooth, but the 10th minute in the film gives a thrilling jerk. From then onwards, there is a back and forth narration with an interesting screenplay. I request the audiences to not miss the beginning as something important happens in the first 10 minutes of the movie.
Tell us about technicians?
Dasaradh initially made me listen a couple tunes and I loved them. Later he introduced the music director to me. I knew Veda from the days when he worked for the music of Potugadu. Dasaradh didn't want us to feel obligatory to have his brother as music director. That's why he has shown the work first and then asked if he can score music. It's very tough to score music for a film of this type with love, comedy and thrill emotions told in back-and-forth narration. He gave a seamless background music.
Kishore Gopu has penned screenplay for the film and he has done amazing work. Gopi Mohan has written a beautiful story.
Tell us about female lead?
Regina Cassandra is a bundle of talent. She plays the role of my girlfriend Nethra. Entire story runs around the character of Nethra.
Tell us about numbers of the film?
Producer has trusted us and made us handle the project. The budget went up a bit. We shot the entire film in 51 days as most of us worked on double call-sheets. I have worked for 75 call-sheets. The runtime of the movie is under 2 hours. And it has got U/A certificate.
What's your gut feel about Shourya?
Shourya is a feel good film with thrilling elements. Don't miss the first 10 minutes of the film. I hope that this movie will open doors for new kind of cinema.
How did marriage change you?
My wife is my best friend and she wants me to do different films. There is no conflict regarding my work. I am the same Manoj even after marriage!
What are your future projects?
I am waiting for RGV's Attack to release. I play the role of a Dhoolpet Pehelwan in it. I have a couple of projects on the anvil. Will announce as soon as we finalize them.