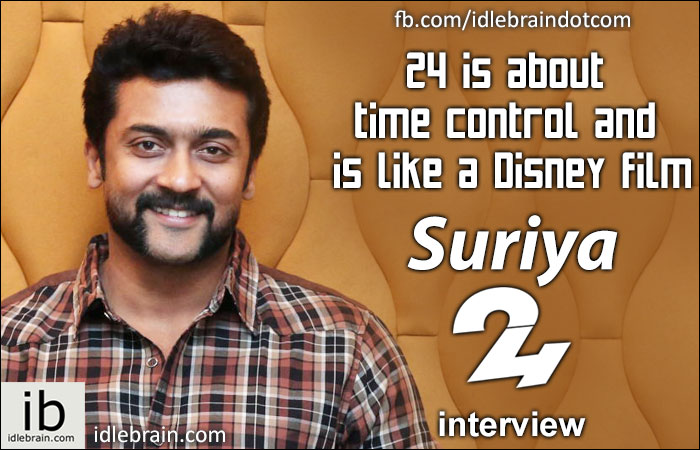 30 April 2016
Hyderabad
Surya has a lot of fans and admirers in Telugu mainly because of wide array of novel, yet commercially exciting films he has done in the past. 24 film has another interesting aspect as it's directed by Vikram Kumar who has given a path-breaking blockbuster Manam. Here is an exclusive interview with charming and graceful Surya -
Tell us about 24?
Sci-fi genre is a less exploited genre in India. The last big films we had seen in India in this genre were Mr. India and Aditya 369. Eega had another different concept. To make an Indianised sci-fi film is also a challenge and to get the aesthetics right is not easy. As kids, we used to like this kind of content. Disney content is popular for a reason. It's child-friendly, a family entertainer and it also takes you to a fantasy world. They make these films very believable. After a long time, Vikram Kumar's narration for 24 was like that. 24 is a child-friendly family entertainer that uses an unique gadget. Vikram makes us believe in narration and make us enjoy the whole process. It's simple and Indianised. During the ride from the beginning to the end, he elevates us to another level. 24 has a special content that will be remembered unlike regular Friday releases content. Thanks to Rahman sir and Thiru sir who had believed in the content and for making this ambitious film work. It was difficult to crack the CG of this film in correct budget and time, We have loved the final product. And hoping that audiences will also see the way we see it.
Why is this film titled as 24. Is it a time-frame?
It's a time travel film. Hence, 24 is a numerical. I don't want to give away too much before the release. We human beings thrive to make impossible things possible. 150 years back, nobody would have guessed that we would see the person live from the other side of planet. Now we have FaceTime. We never thought we would travel to Mars. One thing we were never able to crack was 'time control'. Can we go forward in time? Can we stop time? 24 is a small play which Vikram Kumar has taken control of what if one person is able to control time. 24 is a film that is driven by 'time control' and a few loveable and believable characters.
Tell me about the characters played by you?
If you see the posters, there are three characters for me. I play the role of Athreya. Athreya is the person who drives the whole film around. I also play the role of Dr. Sethuraman and Mani. We initially contemplated about titling the movie as Athreya, Then we settled for 24.
Don't you think a sci-fi genre and the concept of time control is complicated for audience?
Vikram Kumar's intention was to make 24 film an understandable and enjoyable one to the front benchers. Manam was a complicated concept, but narrated with such a clarity and emotions. Likewise, 24 will be a very easy film and with no complication at all!!!
Your brother made it big in Telugu with Oopiri?
Thank you for the love and support. He is always passionate about filmmaking and enjoyed speaking Telugu language. He has spent a lot of time in Hyderabad, more than me. He was always collaborating with lot of talents here. I am happy that they approached Karthi. Karthi was also in the right mindset to agree to a film like this. Very good content is always respected. Not because of success, not because of blockbuster hit. Your value goes up when you give success. When you give good content, that respect stays in people's heart forever. Co-actors also look for talents who contribute to growth of good cinema. I am happy that Oopiri was accepted by the audiences. I loved the film. Thanks to Nag sir for letting Karthi to have a meaty and attractive role. Nag sir is large hearted. After Amitabh Bachan, Nag sir is an inspiration for me in that aspect. I love the way he is ageing.
Which films are milestones in your career?
Every actor need to be blessed to have the right people at the right time. Lot of nice films have come in my way. That's why audiences just don't expect an entertainer, but also a new experience along with entertainment from me.
1.Nanda is my first turning point. As an actor, I also got confidence that they see me as a character, but not as Surya. Thanks to Bala. Siva Puthrudu is also an important film.
2. Kaka Kaka has made urbane audiences and college students sit up and take a notice of me. They are convinced about my screen presence and my ability give a cult film. Kaka Kaka was not the regular commercial action film. It had a love story and also brought new talents to cinema.
3.Gajini crossed the borders and was the first remake done by Aamir Khan and was hugely successful across the languages. A concept we believed in was respected nationally.
4.Surya s/o Krishnan: At the age of 32, I played the role of a 60-year old. Even if it was a slow paced film, it is close to my heart.
5. Singam: In spite of being a commercial film, it's a film that brought the connectivity factor like a cop in film can have a normal life with nice relationships with parents and he can stand for his village people. The police character is more earthly and real. This film is also accepted nationally.
We approach every film with the same sensibility to give a new experience to the audience. I am happy that we came across 24 - a sci-fi film, but a very deep-rooted film with no compromise on aesthetics.
Can you reveal something for us about 24, which is yet in the news?
A superstar cricketer did a guest role in 24.
Tell us about your future films?
I am currently doing Singam 3. 50% of the shoot is complete.