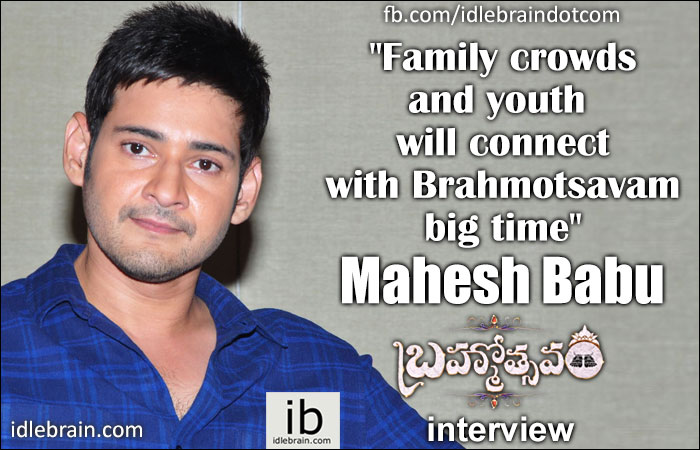 17 May 2016
Hyderabad
Mahesh Babu talks about his 20 May release Brahmotsavam and is confident that it will appeal to families and youth instantly. Here is an exclusive interview for idlebrain done by Jeevi -
Srikanth Addala has two types of male leads. Happy Go Lucky and a man with a psychological complex?
I play happy go lucky guy in Brahmotsavam. It's more urbane compared to SVSC.
Tell us about your observation of Srikanth Addala's work?
Srikanth Addala films have simple story lines. But there will be lot of depth in character and nuances in scenes. There are certain basic things (roots) we forget in today's social life, but we get connected to them when we watch Srikanth Addala's films. If you ask me to summarize the story of SVSC, I can't do it. Most of the writers imagine scenes while writing. I think Srikanth Addala inspired from the things happened in his life and things he has observed from his friends' lives.
If you look at SVSC, It's a character play between 4 vital characters. What about Bhahmotsavam?
There are 20-25 characters in this film. I can't pinpoint any. Srikanth has written a beautiful father character that is played by Satyaraj.
Can you reveal anything about story?
We have revealed the story of the film in theatrical trailer which has got amazing response. Samantha says something about '7 tharaalu' (7 generations). It's about searching your roots. I thought it's an unique concept when I heard the story. I felt that it has freshness as I never heard such a story line in the past.
You are having 3 heroines and all of them seems to have meaty characters?
First, I have to thank Samantha and Kajal Agarwal. Praneetha is doing an important role. Samantha and Kajal Aggarwal have worked with me in the past. Since it's a love story, I felt comfortable with both of them as I worked with them in the past. I would have felt little awkward if it were a new heroine. I am very happy that they did this film.
We generally see Revathi in heavy roles. She looks happy and lively in trailers?
She is a terrific actress. I don't know how anybody manage to look as natural as Revathi on the screen. She plays my mother.
You have been doing urbane and family oriented films in the recent past (except Aagadu), yet you are able to get into hardcore masses with a film like Srimanthudu?
Srimanthudu has the perfect blend. The message was very powerful. I feel Srimanthudu is a larger-than-life concept film. Brahmotsavam is a complete family oriented film. Families are our targets though there is something for the youth. This is a complete family entertainer among my films after Murari. Brahmotsavam will be a feast for family audiences. The climax of the film is going to be very emotional like any of Srikanth Addala's films. It will be new. There are very few scenes in my career when I get tears in my eyes and the climax of this film is one among them,
Brahmotsavam has music that grows on you?
That always happens with good music. I loved the title track of Brahmotsavam. It comes in the second half and it has the theme of film. Srikanth sent me the tune on January 1st when I was in Switzerland. I called him up and said that it's amazing. It's my favorite song and I keep listening to it when I am in car. It's haunting and it happens with Micky's music. When we asked for a Sangeeth tune, we were expecting a traditional tune from Micky. Hats off to Micky for coming up with such a peppy tune. Sirivennela's lyrics also helped. Sirivennela is like a God in that department.
Tell us about cinematography of Brahmotsavam?
When Srikanth narrated story to me, my first preference was to have Rathnavelu as cinematographer. I called up Randy (Rathnavelu) immediately. He was trying to do some other film. I convinced him to do this film. I think it will be a new film for him. He always used to do high-contrast lighting in his earlier films as it was the requirement for those films. He freaked out when I said Brahmotsavam is a colorful family film with soft lighting. He is an extremely committed technician and everybody who work for films should be like him in terms of commitment.
What's your gut feel about Brahmotsavam?
I am very confident about it. Family audiences and youth will connect with it big time.
Tell us about release?
The main reason why we want to come out on 20 May because of family audiences. It's a holiday time for children which enables the entire family watch the film in theater. I have to thank every member of the unit for working very hard to make this release happen on time. I will take 15-20 days holiday after Brahmotsavam release and then work on Murugadoss film.
Can you elaborate about Murugadoss film?
NV Prasad and Tagore Madhu will jointly produce this movie. We will announce the name of heroine in a couple of days. It will be a film of different genre. It's like a dream come true. I am very excited about working with Murugadoss sir as I always wanted to work with him. I am in discussions with Puri Jagan. It will happen after Murugadoss film.