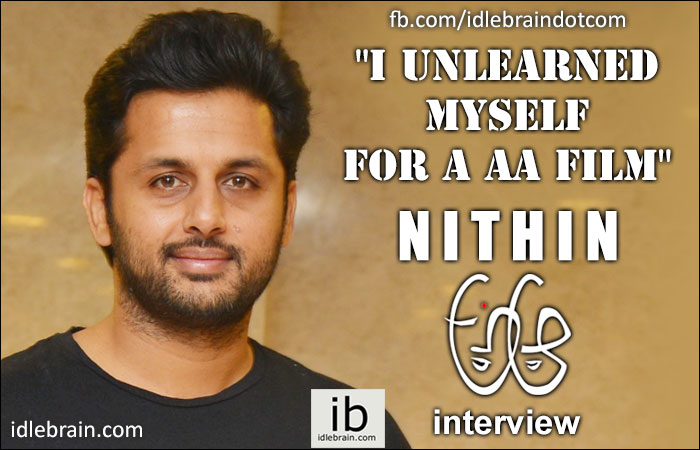 06 June 2016
Hyderabad
Nithin who has been getting lot of appreciation for his subtle and mature acting in A Aa had worked really hard to get there. Nithin explains what he has done for the latest blockbuster A Aa in this exclusive interview -
How did you prepare for this film as an actor?
My past few films had happy-go-lucky characters. When Trivikram sir told me the character, he mentioned that this character has the pain Mahesh Babu's character had in Athadu and and also should be active like Pawan Kalyan character in Atharintiki Daaredi. In order to achieve that he has held a workshop for me for a month. I make a lot of hand movements while acting. My eyeballs move a lot when I am acting. Sir has asked me to curtail hand movements and ask me to steadily look into other actors and camera without moving my eyes. He has asked me to change my body language and alter my walking style.
What is the most difficult scene for you in this film?
Luckily, the shooting of the film is started with a fight sequence. There are two scenes which I found very difficult to do
Then came the scene 'ninnu preminchentha luxury ledu…'. It was a night shot and we started shooting at 1 am. Based on the experience I had in films, I have a set of expressions for emotional scenes. I started doing dramatically. Sir said that there is drama in the dialogue itself and he didn't want me to add any more drama with my work. He wanted me to do it flatly so that the dialogue will create the required drama. It was very difficult to do it as my body and senses are accustomed to do things in a certain way. I took ten minutes break. Sir came to me and explained me the details of the character emotions. I unlearned myself to do this scene.
There is a scene where I criticise my sister for heavy make-up. When she gets offended, then I explain her my inner feelings. I was doing that scene again and again, but I was not getting that protective brother emotion in it. In my personal life, I am the pampered one being the youngest kid. I don't know that emotion in personal life. We started the shooting of the scene at 11 am and it went on till 3:30 pm. I had to do it 14/15 times to get it right. Being a Malayali girl, Ananya didn't know the meaning of lines. We explained to her so that she gives better reaction to my lines.
This film is not a hero-centric one. Didn't you have any reservations?
I know that it's not a hero-centric film and it's a story-based film. People like this film more because it's narrated from heroine's point of view as it offered variety. I am not the kind of guy who measure the screen space and length of dialogues. I want a good character and a good film. All the characters in this film are being talked about. If all characters get noticed, then the span of the movie will be very big.
What are the compliments you are getting for your work in A Aa?
I am getting compliments that I am matured as an actor and this film takes me to next league. My audience base is increased with this film.
How is it like working with Samantha?
She is a beautiful, hardworking and dedicated actress. She is my friend even before we started working for this film. It was little awkward in beginning and it took us some time to be comfortable in front of camera. Trivikram sir was shocked to see such a weirdness between us and wondered if he had made a mistake of casting us together. She is phenomenal in the film.
Tell us about songs?
I give entire credit of songs to director. Mickey J Meyer made sure that he has composed fresh tunes for all songs. None of the songs resemble his earlier tunes. Sir has pushed Mickey to give such beautiful songs. He has postponed shooting of songs because Trivikram sir wanted the best tunes from Mickey.
If you look at A Aa, we all made sure that our work doesn't resemble our earlier movies. I give the entire credit to director only.
Tell us about the commercial range of the film?
It's doing phenomenal business across centers from USA to C centers, Nobody expected such a class film to connect so well with masses of C centers. May be due to family emotions and village backdrop. On Monday, we will come to know the range of success.
How is it like working with Rao Ramesh?
Rao Ramesh changes his expression as smooth as we shift car gears. He is a true artist. I told him that he will walk away with all credit for acting in A Aa film.
You had the luxury of working with all top directors. Who influenced you the best?
I don't think I am a great actor. I don't think I am a great looker. I became an actor because my first two films were successful. It's pure luck and destiny. I have learnt a lot from all the directors. But, three directors are responsible for shaping me up as an actor.
Teja: I was like a raw clay and it was Teja who shaped me up as an actor with Jayam. He was like a school teacher.
Rajamouli: He took a lot of care about my body language and histrionics in Sye film.
Trivikram: I gave a different performance as Trivikram has taken a lot of care that I should do differently in A Aa film
Tell us your next project?
I am feeling blank as of now. I need a break for a month. A Aa has changed my image and my market. I want my next film to be very good because audiences expect a lot after A Aa.