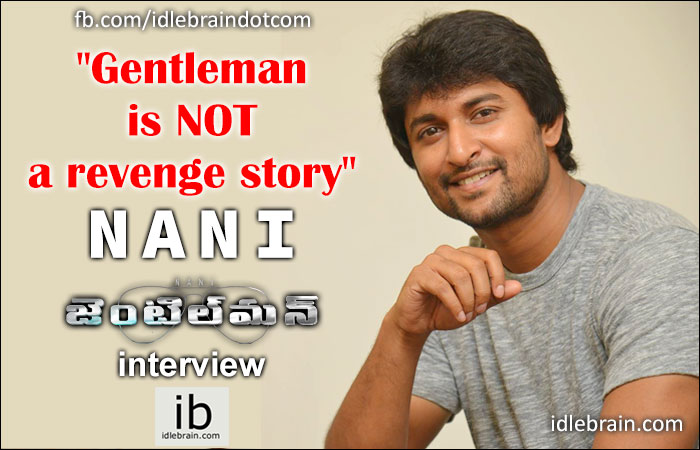 16 June 2016
Hyderabad
Nani is having a judicious mix of novel points and commercial elements in films and he is also making sure that he changes genres to offer variety to movie lovers with each of his films. His latest film Gentleman is releasing on 7 June. Here is an exclusive interview with Nani -
Tell us about your last movie Krishnagadi Veera Prema Gadha (KVPG)?
Krishnagadi Veera Prema Gadha holds a special place in my heart because the story has evolved in front of me. Hanu Raghavapudi used to come and meet me and I was involved with it right from the inception. KVPG is the second biggest hit in my career after Bhale Bhale Magadivoy. KVPG was aired on TV a couple of days back. Gemini Kiran has told me that it has generated one of the highest TRPs. Though there were complaints about certain things in second half, they were surpassed by the detailing and characterizations of KVPG. It's a film of long shelf life. It's a proud film for me.
Though Gentleman film adds a different genre to your career, didn't you face any criticism when you accepted Gentleman subject after the big hit of Bhale Bhale Magadivoy? Our heroes have the tendency to up the ante, expand the market and maximise the revenues once they get their career best hit? Instead of consolidating your market, you trying to attempt more genres?
I feel that attempting more genres will help me in long run. If I try to consolidate market by re-attempting the genres that worked big time at box office, I will become monotonous. In the interview time during Bhale Bhale Magadivoy, you have privately mentioned to me that my ability to select good and different scripts is creating a good will for me and it's showing up when a film like Bhale Bhale Magadivoy generating unbelievable reception (making more than $ 1.4 million in USA). Over a period of time, there is a belief in movie lovers that Nani's films have good content irrespective of box office status. Your observation has struck me hard. Our hard work and trust in scripts might not pay us off immediately, but will deliver the magic at box office at the right time.
I agree that there is a lot of pressure for me deliver bigger box office results after Bhale Bhale Magadivoy. After the release of Bhale Bhale Magadivoy and when I was about to accept Gentleman script, I had an offer of making a commercial script from a big production house with an established commercial director. I asked myself what made me to travel from Ashta Chemma to BBM? It was the decisions I made. Some of them might not have worked. Shall I change my thinking process just because BBM has become such a big hit. I trusted my heart and went ahead with Gentleman. Till the promos came out, everybody thought Gentleman might not be a follow up film for me after BBM and KVPG. But as the release date approached, the craze is catching up. Dil Raju has called me and said that all 6 shows were sold out in hours in Prasads when they opened booking on Tuesday morning. I am extremely proud of Gentleman. The success of Gentleman will give me immense happiness for going against tide.
Movie lovers should feel that Nani does all kinds of films and we should be prepared to watch all his films. That's the perception I am trying to create for movie lovers as I grow as an actor and as a star!
Mohan Krishna Indraganti is your first director. Is Gentleman an obligation to him?
I am not a kind of guy who goes for any obligations. If I am doing films for obligations, I ruin my career and will end up ruining the director's career as well. I have a close buddy since childhood. I am willing to offer him a chance. But the script he narrated was not impressive enough. I told him that if I do a weak script for him, then his film flops and he ends up not getting further chances in film industry. His career will be finished. I did Gentleman because I loved the script. If this script is narrated by any other director, I would have done it. Mohan Krishna is a man of self-esteem. He asked me several times not to do this film as a favor. He asked me to do it only if I like the script.
Lets come to the story of Gentleman? What's the significance of 'hero - villain' caption and the aviator sunglasses in logo?
'Hero - Villain' caption is coined to create curiosity among audiences. You will see the significance of sunglasses in the movie. We can't reveal the story much for a film of thriller genre. We feel that thrillers are mostly serious and dark films. Gentleman is not like that. There is lot of romance and fun in Gentleman. Both romance and fun is seamlessly integrated into the format of a thriller. Lot of people are speculating that this movie might be inspired by Baazigar. It's not at all inspired by any film. Baazigar is a revenge story that's dealt with a shockingly radical way a couple of decades ago. Gentleman is not a revenge film.
What's the budget of Gentleman? It looks like a compact budget film?
Gentleman's budget is almost equivalent to that of KVPG. The producer has spent as per the requirement of script and scenes. It's the most comfortable film for the director with no hiccups in production. The runtime of the film is approximately 2 hours and 17 minutes.
What do think movie lovers should look forward to in Gentleman?
1. It's fresh and different from other films.
2. It's engaging till the end title credits.
3. Generally, thrillers are about thrilling you. Gentleman is an emotional thriller which you will understand after watching it. One will have wetness in eyes during some emotional scenes.
What are your next projects?
1. I am currently doing a film in Virinchi Varma (Uyyala Jampala fame) direction for Anandi Arts. 30% of the shoot is complete. I finished a schedule in Medak a couple of days back. It's a beautiful love story. Gopi Sundar is doing music after BBM for me. It's a sweet love story. I play the role of an assistant director. But there is not filmy backdrop in the story.
2. I will be doing Dil Raju's film from August. Trinadh Rao (Cinema Choopista Maava fame) is directing it. This is the most commercial film. It will be thoroughly entertaining with Idiot kind of mad energy. Devi Sri Prasad is doing music.