Story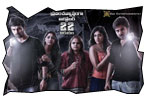 There is a haunted house in Nandigama. Dead bodies of 34 people resurface in house's well over a period of time. A TV channel plans to host a reality show in that haunted house. A group of 7 people are selected in auditions and are sent to the haunted house. They have to last there for 7 days for which the prize money is going to be 3 crores. Rest of the story is all about the mystery behind Raju Gari Gadhi.

Artists Performance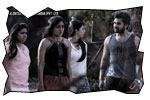 Actors: Debutant Ashwin is alright as main lead, but looks little stiff in few scenes. Chetan Cheenu is good in a vital role. Poorna plays a mysterious role which has a lot of importance. Dhanya Balakrishna is one of the contestants and is adequate. Eeshanya is mainly used for skin show. It's Shakalaka Shankar who steals the show with hilarious expressions. Dhanraj is loud as a Guntur village man and provides laughs. Saptagiri is entertaining though he is there for a few minutes. Rajiv Kanakala dons the role of a noble doctor. Vidyullekha Raman has a body language that generates comedy.
Technical departments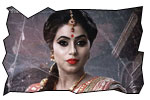 Story - screenplay - direction: Horror Comedy is the current trend that's working at box office in Telugu cinema. Limited locations and limited actors help in making the movie in limited budget. Hence we see a horror comedy releasing almost every other Friday. This genre is also being abused. Hence It's extremely difficult to satisfy audiences by doing a horror comedy unless it has a workable story and hilarious entertainment episodes. Popular TV personality Ohmkar who made his debut with Genius has taken some gap to come up with this horror comedy. This film is made on a shoestring budget. The basic story of a reality show in a haunted house reminds us of Lawrence's Ganga film. The comedy episodes in the film are good, though few of them are loud and crude. The story becomes mysterious and illogical as the film progresses. The proceedings become dull towards climax. The Pawan Kalyan - RGV playoff in one of the episodes has got a lot of response in theater.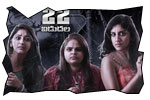 Other departments: Music scored by Sai Karthik is loud at times, but suited the genre. Dialogues by Sai Madhav Burra are hilarious in some scenes. Cinematography by Gnanam complemented the theme. Art direction by Sahi Suresh is good. The production values are not upto the market as the film is made with frugal budget.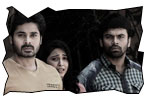 Analysis: Horror comedy is the happening genre now. Raju Gari Gadhi has an interesting title and had curious promotions which made Telugu movie lovers to look up and notice. It has decent comedy and a bearable storyline with a twist. If you like horror comedies, you might end up liking this film. Watch out for Shakalaka Shankar's comedy and expressions!