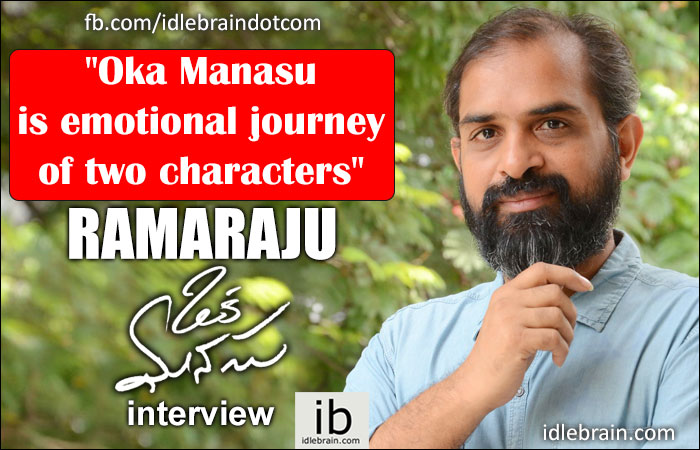 22 June 2016
Hyderabad
His debut film Mallela Theeramlo Sirimalle Puvvu has got compliments, but was a failure at box office. Ramaraju is coming again this time with Oka Manasu with an interesting casting and good promotion. Here is our exclusive interview -
Tell me about the experience after your debut film 'Mallela Theeramlo Sirimalle Puvvu'?
Mallelatheeram was a wrongly delivered and wrongly targeted film. It was a limited film. It was a miscarriage kid. But, media has given us unconditional support. The spirit of Mallelatheeram was not killed. Theatrically, it was a wash out.
I got quite a few offers from big production houses like Usha Kiron Movies. I went into a skeptical mode and saying no to myself. But it was Chandramouli of TV9 who said TV9 is there to support me. He promised that it will not be a miscarriage this time. I am promised of proper planning and proper delivery system. That gave me confidence. They got excited when I narrated the story of Oka Manasu.
Mallelatheeram film is not available on any digital platform?
Yes. The complete rights are with me. I will try to release it on digital platform a month after the release of Oka Manasu.
Tell us about the story of Oka Manasu?
It's an emotional journey of two characters - Sandhya and Surya. The dialogue 'Nee meeda prema chavadu. Inkokari meda prema puttadu' reflects the mindset of Sandhya character. Some people have this state of mind for some period and some people have it for a lifetime. Oka Manasu is about Sandhya character that has this feeling for a lifetime. Surya character is initially like that. But after some period, he comes in terms with the practicality of life.
Casting:
I wanted to have a strong female lead. I want the heroine of the film to pull audiences to the theaters. First choice was Samantha. She wanted to do the film, but asked us to wait till June 2016. I realised that it was a long shot. Then I narrated it to Regina Cassandra. She was willing to do it, but was able to allot 5 days a month. This is a film that should be shot at a stretch. At one point of time, TV9 has asked me to look for new faces as it's a script based film.
Madhura Sreedhar called me to look at Niharika Konidela for Sandhya character. Though I had heard about her, I didn't know how she looks like. When I searched google, I identified Sandhya with Niharika.
Nagashourya suits the role and there is no excess baggage to him. He looks fresh against Niharika. There are different shades to his character in this film.
Tell us about music?
Songs in this film are a part of story telling. I asked music director Pavan (Mallelatheeram fame) to give tunes when I wrote the script. I wrote screenplay while listening to those tunes. I used to play music before narrating script so that they know the mood of the film. Pavan didn't come in terms with the producer. Hence we had to part ways and rope in Sunil Kashyap as music director. We haven't used any of tunes of Pavan. Sunil Kashyap has given fresh music. Before signing Sunil Kashyap, I asked Madhura Sridhar to get any music director to compose a tune on Madhyamavathi ragam. The next day, Sunil has prepared a tune on Madhamavathi. It was Ninna Lenantha song. I loved that tune and signed him for the film. There is O Manasa with both versions (male and female). All the compositions in Oka Manasu are raaga based. There is a romantic song which is composed in Amruthavarshini ragam as I feel romance can be best explored in monsoon season. Ramajogaiah Sastri and Bhaskarabhatla wrote fabulous lyrics.
How is Niharika Konidela as a performer?
Niharika Konidela will stun the world with her performance on 24 June. She has delivered the Sandhya I had imagined while writing the script.
Strength of the film?
Script. It pulled so many positive forces to the project.
Like Geethanjali for Manirathnam and Maro Charitra for Balachandar, I wish that Oka Manasu will be like that to me (I know that Oka Manasu's stature is not the same). Just like the way Saritha character is immortalised by Bala Chandar with Anthuleni Katha, I would like Sandhya character to be etched strongly in the minds of movie lovers after watching Oka Manasu.
Are you nervous ahead of the release?
No. I am very happy the way film is being promoted and the way it's being released. I learnt the lessons from Mallelatheeram and made sure that I didn't repeat them with this movie. Though content in Mallelatheeram was good, there are no cinematic traces in it. I have made sure that Oka Manasu offers good cinematic experience.
What are your future release?
My next film will start immediately after the release of Oka Manasu. It will be produced by Madhura Sridhar. It will be a rural love story with raw emotions in Godavari backdrop.