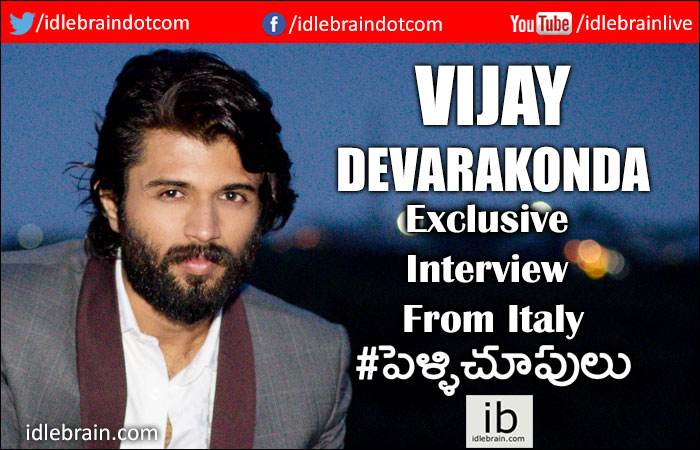 30 July 2016
Hyderabad
Young hero Vijay Devarakonda, known as Doodh Kasi guy from Yevade Subhramanyam is back as solo hero with new release Pelli Choopulu. The actor excited in him is working on an upcoming project in Italy and spoke to Idlebrain sharing the success of Pelli Choopulu. Here are the excerpts from the interview -
Q. Can you brief describe the journey into films?
A. I am born and bought up in Hyderabad in a typical middle class family setup. Does B. Com. In parallel I got trained and participated in Theater acting workshops, English plays performed many times at Ravindra Bharathi.
Q. When did the acting bug bite you?
A. I've done my schooling at Sathya Sai Baba School in Puttaparthi. We had only few hours of academics. There was complete freedom for rest of time. So, I used to enjoy extra-curricular activities. In Class 4, I began to write a story with my best friend. I was less of a studious academics guy and more of sports, creative writing, drama and bookish guy.
After coming back to Hyderabad and doing the graduation, somehow I met director Teja garu and producer Suresh Babu garu participating in an audition. Then, I thought that I would become a hero easily but realized the tough grind. Due to lack of any cinema field experience, I could not move forward with my shy attitude.
Q. How Life Is Beautiful happened?
A. My dad went on pressuring me to send my profile to producers and directors which I did not like at all. Finally when heard about Sekhar Kammula's auditions for Life Is Beautiful, I took the chance and sent an E-mail. They called me up and took my audition. I was damn sure of bagging the lead role but disappointed to win a supporting character. Here's where I met Nag Ashwin, director of Yevade Subhramanyam.
Q. What's the journey with Nag?
A. Nag Ashwin was directing ad films with Swapna and Priyanka in those days. When he saw me, immediately asked to me act in his ads. As I need money to survive, I took few assignments. After 3 to 4 days, Nag narrated me a Bollywood script for which he need a demo shoot.
He paid me some good money and we traveled across many places in North India for this demo shoot.
Q. How Yevade happened?
A. During this North India sojourn, Nag was working on Yevade script and explained the Rishi character. Initially, Swapna and Priyanak were apprehensive to cast me in Rishi character. But, they took a chance as Nag showed confidence over me. From here, my actual journey took off.
Q. After Yevade… how as life?
A. After doing Yevade, I was quite happy that audience used to recognize me. They used to treat me like a celebrity when I attend family or film functions. People connected emotionally with Rishi and director Tharun Bhascker was also one among them

Q. How Pelli Choopulu happened?
A. I was actually struck in Rishi mould and was waiting to come out of it. In between, I heard many scripts but liked none of them because I cannot accept those characters which won't really excite me.
Tharun was working on Pelli Choopulu script long before he met me. As he is connected so well with Rishi, he was tentative to cast me for Prashanth because Prashanth role is realistically very lazy. When I heard the story, I just felt amazed and thought this could be the right character to bring me out from Rishi fever.
Prashanth is so close to my heart because young attitude, irresponsible behavior was a part of my personal life. So, it was more like my personal life experience. I had a selfish reason to come out of Rishi shadow and became a part of Pelli Choopulu.
Q. What do you say about Pelli Choopulu?
A. This is a good script and directed extremely well by Tharun. This is a drastically different characterization from what I done earlier. Once I joined Tharuns team, I don't know how time passed off.
After approaching Suresh Babu garu, Raj Kandukuri garu and Yash Rangineni garu, the project took off because we had everything on paper including managing the artists call sheets and budget control measures. They just believed in our younger lot. Later, the production was wrapped in meager 35 days.
We used sync sound to reduce the cost. Vivek Sagar later mixed many themes and sound tracks to enhance the realistic treatment. One month back we were ready with the first copy and confident that people will love our work.
Our team has done Pelli Choopulu with heart and soul. Everyone in our group was between 25 to 27 years at age. We believed in script and kept trust on each other. Producers gave us complete creative freedom. Our belief has today proved to be right because patrons are entertaining thoroughly in theaters.
Q. Are you missing the joy and fun moments in Hyderabad which your team is enjoying with Pelli Choopulu?
A. I worked really hard but when the time has come and our efforts are bearing the fruits, I am away shooting in Italy. I am consoling myself. I want to thank everyone in personal after landing in Hyderabad on August 5th.
Q. What's your goal as an actor?
A. I am always open to explore more things in acting, Career wise I would love to work with all the producers and directors. I am creatively restless and enjoy satisfying my inner self.
Q. Future projects?
A. Doing Dwaraka for Supergood Movies which may released in next two months. Arjun Reddy is one more movie for which I am pushing my limits. This may release in December. I also received couple of calls from big production houses and hope, something materialized as I come back.
Q. Any passion towards directing?
A. Though, I was into screen writing and directed a short film Madam Meerena, as of now I am occupied with acting profession.