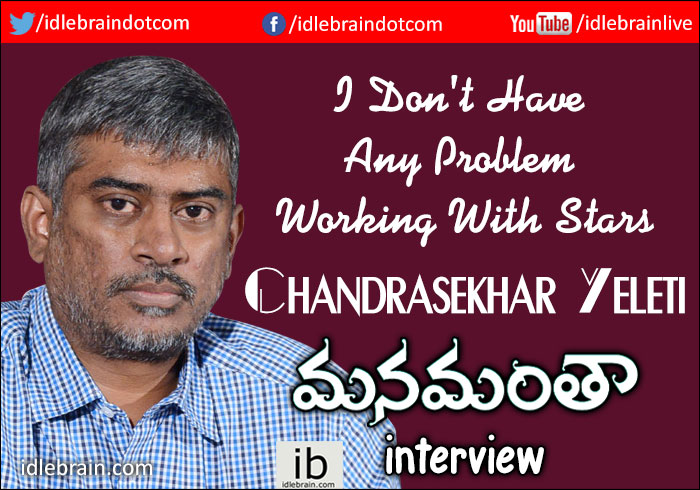 03 August 2016
Hyderabad
Director Chandrasekhar Yeleti is winning accolades for experimenting with different genres and subjects. This time, he is coming up with a human emotional drama film Manamantha which depicts four different stories of four different people of different age groups. Here is what Yeleti spoke about his film Manamantha releasing on this coming Friday.
How Manamantha Is Different From Your Old Movies?
Manamantha is completely different from my previous films. I touched thriller, action, adventure subjects earlier and Manamantha is the first film I focused on human emotions, drama and family values. People of different age group behave in a different way over a particular problem. There is a dialogue in the teaser uttered by the middle class man played by Mohanlal, "Brathakadam Nerchukunna Anukunna Gaani, Manishila Brathakadam Marchipoyanu. Eppudu Marichipoyane Theliyadu" When life is not going smoothly, we commit a big mistake one day. Manamantha is all about four different people whose life turns drastically with one incident.
Any real time inspiration or the story is fictional?
There might be some inspiration from various characters and incidents around me, but surely the story is fiction and is not about any particular person. For me, Manamantha is most difficult and challenging film.
Audience come to theaters with a mind set of something inimitable in your films, will Manamantha have that uniqueness?
Definitely, everyone will connect to emotions. At the same time, I took care in narrating the film in a different way.
No other film of yours was commercial hit after Aithe, although you are winning appreciations every time. Will Manamantha fulfill this?
Okkadunnadu was lauded as a good film, but was a commercial failure. But, everyone loves this movie when it is telecasted in TVs. Anukokunda Oka Roju is best film in my career, but I don't know why this film didn't perform well. Many are now asking for remake rights of Prayanam, although it didn't click at box office then. In fact, I am getting appreciation, three years after release of my films. I think unavailability of multiplexes then was reason for my films not becoming commercial hits. Overseas market has also been expanded now.
Is there any particular reason for picking Mohanlal?
As I said earlier, the film is a human drama. Audience will connect to actor and his situations, irrespective of the fact that how we handle them. Completeness will come to a scene, if and only all artists give best performances. I thought Mohanlal would apt for the role and luckily he gave nod.
Was it in your mind to make a trilingual?
No. When Mohanlal came on board, we decided to make it bilingual. And it has become trilingual after Gauthami had joined us. It will be foolishness making only Telugu version, when we have Mohanlal on board. He is a superstar in Malayalam and he can pull crowd to theaters from very first show.
Why do you take such long gaps for each film you do?
There's nothing like that. I alone need to prepare story, work on screenplay and direct movies. So, this process will take minimum of one and half years time for me. The three years gap after Sahasam was two of my films were shelved.
Do you have plans to make films with mainstream stars?
I don't have any problems approaching any star. But, I should have a pleasing story for them. If I make experimental films with them, everyone will be disappointed.
Do you prepare script with a particular hero in your mind or decide hero only after script is done?
I simply write stories and then approach heroes who would suite. But, the case is different for stars. When approaching stars, story should be prepared keeping their star status in mind. If not, fans will be disappointed. Even, I want to make films with stars, but looking for right stories.
Whose idea of Mohanlal dubbing for the film?
Mohanlal insisted to dub. We also didn't have problem and moreover thought it would be obliging for the film, but we worried whether he can catch the slang. You will find free flowing in his dubbing from 3rd scene, although you witness some peculiarity in first two scenes. He worked hard to pronounce the dialogues rightly. I can assure that, emotions will not be diluted because of his dubbing.
Tell us about music director?
This is second film for me with Mahesh Shankar. We previously associated for Prayanam. I called him again to provide music for Manamantha. He has given wonderful album.
How was it working with Sai Korrapati?
We know each other and are good friends since Anukokunda Oka Roju. Due to individual busy schedules it took this long time to collaborate for a film. I can make trilingual film in grand scale because of Sai gaaru. Moreover, he is a good friend than a producer to me.
What is the ESP of Manamantha?
The film has multiple emotions. Everyone will identify themselves in a character or episode in the film. Audience will come out with tearful eyes after watching disturbing climax. Many asked me to narrate the story in single line, but it is difficult task.
Do you have stories for your upcoming films?
Yeah, I prepared two stories and have producers too.