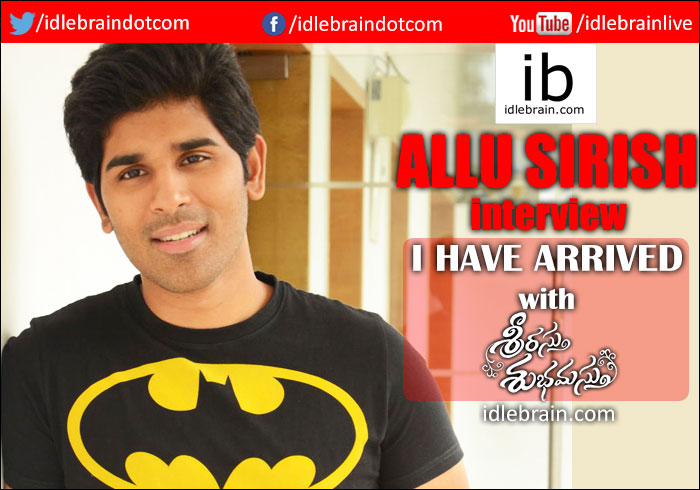 03 August 2016
Hyderabad
Lot of movie lovers might have taken him lightly when he announced his intention to make debut as hero. But, he is a man with a plan! He is slowly and steadily cementing a place for himself in Telugu film industry with sustained efforts and proper planning. You will surely agree if you read this interview in which he details about what goes into his preparations for a film -
Srirastu Subhamastu
I wanted to make a film that has a character that is closer to me to in real life. The characters in my first two films weren't me. It was a struggle for me to build the character life. For Kotha Janta, i failed to identify myself with character or script at any level. Somebody told me that I am an active and a happy-go-lucky guy in real life and asked me to pick a character that represents my real self. We wanted to make a film that has a mix of youthful fun and family orientation. A film that has something in it for everybody.
I am quite happy with the way film is released. It would have done more revenue (a couple of crores more) if not for the competition in market. I think I have arrived with this movie. Where I go from here, will depend on my script selection. The public has neither rejected me nor accepted me for my first two films. I have gained acceptance with Srirastu Subhamastu. This film has seen a patronage to the tune of 32,00,000 so far. It gives a number for my future producers to work on the budget. This film has hero character shouldering the burden. Hence, this movie gives my future directors some confidence to write strong roles for me.
You were not satisfied with Kotha Janta though it did decently at box office?
More than the number what gives me satisfaction is my contribution to the film as an actor. My role in that film is passive and confused at times. Nobody talked about me after watching that film. During that period, a few hit films by upcoming actors were released. Since those characters were better, those films helped the actors to make a career.
When you say 32,00,000 viewers, how much revenue it is?
It will be a gross of 13 crores and a share of 8.5 crores. A single screen in Jangareddy Gudem costs Rs. 25 per ticket. Some multiplexes charge Rs. 150/- per ticket. If a film makes 1 crore in Guntur, it has more number of viewers. If a film makes 1 crore in Hyderabad it has less number of viewers. It's a huge success for me as an actor since 32 lacs of people came to see me (as the film doesn't have any other big names associated with it). My only regret for this film is that it wasn't exploited well in USA due to various factors.
There are a couple of complaints about this film. 1. Hero taunting heroine (Puri Jagan style of characterization). 2. Hero going to heroine's place under guise and making things right. Still, this film has managed to convince audiences?
I have listened to around 25 scripts. All these scripts can be categorised into two types. First one is hero coming to heroine place followed by confusion comedy. Second one is hero trying to reunite a broken family. I know that hero taunting heroine is a typical Puri mark characterization. But director Parasuram has made sure that it's cute and it never appeared like stalking. Director Parasuram said that girls like being chased and they like attention as long as long as it is done in a flattering/complimenting way. Till heroine falls in love with hero, the hero doesn't even touch her in the movie. Parasuram has worked on these details to ensure that there is no sense of deja vu when audiences watch the movie. In the second half, all the template films have a character like Brahmanandam who is made a bakra. We made sure that there is no such confusion comedy. However, I agree with the aspect that heroine's character is shown in a passive way in second half. We had a couple of scenes in second half which were trimmed away. Those scenes reveal positive intent of heroine towards hero. There is a critical scene involving hero, heroine and Rao Ramesh which show feelings of heroine towards hero. We had added all these scenes few days after the release.
Though Srirastu Subhamastu is not a modern film in terms of story, we made sure that treatment is fresh. A lot of detailing has gone into it. We tried to keep conversations between father and son pretty natural and undramatic.
You are getting appreciation for the climax. What has gone into it?
The story is driving the character of hero till the climax. But hero is not driving the story. At the end, there is a risk of hero remaining passive. At the end, hero should take charge of situation and express himself. I asked the director to trust my ability and rewrite the climax with hero taking the charge. He took a couple of days and written the climax afresh. I wanted him to write dialogues in such a way that hero never raises voice against his father, yet communicates his feelings in a respectable tone.
We took a conscious call to have conversational mode (no dramatization) in all key situations. There are three key scenes between hero and hero's father. All of them are dealt in a natural conversation mode. I would like to give entire credit for the director to come up with a nice climax and natural dialogues. Making me perform and staging the scenes in a natural way is done by director. Cinema is a director's medium and he brought freshness to it.
Whose idea is it to do a cover edition for Anu Anu song?
It was mine. As a music lover, I like cover editions a lot. Whenever we go clubbing for karaoke nights, I sing Savage Garden and Bryan Adams songs. When Sai Karthik was working on cover edition, he asked me to sing. Alia Bhatt has also done a cover edition recently. Hussain Sha Kiran (Meeku Meere Maaku Meme director) has shot video of cover edition on me and Lavanya Tripathi. People are surprised that I could sing.
A popular music label has approached me to do a single after watching this cover edition. They promised me a best music video director and a happening actress for the shoot of the single. It will happen soon.
Are you still being trolled?
I am happy to see positive reaction for me in social media expect for a few trolls. Neutral audiences never want to troll you. Trolling is a fan war thing. As long as you mind your own business and as long as your movies do well, the trolling will not happen. Content in a good film always answer trolls. I actually like to read my twitter response feed now. The instagram response is filled with so many positive messages.
Next movie
My next movie in Venu's direction had a very interesting story. It's about a guy having three women in his life. He has to identify his soulmate. He also has a past life connection with one of these three girls. Each of the heroines and interaction with them are going to be fresh. Comparison is evident with films like Bachna Ae Haseeno and Chukkallo Chandrudu. But, there will not be any resemblance. I play the role of a fashion photographer. That profession gives him an access to pretty girls. There is a costume drama (past life) happening for 15-20 minutes. There will be a couple of action blocks. Each of these flights will be choreographed by Ravi Varman and Ram Lakshman. I am pretty much kicked about this movie. Ghibran is handling music. Mehreen (KVPG fame) will play one of the three heroines. Naresh plays my dad. We are aiming for March 2017 release.
Producer Shailandra Babu is one of the biggest Kannada producers and he is also a big film financier. They signed me before the release of Srirastu Subhamastu. They were willing to invest 10 crore on Kotha Janta hero. I asked him why he was investing so much. He said that he saw the way I handled IIFA hosting and made the decision to cast me. He wanted somebody joyous and bubbly.
Being a son of producer/distributor, how different your working style will be?
I make sure that scripts are good. For my latest film, my dad has listened to the script and approved it. The next version of script will be okayed by Bunny. Ram Charan will also listen to the script. I am making sure that I minimise judgmental error right in the beginning. I involve in filmmaking without being intrusive.
I always think about producer. When we went to Kashmir to shoot Srirastu Subhamastu, I had the luxury of staying in a 5-star hotel. But I made sure that entire crew stayed in a 3-star hotel so that we could bond with each other. I have also asked for a Volvo bus as a mode of transportation, but the tricky roads didn't allow it. Likewise, when I shoot for my future films, I will create an environment where a team can bond together so that it results in a better and happy output. I never keep layers for my team. My manager is only for backend work, not for creative decisions.