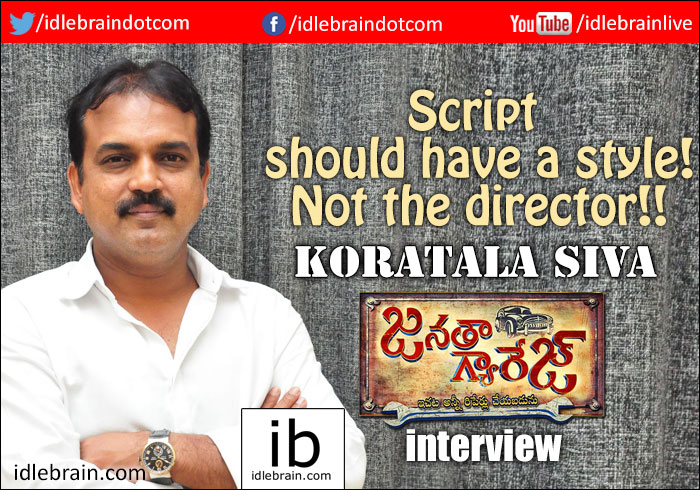 31 August 2016
Hyderabad
Siva Koratala has established as a huge commercial director by delivering back-to-back blockbusters in the form of Mirchi and Srimanthudu. His latest film Janatha Garage is having a lot of expectations on it because NTR is acting in it. Here is our exclusive interview -
Tell us about how did Ganatha Garage happen?
I narrated the script of Janatha Garage to NTR in the beginning of 2014. He was shooting for Rabhasa at that time. I had a commitment with UTV to start a film from August 2014. But Rabhasa was getting delayed. Hence I decided to do Janatha Garage with NTR after completing my commitment with UTV first. Later UTV project got cancelled and Mythri Movie Makers got into production. That's how Srimanthudu happened first. Now I am back with Janatha Garage.
Why did you title it as Janatha Garage?
The entire story revolves around a place called Janatha Garage. There is a sanctity to that place and the workers over there treat it like a temple. The word 'Janatha' is very nostalgic for me. There used to be three hotels named after Janatha in my hometown when I was a kid. It used to be so commonly named for various establishments including newspapers and political parties. There is a lot of nobility to Janatha word.
Tell us about main characters?
There are two primary characters. NTR plays Anand who is an environmental student at Mumbai University. Mohanlal plays Satyam who runs Janatha Garage. Both these people are in different parts of India. Anand loves earth and wants to save earth. Satyam loves people on earth and wants to save people. Both these characters meet at a highly emotional point.
Your film Srimanthudu is about giving back to society. This film has the angle of mother earth. Is character consistency maintained throughout the movie for hero vis-a-vis environmentalism?
Saving earth is a concept that most of the people find it preachy. People think saving earth is nobody's problem. We are selfish and we don't plan well for future generations. There are a few activists who make saving earth their life-time goal. NTR plays such a kind of character.
I made sure that the characterization of NTR is entertaining and commercial though he is an environmentalist. I have done a lot of research for it so that I can tell the same thing in a commercial format. Hero compares girl with a tree. There is also a environmental-friendly action sequence. There is an undercurrent environmentalistic trait for hero throughout the film. The opening sequence of the film is on environment and the closing of the film is on environment. It worked really well on commercial scale.
NTR is a big action hero. Did you modify your script to suit NTR's action image?
I am lucky that big heroes are having an open mind when I narrate script as I am a writer. NTR made it a point that the script shouldn't be altered for his sake. Whatever I had written in script, NTR has carried the same tone in acting and dubbing.
But as a director, I should be able to use NTR's core strengths to beef up the character. Mahesh Babu and Prabhas's image and body language was used to optimal output in Srimanthudu and Mirchi respectively. Likewise, NTR's strengths are used to maximum effect in Janatha Garage.
How different NTR is going to be in this film?
I know body language and the way Tharak expresses in real life. He is an intense human being. If he has to ask somebody 'bhojanam chesava?', he asks with a lot of intensity. He has an expressive face. I don't think major aspects of his personality were captured on screen before. NTR is very stylish and knowledgeable in real life. There is so much of untapped potential in NTR as an actor. He has a lot of clarity when he expresses his thoughts. His fluency in various languages (Telugu, Tamil, Kannada, Hindi, English, Hyderabadi Hindi) is amazing.
Tell us about heroines?
NTR, Mohanlal, Samantha and Nithya Menen were first choices for the primary characters. When you have actors like NTR and Mohanlal in the film, you need actresses of substance. Though highly successful commercial actress, Samantha can bring out emotions in a realistic way. Nithya Menen is an honest actress who brings believability to whichever character she essays. All these four actors gave an honest performance and added different dimension to the script.
Songs:
Pranamam: Pranamam is my all-time favorite. It's an experimental song for a star like NTR. Devi Sri Prasad was excited when I asked him for a chanting tune for the introduction song of hero. DSP gave a chanting tune with right beat so that everybody love the song.
Nee Selavadigi: This is just a 1-minute song. It's a pathos song with soothing melody. It's a haunting number that comes in an emotional moment in the film. I had tears in my eyes when I saw this song on screen. I might add more lyrics and request DSP to compose a full-scale song after the release of movie.
Pakka Local: It's a happy song featuring Kajal Agarwal. Devi Sri Prasad gives an energetic song that has lots of scope for dances.
Rock On Bro: It's a different tune for Tharak. This song is shot in a traveling mode. It's like a stylized Bollywood song. It's picturized in a trendy manner (DCH & ZNMD style). We shot this song for a week in Kerala. 'Vinaleda Modati Manishi Kathalu' is a fatastic line write by Ramajogaiah Sastri while describing nomads.
Jaiho Janatha: Title song is always a priority in my films. I used this song to narrate the story and elaborate characters.
Apple Beauty: It's a duet with NTR doing western dances. His dances will be an eye feast for fans.
You have done your past two movies with Madhie and now with Thiru as cinematographer?
Yes. I make sure that cinematographers contribute to the script than presenting their signature in cinematography. Mirchi film has the faction backdrop of Palnadu. The cinematography in that film was raw (not as raw as in Tamil films) with brownish tint. Srimanthudu is about a billionaire, hence lots of pleasant and vibrant colors were captured. We used earthy tones for Janatha Garage as it's about earth and common people.
Thiru is an accomplished cinematographer who has worked for a great film like Hey Ram in his early days. He has recently worked for Krish 3 and 24 films. He has done national award winning film Kanchivaram (Prakash Raj) without using lights. Janatha Garage has a character. He gave different lighting to garage. Sometimes, garage dominates characters in some of the blocks. The framing and block-formation were completely done by him without any of my inputs.
You also believe in director not having a style/signature in his films?
Yes. I follow Manirathnam in this aspect. Geethanjali and Nayakudu are two films which are completely contrasting to each other in direction style. I feel that the director should submit to script and do whatever script demands rather than trying to force his style into narration. Script should have a style, not the director!!
Janatha Garage is releasing tomorrow. How are you feeling now?
I am curious. I am like a confident student who wrote exams and waiting for the results. There will be comparisons and a game of numbers. Nobody is asking how the film is in the current scenario. Everybody are asking how much share it is collecting in the first weekend. I am trying to leave all this baggage behind and hoping for a positive result. Our team is excited.
Tell us about your next directorial venture?
It will star Mahesh. It will go to floors once Mahesh Babu completes Murugadoss's film. It will be an urbane and stylized film. It will be a makeover for me. There will be more life and fun in the film. At the same time, the character will be larger than life. I always fantasize my hero to be larger than life and doing only good things.
- Jeevi.