Story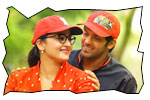 Sweety (Anushka) is an obese and happy girl who doesn't care about her personality. Her mother (Urvashi) tries hard to hook up matches with NRI brides. Abhi is an NRI who comes to India to make documentary on Swatcch Bharat. Abhi and Sweety become good friends. Simran (Sonal Chauhan) works for an NGO and she joins Abhi. Satyanand (Prakash Raj) has a slimming center called Size Zero where he guarantees enormous loss of weight in short time. On the insistence of her mother, Sweety joins that slimming center. Rest of the story is all about what happens next.

Artists Performance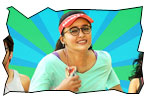 Actors: It's hard for any actress to gain weight on purpose during the peak time of her career. Anushka should be commended for taking such a gutsy decision. She looks endearing and does her part with elegance. Arya is proper for the role of a supportive guy. Sonal Chauhan fits the bill for a role of a hot girl with good heart. It's nice to see Gollapudi Maruthi Rao getting another full length character and he is perfect. Prakash Raj plays the bad guy effortlessly. Adivi Sesh does his part well as an entrepreneur who supports Anushka. It's Urvashi who steals the limelight with her natural performance as a mother who is worried about her obese daughter. Master Bharath Reddy (Ready fame) is Mr. Bharath Reddy now. He looks stylish and the comedy timing is just as perfect as when he was a kid. Brahmanandam is ordinary as a fake astrologer. Nagarjuna, Tamanna and many other film celebrities did cameos.

Technical departments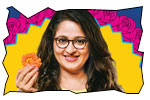 Story - screenplay - direction: Story has two plots in it. One is about how Sweety realised the impact of her obesity and how she dealt with it. Second one is about how she fought against corporate greed. The plot involving the Sweety dealing with obesity is dealt well. But the corporate greed and the crusade against it in second half didn't fit in the flow of basic story. The threads of weighting machine tickets and fortune cookies are nicely written. Director Prakash Kovelamudi has got elite style and it's evident in the way he has dealt in few scenes where the frame freezes and it's narrated what happens in other areas at the same time. At the same time, he has dealt scenes involving middle class sensibilities (especially Urvasi character and her tension about daughter's marriage) well. However, crusade against size zero slimming center in second half takes away the the orientation that's built up till then. The screenplay of the film is not interesting. A scene involving blank weighing machine ticket towards the end reminded me of 'secret recipe' episode from Kung Fu Panda.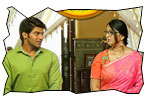 Other departments: Background music scored by MM Keeravani is nice. Songs are alright. Cinematography by Nirav Shah is of high quality with pleasing colors. Dialogues written by Kiran are fine. Art direction is good. Editing is okay. DI and post-production work is neat. Production values by PVP are of Bollywood standards with slickness written all over it.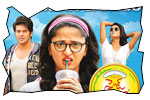 Analysis: First half of the film is decent and sets up a mood. Second half takes a diversion from what we prepare after watching 1st half. It becomes a serious film from then onwards. Plus points of the film are Anushka, visuals, music and production values. A single plot without deviation would have worked well for the movie. The messages, fitness facts and motivational episodes conveyed through film are good. We need to wait and see how common audiences embrace the film.