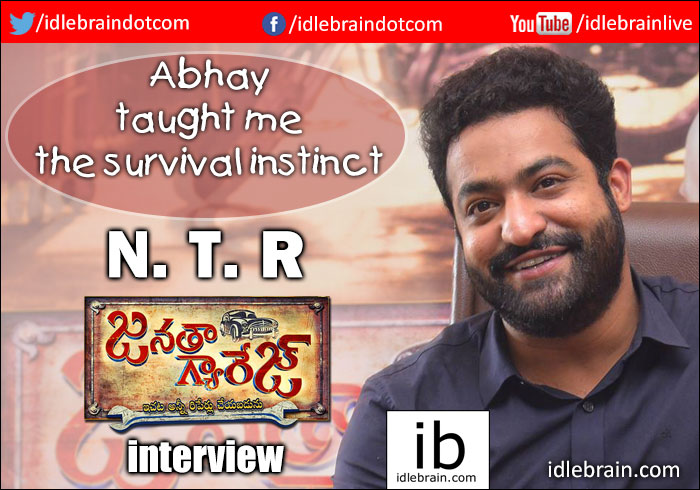 1 September 2016
Hyderabad
NTR explains what changed his mindset to reinvent himself as an actor and as a star with his last couple of films. Here is an exclusive interview with Tharak on the occasion of the release of his latest film Janatha Garage -
Why did you change your orientation to do script-based different films like Temper, Nannaku Prematho and Janatha Garage?
We evolve because of our survival instinct. I was pushed into flops zone because of my thinking. It was a slap on my face. That's when I started to correct and repair myself. Abhay taught me a lot of things. It was an eye-opening realisation for me when Abhay was born. I saw a child who is just brought into this world and he was fighting to survive and adapt to a new environment. If Abhay can fight for survival, why I can't I fight for my survival as an actor and a star. I had the brains, heart and courage to do a right film. And I implemented it. Once I changed my perception about films I want to act, scripts like Temper, Nannaku Prematho and Janatha Garage started coming in my way.

Tell us how difficult it is to do roles in these three films?
Temper was tough because my personal character is not like that. I am a hyper guy, but not so loud. He is negative to start with. It's like a conflict of good and bad inside of a human being. It's about a war within yourself.
Nannaku Prematho has a completely different shade. I had to look cool and suave. He is like a magician who controls the environment around him and tricks others. Sukumar is a very demanding director who is very precise about what he wants. The character should be unpredictable. His body language should be so stoic that others shouldn't guess what's going on in his mind.
The character in Janatha Garage is very well educated one, but doesn't belong to the society. He is like a nomad living in a concrete jungle. Then he gets into an interesting situation. Janatha Garage is an experience which gave me an opportunity to work with great actors.
I grew as an actor because I did Temper, Nannaku Prematho and now Janatha Garage. I see myself as the voice and body of the director.
There is always a debate about content vis-a-vis box office performance. How do you analyse it?
I think content and numbers are interlinked. But sometimes, numbers pressurise us to compromise on content. I feel that content is the king since the birth of cinema. It's content that drives towards success of any film. Pelli Choopulu is the best example. A film made with a budget of Rs. 1 crore has collected Rs. 17 crores worldwide. Sometimes, we ignore content and do combination films to chase box office success.
You delivered an industry hit and you have the potential to deliver it again with a rightly balanced film at any phase of career. Does numbers pressurise you?
You ask this question to lot of people in industry. Lot of us interact with each other off-the-record and it's a constant pressure. We learn and we evolve.
People are expecting your films to be much more than just commercial films after Temper and Nannaku Prematho. How is Janatha Garage going to meet that expectation?
Janatha Garage is a film that has something for everybody across age groups and social demarcations. I think Janatha Garage is an universal film.
- Jeevi.