Story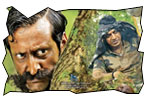 A special task force commanded by a passionate cop (Shiva Rajkumar) is formed to capture or kill Veerappan. Cop analyses that it's not possible to catch Veerappan in vast Sathyamangalam forests as it's Veerappan's home ground. He decided to lure Veerappan out of jungle and kill him. Rest of the story is all about how the cop achieves his mission after a couple of upsets.

Artists Performance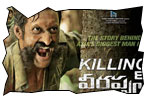 Actors: Shiva Rajkumar gives an intense and realistic performance as a cop on mission. His expressions and body language is excellent. Sandeep Bharadwaj is perfect as Veerappan. He looks like Veerappan and his body language is unique. Yagna Shetty plays the role of Veerappan wife and she performs well. Parul Yadav does a role of an informer. Dr. KSI played the role of a maverick ex cop and he justified the role.

Technical departments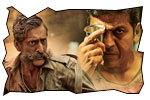 Story - screenplay - direction: Ram Gopal Varma selects Operation Cocoon which is the code word for killing Veerappan to narrate this story. He has shown a few flashback episodes to give us a glimpse about Veerappan family life. He makes the film interesting though the narration is very slow. He justifies the attitude of hero with a dialogue - there is nothing wrong to kill demon by becoming a demon. As per the news reports I read, there seems to be historical inaccuracies in the story of the film. In newspapers, it's written that Veerappan killed his 3rd daughter as he wanted a son. In movie, it's shown as Veerappan killed her to stop her screaming when hunted by police. In newspapers, it's reported that he was travelling in ambulance to attend a medical emergency when killed. In the film, it's shown that he was traveling to meet LTTE Prabhakaran. The mystic and raw character of Veerappan turns bit caricaturish in climax (his ambition to meet Prabhakaran and how he falls prey for schemes of cop).

Other departments: Cinematography of the film is inconsistent, but realistic. Background music makes an impact. Since it's a film based on real events, there are not filmy fights, but only gunfights. Dialogues are realistic and crisp.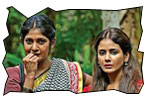 Analysis: Ram Gopal Varma makes it interesting whenever he attempts biopics and films based on real events. After Rakta Charitra and The Attacks of 26/11, he comes up with another film based on real events - Killing Veerappan. If you are interested in films based on real events, Killing Veerappan makes an interesting movie if you ignore historical inaccuracies and slow-paced narration.