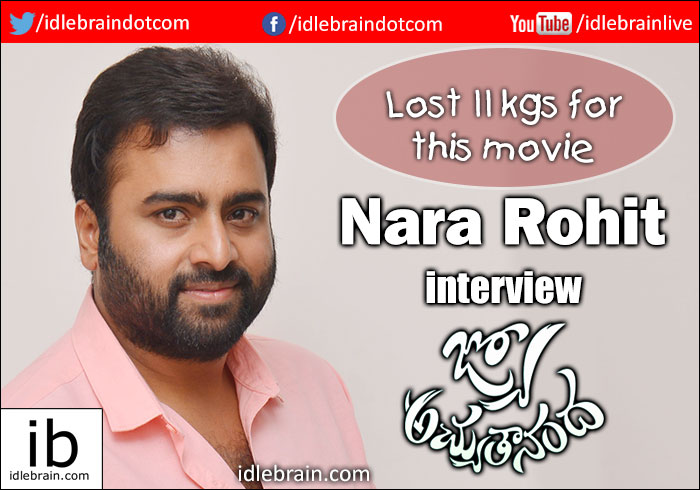 4 September 2016
Hyderabad
Nara Rohith is an actor with lot of curiosity to do innovative scripts. His Banam, Prathinidhi, Asura, Solo are special films with wide diversity in stories. Rohith's upcoming film Jyo Achyuthananda in Avasarala Srinivas direction is releasing on September 9th starring Naga Shourya, Regina Cassandra in main lead roles. Rohith spoke exclusively to Idlebrain elaborating his experiences.

What is Jyo Achyuthananda all about?
This is a story between two brothers and one girl. While Naga Shourya and myself did brothers roles, Regina is the girl in subject.

Why do you feel this movie special?
I had good relation with producer Sai Korrapati garu. But, Raja Cheyyi Vesthe did not get our expected result on his Vaaraahi banner. We had lots of hopes on Jyo Achyuthananda right from the first stage when we heard the script. I kept my other films on hold to work on this. I heard this story one year back and shooting was started only after completion of RCY.

How was the casting finalized?
Our director Avasarala Srinivas locked the artists only after writing his basic line. It was director's call to select Naga Shourya and me. I am very comfortable working with Shourya. We got well during the script reading and a bond was developed between all of us three. We enjoyed a lot and got into sync with commencement of test shoot. All in all, we had good time on sets.

Who picked Regina and how did she justify?
Director was looking for a new artist for Jyo character. We wanted an artist who can look dominant and then options wise Regina was picked. We can't tell this film's story in single line. I need to tell the whole story. When I met Regina at Taraka Rathna birthday, I told her to have a narration of whole script before taking a decision. I had a rapport with her working on Shankara and she took my request. We three had a wonderful wavelength, rapport and chemistry while shooting. I think, we have effectively translated the feel in script onto the screen with our performances.

What attracted you towards doing this film and how is this different from your other movies?
I never heard a story and script like this in Telugu before in this generation. The very basic line is attractive. A movie between two brothers isn't tried in recent times except Seethamma Vakitlo Sirimalle Chettu. Two brothers running behind one girl with a youthful appeal will make the movie come so lively. No, this is not a Dosthana or any other language film's remake. There are no references. This is a fresh movie.

Like Rajamouli said, is this a thriller?
No, this movie is not a suspense thriller but screenplay is a bit thrilling. The movie is more of relation between two brothers. We don't try to love Regina but still there is love in our film.

Will Jyo Achyuthananda be clashing with Shankara releasing in September third week?
I personally requested the producers to push Shankara release by one more week. Even Shankara came out very well and hope it will be released in next two weeks.

How about Jyo Achyuthananda music?
Songs wise, this my first film with Sri Kalyanaramana. I liked all his music compositions from Andhrudu to Oohalu Gusagusalade. I loved every song in this movie. My favorite is Oka Lalana, sang by Shankar Mahadevan and I instantly fell in love with it.

What is your character drive?
There are two phases in my character. One is five years into flashback just finishing the college and later is present. Regina will be there in both the drives.

Are there any tough calls taken to reduce the weight and look younger in movie?
I had a younger look in the film. Actually, I started reducing the weight from RCY. Actually, Shaurya wanted to be quite similar with me as we play brothers. I lost 11 Kgs in last few months and the target is to lose 8 Kgs more in next two months for my next commercial movie. I might be structured with six packs for my new movie to begin in October.

How did you enjoy Jyo Achyuthananda?
Actually, I enjoy my every film. Everyone including director Avasarala, Shourya and Regina; we all enjoyed whole process of Jyo Achyuthananda. We are now enjoying the promotions too. What all I can promise you is, you will find a good laugh on faces by end of the film connecting well with emotions because best part of the film is its climax. In fact, I was saying my producer Sai garu not to worry about Jyo Achyuthananda because this is a hit film right from the moment kept on paper.

How is it working with Shaurya?
I felt Shaurya more like my younger brother. We had no ego issues. We mingled very well. Script and common interests brought us together which helped the movie.

What kind of scripts excites you?
I love doing all sort of scripts. I don't want to see my same face in every film. I like rom-coms, sports based and war based films a lot but finally, I go by story and its strength.

- Jeevi.