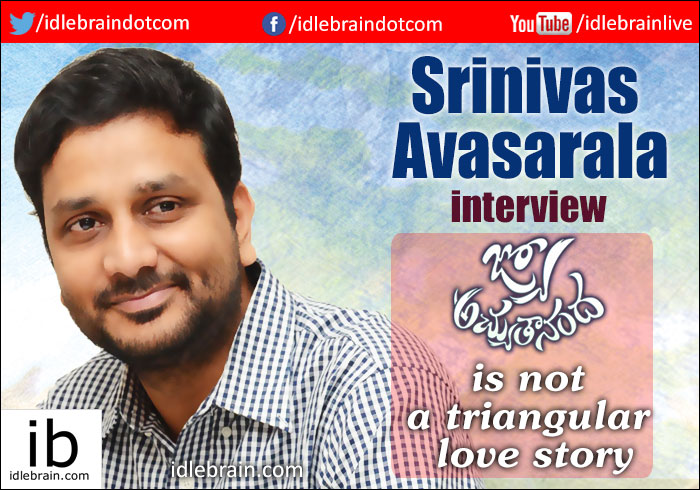 07 September 2016
Hyderabad
Actor, director Avasarala Srinivas is trying hard to fill the sensitive Telugu cinema comedy gap as our audience started missing Jandhyala, Bapu, Vamsy kind of strong nativity centered pure Telugu fun. Avasarala Srinivas proved himself as a wonderful director and meaty writer with his debut directorial Oohalu Gusagusalade. Now, he is coming up with Jyo Achyuthananda starring Nara Rohith, Naga Shourya and Regina in lead roles. In an exclusive chat to Idlebrain.com, he elaborated Jyo Achyuthananda.
When was Jyo Achyuthananda conceptualized?
After the decent success of Oohalu Gusagusalade, I do not want to fall short of audience expectations because they blessed me with a great breakthrough. However, I do not want to repeat the same light hearted romantic-comedy. Then I started writing for Jyo Achyuthananda.
How is Jyo Achyuthananda different from Oohalu?
Oohalu is full of romance and lighter vein humor which comes from the play. But, Jyo Achyuthananda is completely different. Unlike your expectations of assuming this as a triangular love story, this film is not so. Jyo Achyuthananda is a tale of two brothers and their in depth emotions. There is a heavy weight in subject and you will agree with me in first few minutes of the movie beginning.
How did you lock the lead casting?
Completing the paper work for Jyo Achyuthananda, I approached nearly four to five young heroes. They listened to my script, enjoyed it but could not sign the deal because of its multi starrer nature. I wasn't confident on Nara Rohith also. I gave the try and he liked it. Then we went for Naga Shourya for his brother character.
When Regina came into subject?
Initially, I thought of roping in a fresh face. However, there is a lot of over carrying and domination in female lead. Then we went to a familiar face and Regina was the choice.
What's your take on music?
A. I am fond of Telugu cinema music and songs with high valued lyrics. I learnt classical music and had exposure to Carnatic music. Modern day music is more of instrumentation and less importance is given for lyrics. I look for a balance in both. That is why I roped great singer like Shankar Mahadevan into my album and the Ghazal you find in Jyo Achyuthananda leaves a deep impact on music lovers.
How and where you learnt dialogue writing skills using sensible, pure Telugu words?
I love reading books a lot. After getting into direction and acting, I am finding shortage of time to continue my reading passion. Currently, I am reading Adhunika Andhra Mahabharatham and loving it. Till the last few years, I felt that I am so weak at Telugu. Most of the inspiration I drew is from Jandhyala, Bapu and Vamsy sir movies. I also enjoy Chiranjeevi and Rajendra Prasad movies more. May be, all those inherent shades are visible in my writing.
How about the progress of your acting career? What are your future assignments?
I want to continue both acting and direction in parallel. The day I entered into film industry, I made my mind to carry on both these jobs. As a hero, I have Hunterr remake on cards and four more projects are also signed. As director I am committed to work on Vaaraahi banner for third time and also signed Nani for another movie.
What's your rapport with Sai Korrapati?
He is one of the most wonderful producers and I am so lucky to have him. We share a common vision and are very much on the same page. He gives me complete freedom to do what I want.
How is it working with Rohith and Shourya?
I was scared initially on carrying my job with two heroes. But, they are two egoless persons. They believed in script and gave best shot guaranteeing the desired output. I made sure that each of them had equal screen time and well balanced characterizations. All the working videos available on youtube show their enjoyment at work place.
Any particularly interested genres you love to work?
I am an actor and director. I always want to be a part of good team and work good irrespective of the genre.

- Jeevi.