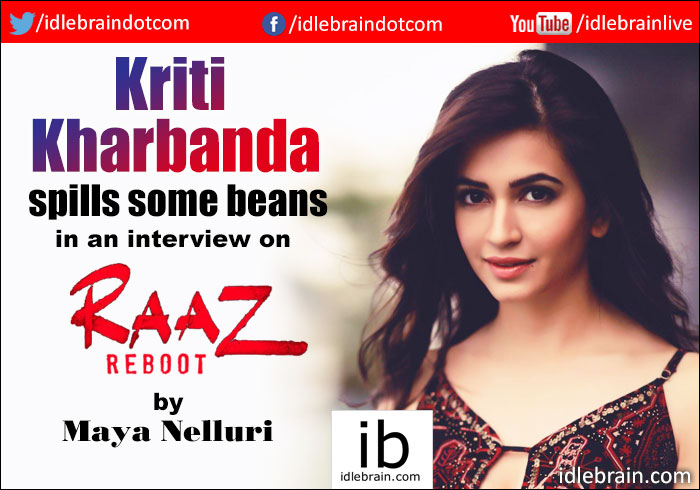 14 September 2016
Hyderabad
One of the hottest women in India, and the twice voted most desirable woman by Bangalore Times - Kriti Kharbanda is making all the right moves these days. She's been flooded with praise and love from everyone from Kashmir to Kanyakumari thanks to her super positive personality and down-to-earth persona. You'll find that this self confessed 'foot-in-mouth' sufferer is anything but, as she rehashes the shoot experiences on Raaz Reboot and spills the beans on her secret vices. Read on with Maya Nelluri.
Raaz Reboot is all over the media and our very own Southern talent Kriti Kharbanda is the leading lady of the film. She's of course completed the shoot and is very much in promotion mode but told us that the nerves have not left her yet. Her secret vice and coping mechanism - binging on all the junk food she can get her hands on, be it the day before the start of filming for a new movie or prepping for the release. Don't believe us? Kriti gave us a list of everything she's savoured in the last 24 hours – an entire pizza, biryani, kati rolls, an entire box of Ferrero Rocher and of course green tea. "Hoping that it washes down all the damage I've done to my diet." We don't think this beauty has anything to worry about.
This year sees Kriti debuting in Hindi and Tamil, but for those of us in Tollywood and Sandalwood, she has already made a name for herself, having worked with superstars in both languages. Teen Maar opposite Pawan Kalyan would have made any relative new comer nervous but Kriti said it was a wonderful experience, "I think it's mostly that other people put the superstars on a podium and have reservations but they themselves are very chilled out. If you speak to them as you would with normal people, you'll find that they are nothing like their stereotypes." Speaking of her upcoming double debut, she said, "The reason I'm here is because my South films put me on the map. I'm very kicked that I will be entering into two new languages, that means that two new gates have opened up to me."
This confidence must have definitely served her well during the shoot of Raaz Reboot because not only was this her debut in Bollywood but there also many other firsts. She did her own stunts, used some very colourful language on screen and even locked lips with Emraan Hashmi. So what was going through her mind during all this? "It was crazy and very painful. Hanging by some very rough harnesses in the middle of nowhere is not fun. There is a particular scene where I'm climbing up a bridge and that is the hardest thing I've ever had to do. The temperature was freezing and I could not afford to layer up and look fat on screen so I had to strip down. As you can imagine in cold weather your skin dries up and the lack of protection meant there were so many cuts on my skin by the end of it." She chuckles as she remembers, "Mahesh sir saw them and said 'it's going to be worth the blood'."
As for the kissing, "I had cold feet because I was going to be doing the scene in front of so many on set. I had my inhibitions regardless of whom I was going to be kissing but I put them aside quickly because this was a professional scenario and it is no longer a taboo. It is a beautiful thing that people in relationships use to show affection. The abusing was also not something I was comfortable with because the most intense word I use even if I'm angry in real life is 'kameena'. Abusing my co-stars and strangers was a whole other thing. My co-stars would actually tease me because they were so used to me speaking politely and with a lot of respect, using words like 'aap' instead of 'tu', and then seeing me abuse for the scenes, they found it hilarious. Mahesh sir actually said to me 'itne pyar se gaali nahi desakte'. On one occasion I had to abuse a Romanian actor 30-35 times continuously and I ended up with tears in my eyes, it was quite emotional in a weird way."
On an entirely different note, via some light digging, we found that Kriti finds Farhan Akhtar to be the most desirable celebrity in India. We prodded a little further and she clarified that if it had to be a South Indian celebrity, it would definitely be Suriya. That led us to ask about the certain rumours which have surrounded her and her first Telugu co-star – Sumanth. "Honestly, I don't care what people have to say. Sumanth has, is, and will always be my best friend." That definitely showed us the certainty and confidence with which she carries herself.
There is another thing most people might not know about this talented actress - she has specialised in jewellery design and just before she was about to set off in that direction, movies came knocking. She says, "I would have gotten into fashion or costume jewellery if it wasn't for acting. It excites me. I am eventually going to study Gemmology and get into designing in the future." But for now she still has her various titles and stardom to grow into. For those of you wondering how Kriti stays so beautiful, she spilled the secrets to us. "My parents have been very good to me since my childhood. My mother once told me that ghee and butter are something that women have been told to avoid but you shouldn't. I had a very well nourished diet as a child and I think that is a reason my skin was able to handle so much stress. For Raaz I had to also have prosthetic makeup on a regular basis which could've spelt disaster but my skin has held up really well and I owe it to the healthy foundation my family gave me."

- Maya Nelluri