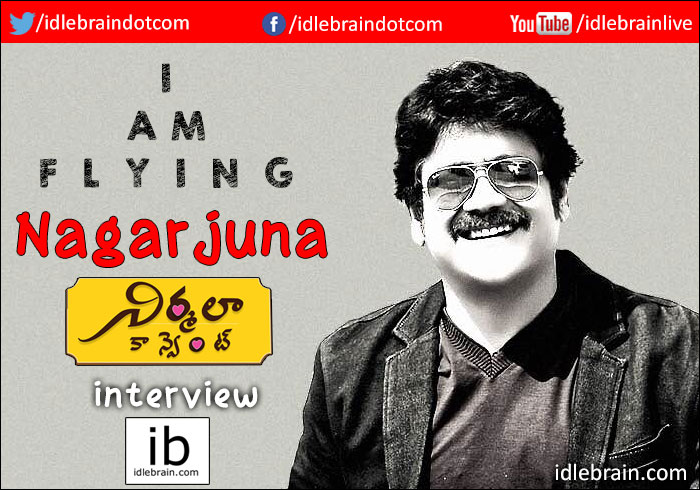 15 September 2016
Hyderabad
Nagarjuna has always asserted his class by attempting different yet commercially successful films for a long time. With Oopiri being commercial hit, Nagarjuna has paved a new way for the other stars to follow. Nagarjuna says he likes wearing new cloths (new characters) and he wants to fly in this interview -
What prompted you to take up such a role in Oopiri. Accepting it before Manam's release was such a risky proposition?
I have made a conscious decision to do content oriented and good films prior to Manam. I was looking for new characters. Manam was the first step. My character in Manam was not a full fledged hero character. The success of Manam gave me a lot of confidence.
I saw the French film The Intouchables along with Amala around 5 years back. I grabbed it the moment it came to me. It's an inspiring and uplifting film. I like Karthi's character also. The first dialogue by him in our first interaction was 'itarula sahayam teesukoni batikestunnava?'. Both the characters are challenged in different ways. Films like Manam and Oopiri being accepted by audience gives me a lot of confidence to do new characters. I like to experiment in successful films.
We are seeing a committed Nag from Manam and he never failed after that?
Yes. It scares me. Manam, Soggade Chinni Nayana and Oopiri worked well at box office. I am also very confident of Om Namo Venkatesaya. I reinvented myself with Soggade Chinni Nayana. I really liked Bangarraju character. I wanted somebody else to play the role of son. But the unit convinced me that it makes things work only if I play the son's role.
Have you done Nirmala Convent because you like to patronage new talent or is it because you really loved the script?
There was a slight gap between Oopiri and Om Namo Venkatesaya shoots. I was looking to do another project. That's when I heard the script of Nirmala Convent. They said its a supporting role, not a main role. I want to get into such characters. I take inspiration from Amitabh Bachchan. I have been closely following his career for the last 15 years. He can be a supporting actor, still be star of the film if his character is etched out well. Even when some of those films didn't do well, his stood out in the film.
I like my character very much in Nirmala Convent. It's an inspiring character. The things teenagers do in +2 love stories are immature (either elopement or suicide). In this film, boy throws a challenge to the father of girl that he proves himself in a constructive way to be eligible to marry the girl. I am completely there in the second half of the film. First half is about love story. And second half is about overcoming obstacles. Nirmala Convent is an uplifting film in that aspect. I play the role of a businessman who nudges boy to achieve goals. I help him to get his full potential out with challenges. May be in real life too, I would like to do things like that. That character stuck a chord with me at personal level.
What prompted you to become a singer?
I crooned few lines about cigarette in Seetharamaraju film. It was fun. I was listening to AR Ameen (AR Rahman's son) song Kotha Kotha Basha and loved it. Music director Roshan Saluri (son of Koti) said that my voice is good and asked me to sing this song. I was thrilled that a music director complimented my voice. In the beginning days of my career, I had so much of criticism about my voice. They used to say that my voice was weak. Since it was an easy song, I pulled it off successfully. Roshan Saluri coached me well. After listening to my song, the team has decided to make a music video as promo.
Tell us about Srikanth's son Roshan?
I am amazed by the confidence and professionalism of all the youngsters worked in that film. GK mentored them well. Roshan is a good looking boy with a lot of innocence in him. That's a deadly combination. He has the right temperament. A desire to excel. I see him to go a long way with those qualities. The upbringing by parents (Srikanth & Ooha) helped him.
Have you seen the final product?
Yes. It's a nice film. I am confident that it will do what it's supposed to do. Something new is attempted in this movie.
Tell us about your next film Om Namo Venkatesaya?
It's the story of Ram Bhava who later is known as Hathiram Bhava because Lord Venkateswara saved him in the form of an elephant when he was jailed. There is no much documentation of Ram Bhava. He comes from North India with the calling of Lord Balaji. He is the one who is instrumental in setting the traditions and administrative procedures at Venkateswara Swamy temple in Tirumala. JK Bharavi has done a lot of research by visiting Ashrams of Hathiram. This movie is a fiction based on a true life character.
You are quite active on Twitter. What you look for when on internet?
I had never been a newspaper reader. I have interest in space travel, environment and fashion. I do follow certain blogs to get myself updated. With the invasion of smartphones, news is floating around us and people keep discussing about hot topics on sets. My mother-in-law (Amala's mom) is an avid world news follower. She keeps updating me about relief events in Syria.
Ofcourse, I do get print-outs of reviews whenever my film is released and read them as it's important for me to know the feedback.

The promotions are getting aggressive in Telugu films?
It's a catch 22 situation. People's attention is somewhere else and they are stressed out. There is so much of information flowing around them. They need to be reminded about films. Producers are spending a lot of money on promotions. It's good. It will be more effective if the promotions are unique. Me singing for Nirmala Convent has become the USP for promoting Nirmala Convent. If I sing a song again, It will not going to help in promoting any other film. Producers are spending as per their appetite. The money spent on promotions before release is worth it. The money spent on promotions after release is not useful as word of mouth does the trick. If somebody is doing a lot of aggressive publicity for a film after release, it means that the film is gone. People start reviewing film right on the morning show on the first day by sending messages on whatsapp or posting stuff on social media. I also do it on whatsapp group when I go for an English/Hindi film.
Any plans to do Hindi films?
I will do only if I get an inspiring role. I don't do regular Hindi films even if they pay me a bomb. I tried my hand at Hindi long back, but my heart is always with Telugu films. When Ram Gopal Varma moved to Mumbai after Govinda Govinda, he has asked me to move to Mumbai. I said no. My home and my family is here in Hyderabad. I am very happy here. I like to wear new cloths (new characters) all the time. Now, youtube is taking local films international. We are popular and familiar in many nations because of subtitled Telugu films on Youtube.
You are achieving good numbers due to good content these days?
Yes. I am a free bird. Thanks to the commercial success of Manam and Oopiri. I can trust content to deliver box office numbers. People are coming up with key roles for me now. I am flying!
Future projects?
I am very excited about Akhil next film with Vikram. Vikram narrated this beautiful love story during the time of Manam. He is supposed to do a film with Allu Arjun and had a sufficient gap. Allu Arvind has advised Vikram to finish Akhil film in the gap. Kalyan Krishna's film with Naga Chaitanya is also come out well. Annapurna studios is going to produce both these films.
Meelo Evaru Koteeswarudu changed you and you loved doing it. How did you let it go?
I told them after Season 3 that I won't be doing it. I had to let it go, otherwise it will get monotonous. I had to let it go, when I was riding high!
Wedding bells are ringing?
Wedding bells are ringing, but I don't know that dates. They have been ringing for a long time. I will announce once muhurat date is set.

- Jeevi.