Story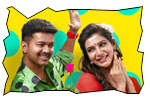 Vijay Kumar (Vijay) is a sincere and unconventional cop who angers a minister (J Mahendran) by killing his son for a brutal wrongdoing. The minister comes back at him strongly for which Vijay fakes his own death so that his daughter can live safely. The rest of the story is all about how the minister get backs to him again and how Vijay gets rid of the minister.


Artists Performance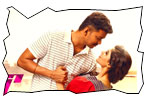 Actors: Vijay has two dimensions (and a brief 3rd dimension too) to his role in this film. He looks dashing and dynamic in the role of cop. His unconventional body language in the classroom while teaching rowdies is hilarious. And the romantic gestures with Samantha are adorable. Samantha plays the role of a medical student and she is admirable. Amy Jackson plays a conventional teacher who has a thing for Vijay and does her part well in subtle way. Baby Nainika is cute as Vijay's daughter. Radhika plays Vijay's mother and she fits the bill.
Technical departments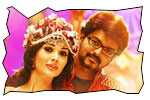 Story - screenplay - direction: Story of the film is based on revenge. It follows Basha kind of screenplay format. Director Atlee handled the family emotions with finesse. The bonding of father and daughter is endearing. The love angle between lead pair is handled well. The action orientation of the film is good except for the pre-climax and climax. Atlee comes up with an all-round commercial script with a bit of sensibility and social responsibility thrown in. I liked the way hero chooses to live the dream of his wife. However the proceedings became tedious after completion of flashback in the second half.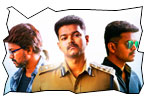 Other departments: Background music by GV Prakash Kumar is very good. Songs are alright. The melody which reminds us of madhuram song is good. Cinematography by George C Williams is nice. Dialogues are well written. Editing is fine. Action sequences are perfectly done. Production values are grand.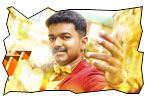 Analysis: First half of the film is nice. Second half is more commercial and becomes tedious towards climax. Though it has some nice moments and sensible aspects, it ends up playing to the galleries with action orientation. Plus points are Vijay and family emotions. There is good entertainment too. On a whole, Police has good commercial orientation with nice mix of family emotions, action sequences and a bit of romantic angle. It has potential to work well at box office!