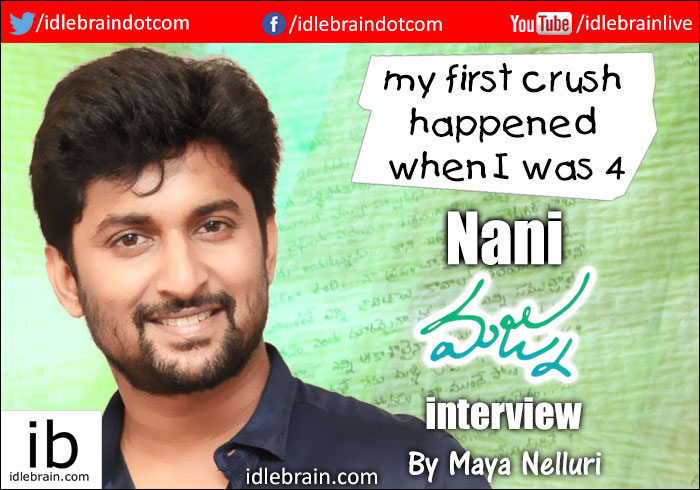 21 September 2016
Hyderabad
"Working on Majnu was a paid holiday," says Natural Star Nani. The fun fest continues into this interview with insights into Nani's first crush, the love of his life, and how his on-screen love interest gave him a shock like none other.
Majnu Madness
It's just a day before his third release of 2016, but that hasn't stopped the man-of-the-hour Nani from shooting since sunrise, multi-tasking while on the move, and giving each media representative patient and thought out answers. He is essentially a master juggler. He has to be with four films set to release just this year – a feat unimaginable for most young heroes of today. Still, this does not seem to have cultivated any starry airs about him. He is the same lovable guy-next-door as he was before his debut, taking stardom in his stride.
All about Majnu
With Majnu set to release one would think Nani will show some signs of jitters, but he is far from it. There is a quiet confidence about the man. When quizzed about it he said, "There is usually a lot of 'hungama' during a film shoot but shooting for Majnu never felt like work. It was a paid holiday to be honest because we had so much fun doing it. We worked on it for six months but it didn't feel like it. For example for Krishna Gaadi Veera Prema Gaadha we shot in some difficult locations and for Gentleman I had to really think and carefully put forth a complex character; but in this film I just got to be myself. My gut feeling is that with Majnu, the audience will get to see me the way they love to see me. It's been proven again and again with Ala Modalaindi, Ashta Chamma or Bhale Bhale Magadivoy. I've done different kinds of cinema and I'm grateful that they've appreciated and supported them as well. But with Majnu, I think it is the perfect package of light-hearted fun and humour that people love to see in my films. It is a simple movie; it is not designed to make the audience think or stress. The audience will get to enjoy the whole two hours and go home happy."
The business of films
Of course Majnu looks like it is going to be a laugh riot, but how does Nani deal with it if a film doesn't do well at the box office? "I've learnt more from the films that didn't work than those that did. Hit films have many positive outcomes and success helps in the short run but it is the flops that teach you the important things that will help you in the long run. When I look back at my career I wouldn't change anything, I don't stress about it, I just analyse the faults and try to fix them." Nani has four back-to-back hits but what about those poor souls who haven't been lucky? We asked – is a hero just as good as his last film? "Business wise I think yes. Good work will always stay and people who like you will always support you but when it comes to the business statistics and the hype surrounding a film, it generally depends on the success of the last film. This is for the younger generation. For the superstars, I don't think it affects them."
Nani's first crush
The name Majnu is synonymous with love in India. So is it any wonder that it has us wondering about the Natural Star's own love life? "My first crush was when I was very young," says Nani chuckling away. "This was when I was in fourth standard. Yes that young! I don't remember her official name but her friends used to call her Sony. There was an annual day function at my school where we were both in a play. She was the princess and I was one of the many guards standing behind her. All the guards were supposed to look straight but I was staring at her. Probably drooling!" The amusement is evident as he continues, "I actually had a photo of that exact moment but lost it. I wish I could share it with everyone because it was so cute. I have to look for it some more."
His real life love story
So what about the love of his life? "My wife and I have been friends for a very long time. I've known her since I was an Assistant Director so she's been in my life even when I was nobody. I think it is difficult to find someone in showbiz who likes you for you so I'm very lucky that I found her before it all happened. We were very compatible, we spoke so much, and I felt like I could share anything with her. I was sure that I would not meet a better person for me even in the future so I decided to make her mine forever." Relationship goals anyone?
On-screen love
Coming back to the movie at hand, we asked Nani if there was an embarrassing moment from the shoot that really stood out for him. Because, well, who wouldn't want to know the deep dark secrets of the stars! And we were not disappointed. Bursting into laughter, Nani started the story, "During the initial days of shoot, I was speaking to my on-screen love interest Anu Emmanuel. She said I want to be very careful about what movies to choose, Ela padithe ala, e cinema padithe a cinema, evaritho padithe vaaritho nenu act cheyyadalchukoledu. So I felt good and thought to myself, she's acting with me because I'm a good actor. Everyone has some confidence when something like that happens, right? I thought maybe she saw my films and she really likes my work. So that was running in my head when I asked her why she signed the film with me, why she agreed to work with me. She didn't waste a second before she replied – I heard your market is good these days!" The laughter continued, "So she didn't see any of my films before and her answer was to the point. It was hilarious and embarrassing at the same time."
AD to RJ to Actor, and now Love Guru!
Our readers sent in some very interesting questions so here's the low-down. Without further ado we give you Love Advice from the Majnu himself.

Does a person have to officially propose and say I love you to someone for it to be a love story?
Nani: You don't have to say it for it to be love but I think it is important to let the other person know if you love them. At the very least it makes the other person feel good so you might as well say it.
If someone is afraid to express their love for fear of losing the other person, what should they do?
Nani: I think you should say it because it is more painful being around someone you love and have them not know. Just be honest. Say, "I love you but I didn't want to lose you so I didn't say it till now. I don't mind if your answer is yes or no but I would really love to still have you in my life."
Can you give me some tips on how to flirt with a girl? My ways are not working!
Nani: Everyone has their own personality so what works for me might not work for you. I don't think there is a fixed formula for it so there is no point asking anyone how to do it. If you really like someone, manasu petti try cheste, it will work!
I just joined an IT company. My boss is really nice. He has a girlfriend but I want him to propose to me. What can I do to make him propose?
Nani: Why would you want him to propose to you if he already has a girlfriend?
I've been dating my girlfriend for very long and she is perfect for me. Recently, I feel she is avoiding me. She says she is busy but I see on her updates that she is out with friends. What should I do?
Nani: Move on!
I have a crush on my classmate. I think she likes me but I'm not sure. How do I find out?
Nani: It sounds like you are still studying so there is no hurry. You have plenty of time so form a friendship, talk and get to know her, you will eventually figure out if she does like you.
I've lost all hope after my last break-up. Should I let my parents find an arranged match or look for someone for a love marriage?
Nani: I think the most important thing is love, whether it is before or after the wedding. Marriage makes love official but for any relationship to work, love has to be there. If you meet someone and feel that you love them, I think you should go ahead. But in the meanwhile if your parents find someone and you can feel that you can fall in love with that person, then that is great too!
I am stuck between two men. I feel like I love them both. Is that possible? How can I decide whom I love more?
Nani: Go and watch Majnu!
- Maya Nelluri