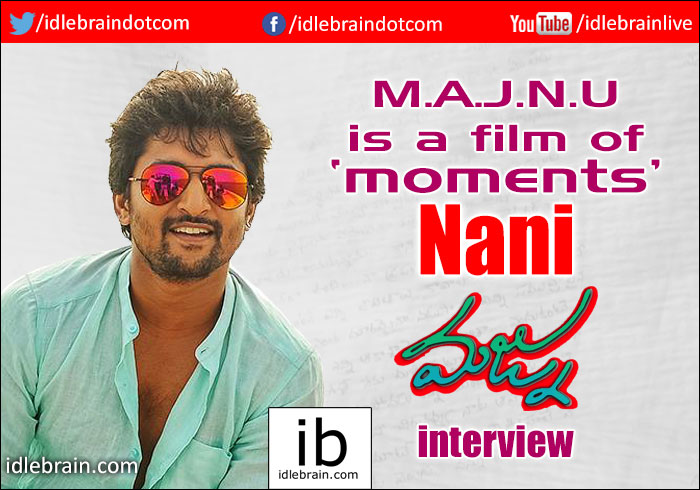 22 September 2016
Hyderabad
Nani is having a dream run at box office with his last four films striking gold at box office. His latest film Majnu - a lighthearted love story sprinkled with humor is releasing on 23 September. Here is an exclusive interview with ever-reliable Nani -
Tell us about your last film Gentleman?
I believed in the film and did it against the advice of wellwishers and trade people. It was a content-based film and I am glad that it worked at the box office.
After Bhale Bhale Magadivoy, you are doing another fun film in the form of Majnu?
My character in Bhale Bhale Magadivoy film was a little loud. But Majnu is a light-hearted one. BBM film had the single agenda of making audiences laugh with every scene. Majnu will have emotion, romance and fun.
Tell us how Majnu happened?
I knew Virinchi Varma for a long time. Producer Ram Mohan wanted me to listen to the script of Uyyala Jampala for judgment. I told Ram Mohan that it will be good if shot with newcomers. Ram Mohan gave him 20,000/- and asked him to shoot a short film. He shot a short film titled 'Ninnati Vennela'. I saw it and was impressed by it. I like Virinchi as a person. He is not corrupted by the industry. He wasn't influenced to be somebody else. He knows his craft and his sensibilities. He works around it rather than being somebody else. Characters in his stories are from what he has seen in real life.
Virinchi has been meeting me at regular interval since then. He tried a different kind of script with a bit of action. I felt that a love story in Virinchi direction will be the right project for me. Later, producers Kiran and Geetha made him narrate me the story of Majnu. I have enjoyed a lot while listening to it. The start of the shooting of this film got delayed due to Gentleman.
You have 3 releases in 9 months this year. A few years back, you didn't have a release for 2 years. How did this quick turnaround happen?
Earlier, I thought that if I had done two films simultaneously I can have more releases. I learnt from that experience that it's quite time consuming to have simultaneous shoots due to logistics issue.
Now, I am doing films in such a way that the preproduction of my next film happens during the time of shooting of the current film. I am taking a gap of a week between finishing of the last film and shooting of the next film. Sometimes, I feel sad that I don't get personal time and I feel jealous whenever I see your foreign tour pics. But, I am not complaining as I am getting lovely scripts to work with.
How different is Majnu?
We tend to insert some twist forcibly for every 10 minutes in a movie in a hope to engage the audiences. Majnu is a film of 'moments'. Majnu film has four songs in the first half as we treated the first half as a musical (incidentally there are only 3 songs in entire Uyyala Jampala (Virinchi debut film). We made a conscious decision not to formulize the film. We let the story flow organically with moments in it. It's a light film and audiences will walk out with a smile on their faces. My earlier two films (Gentleman and Krishnagadi Veera Premagadha) were heavy.
What's your character in the film? Assistant director or a lecturer?
I am actually an assistant director for Baahubali in this film. There is also a junior lecturer part in the film.
Can we get a glimpse of SS Rajamouli in this movie?
Yes. He has done a 'blink and you miss it' kind of guest appearance in Majnu.
You are keeping the budget under control though the market is growing for you with each film?
If I have to meet my girlfriend at a restaurant, I prefer wearing a white shirt and blue jeans. She likes it when I meet her. I don't want to wear an expensive suit just because I have more budget, it looks odd. I feel that the script should demand the budget, not the actors. Generally, heroes increase the budget of the film to increase their remunerations. I am also increasing my remuneration from film to film, but making sure that it doesn't affect the budget. If we make a film on 25 crores and if it collects 22 crores, it's a flop. If the same film is made on 15 crores and if it collects the same amount, it's called a superhit. What's the fun in increasing the budget when you don't have to compromise on quality of making. For a simple love story like Majnu, it needs right technicians, but not higher budget. Amir Khan did Talaash in a limited budget. He didn't look at his 100 crore market when he was doing a content oriented film.
Why do you prefer doing it with new heroines? 4 heroines in your last 3 films are first timers in Telugu?
The biggest complaint in film industry is that we don't have a choice of heroines. We are casting the same heroine in many films as we don't find new heroines. All established heroines were debutants when they acted in their first film. Casting new faces brings freshness to the film and people look at characters rather than heroines while watching the film. I don't have any insecurity. I don't need a big heroine to make my movie sell. There is a misconception that casting a popular heroine guarantees more footfalls. I don't need an established heroine to make my movies run. If script demands an experienced actress, we go for it. Keerthy Suresh who had got good name with Nenu Sailaja is doing my next film Nenu Local.
You are introducing a new dialogue writer Kiran who is popular as Baburao/Babji in Radio Mirchi?
Kiran is known for witty liners and sarcasm on Radio Mirchi. The dialogues in this film are not about sarcasm. There will be a sprinkle of humor at regular intervals. The humor in this film is subtle. Majnu is love story and Kiran understood it well to write nice dialogues without dominating them with his trademark sarcasm. He did what film needs.
Your market is growing from film to film?
Yes. They say that I have captured a market for myself with BBM and Gentleman for USA and Nizam territories respectively. I think audiences are changing and they are welcoming content-based films. People are preferring content oriented films to regular format movies. The numbers for KVPG and Gentleman were good in USA despite mixed/average reviews. It shows the king of faith they have in the content I choose. I don't want to disappoint them with my future films and will continue to do films with good content.
It's very difficult to get an outsider perspective by being inside the film industry. Success of your films prove that you have a good judgment?
We observe filmmakers saying 'prekshakulaku nache vidhamga cinema teesamu'. It means that they are treating audiences as an outsiders. There is an audience in us. I have to like the script as an audience. We have been watching films since childhood. We came to film industry because we love cinema. Hence, we can't treat audiences as outsiders just because we are part of film industry. I do films which I genuinely like. And it's working!!
You are building your career block by block. When are we going to see the next big thing?
Yes. I am building my career block by block. I am not planning to go big with any certain film. Flops of my films are also investments for my future. All the films I do now will shape me as a complete actor in the minds of audiences. I don't want overnight stardom.
Tell us about your next film Nenu Local in Dil Raju's production?
Shooting is currently going on. It's a high energy film. It's my most commercial film. It won't be loud, but energy levels will be high.
- Jeevi