Story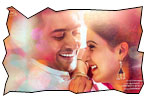 Siva Kumar (Suriya) is an accomplished scientist. He invents a gadget for time travel in 1990. That's when his cruel twin brother Athreya (Suriya) kills him, but misses acquiring the gadget. It stays with Mani (Suriya), son of Siva Kumar who is taken care by a kind lady Satya (Saranya). Rest of the story is all about how Mani realises the power of the gadget and settles score using it.


Artists Performance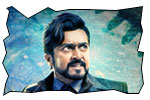 Actors: Suriya has played three characters in this film. Each character is distinctly different from each other. His portrayal of Aathreya character is menacing. His histrionics and make-up is out of the world. He has shown the vulnerability in the character of scientist. He is at his charming best as Mani who falls in love with Samantha. He has shown stark variations in these three characters which is amazing for any actor. Samantha is nice as love interest of Mani. Her expressions in second half when she finds out that Mani is trying to fool her are cute. Ajay played the role of trusted lieutenant to perfection. Nitya Menen is good in a cameo. Saranya plays a vital role.
Technical departments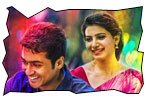 Story - screenplay - direction: Writing story of science fiction for South Indian film is a daring task. Story of the film is good. Screenplay is excellent. Vikram K Kumar who has deftly narrated interlinked story belonging to three timelines in Manam makes sure that he writes screenplay in 24 by connecting each and every scene vital to the story by perfectly placing them (except for romance thread, which is aimed at universal crowds) at right places. He has shown how gadget works in a lucid way so that everybody can understand. The way gadget is used between two characters (Mani and Athreya) to outsmart each other in second half is interesting. However, Vikram Kumar should have taken care of editing a few scenes in second half. It's bothering to see the lead pair repeating the complete postal addresses thrice in a single scene. Its very clever of him to coin the cliched filmy concept as imaginoromancophilia and using it to a novel effect.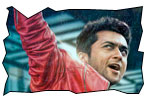 Other departments: Songs scored by AR Rahman are not catchy enough. But the background score is wonderful. Cinematography by S Thirunavukarasu is one of the finests we see on Indian screen. The visual effects are flawless and are stunning. Dialogues are apt. Action sequences are realistic. Editing by Prawin Pudi is good. Production values of the movie are extraordinary.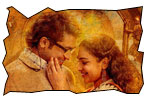 Analysis: It's very risky for any actor or producer to trust such a novel theme and invest heavily on it. Suriya should be appreciated not just for doing great performance in multi-dimensional roles, but also for being one of the producers. Vikram K Kumar made sure that he narrated the film in such a way that it can be easily understood. But, there is a possibility for some of the audiences to think that scenes are repetitive. Plus points of the film are novel theme, Suriya's performance, cinematography, visual effects and screenplay. On the flipside, slow narration and excessive runtime might affect the movie. On a whole, 24 is a brave and convincingly made movie. You may watch it!!