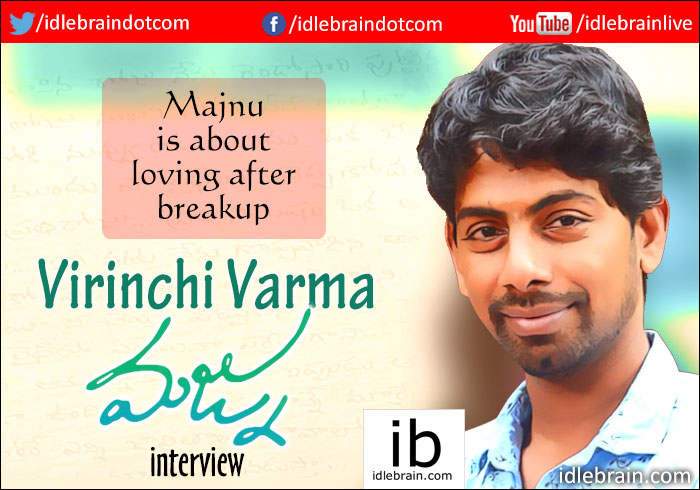 22 September 2016
Hyderabad
Virinchi Varma who has shown his class with his debut Uyyala Jampala is coming up with his second directorial venture Majnu with Nani as hero. Here is our exclusive interview -
Background:
I am from Siddhapuram (near Bhimavaram). I was interested in literature since childhood. I read works of Sri Sri, Gopichand, Thilak, Chalam etc. There is a lot influence of these writers on me. I am also a fan of Ilayaraja's music. I did my intermediate in Bhimavaram and then shifted to Hyderabad to do my graduation. Within 10 days after coming to Hyderabad, I watched Sagara Sangamam, Sithara and Seethakoka Chiluka on cable TV. Ilayaraja composed music for all these three films. I wanted to join film industry after watching these three films. After completing graduation, I have joined Ramesh Varma (poster designer who later turned as director). I joined at a poster designer so that I can make my way to film industry through this profession. I have worked for 3 years in that place. Then I joined Madhan as an assistant director and worked for films like Pellaina Kothalo, Gunde Jhallumandi and Pravarakhyudu.
After that, I met producer Ram Mohan. I narrated Uyyala Jampala story and he liked it. But, he was not sure if I could pull it off. He gave me some money and asked me to do a short film to prove my capability to direct a feature film. That's how I made Ninnati Vennela short film. He gave me an opportunity to direct after watching the short film i made.
It's been almost 3 years since Uyyala Jampala released. Why did it take you so much time to get another project?
I wanted to change the genre and do a film with action orientation. It took me around 7 months to write that story. But the producers and heroes were expecting a feel-good story from me. I took another 3 months and penned Majnu. Nani liked the story immensely, but has given commitment for 2 projects. So, I had to wait till he finish those two films to start Majnu.
Majnu is not about drinking and dog. Why did you promote bottle and dog in the first look of the film?
Devadasu is about drinking and dog. Majnu title denotes love as well as sad ending. We didn't want people to think that Majnu is a film where hero sacrifices. Hence, we tried giving positive vibes by putting quotes like 'Stop drinking. Start loving'.
Love connects people. But, a breakup cannot disconnect them. People keep loving each other even after the breakup. This is the essence of Majnu's story.
It implies that there is no triangular love story in the film as hero loves one girl after breaking up with another?
I can say that it's not a love story. Can't give anymore details.
How different is the narration for Majnu?
Uyyala Jampala had a linear narration. Majnu will have a non-linear narration where story jumps back and forth. Uyyala Jampala is a simple film whereas there will be a couple of twists in Majnu. Majnu film will also have more fun quotient.
Uyyala Jampala had only 3 songs. This film has six songs?
All three songs helped in story narration. If I had an extra song in Uyyala Jampala, audience might get disconnected. There is a requirement of 6 songs in Majnu. All songs are put in right situations. They go with the story. Majnu is like a musical love story.
You had struggled almost for a decade to make your debut as film director? How is the support from your family?
I survived and made it because of my parents. They supported me without doubting my abilities. It's very difficult to get a marriage alliance for an unsettled guy in film industry. My parents goodwill helped us in getting the right marriage alliance and my wife has been supporting me a lot since our marriage.
Tell us about your next film?
I am writing a story. It should take a shape in a month.
- Jeevi