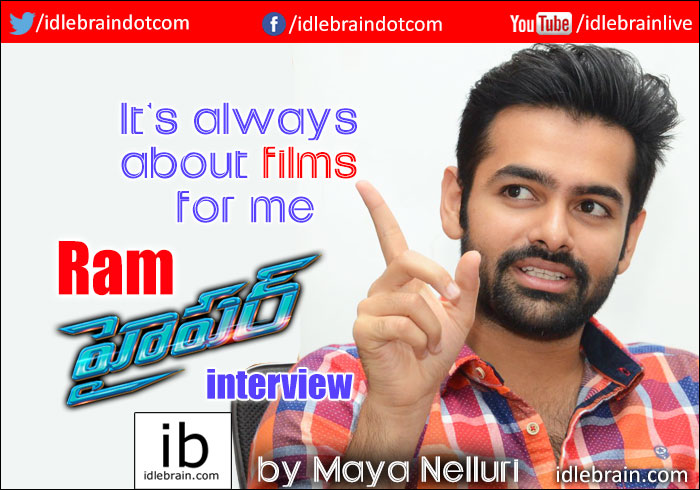 28 September 2016
Hyderabad
Just a day before the release of Hyper, it is quite a festive atmosphere at the movie's office. Conversations are buzzing just outside the room where Energetic Star Ram sits. He looks calm and collected while casually answering our questions; but as we dug deeper, the actor had no qualms exposing his vulnerable side to the followers of Idlebrain.
No Plan B
It's no secret that Ram has been dubbed one of the most talented young heroes of Tollywood. He says that he never thought of anything but cinema as he grew up. With over a decade of acting under his belt, Ram still demonstrates the same enthusiasm for his career as he did during his early days. "Every day I change, every day I grow, as a person and as an actor," he says with conviction in his eyes, "it's always about films for me. There never has been a plan B. When I was younger people would tell me to concentrate on something else as well to have a back-up in case my acting career bombed. To me that made no sense. Would you tell a person who wants to be a doctor to study engineering as a back-up? This is the only thing I've ever wanted to do. And as long as I'm acting, travelling and enjoying, I'm happy. I'm in a happy phase right now." And we are happy for him, especially considering all the laughs he's given us over the years with his brilliant comedy timing.
His Comedy Angle
Through the years he became synonymous with the term 'energetic', largely owing to his spirited performances. Speaking of his particularly appreciated comedy timing he says, "This is largely due to the directors and actors I've worked with. To be honest what you see on screen is largely what I am like in person. It's my special kind of sarcastic comedy that you see in some of my films. My close friends would tell me that it is exactly how they see me interacting with my family off-screen." So if it is the natural him on-screen, does he have to do any specific preparation for each film? "The minute I hear a script, I start functioning with it in mind. You'll mostly see me hanging out with my directors or writers. I spend a lot of time with the director especially because to me it is that process of interacting and discussing that produces a clear picture of the character I should present in the upcoming film." Ram does have an extremely high hit rate – maybe all thanks to those talks!
Awards and Events
With several hits behind him, it won't come as a shock that Ram is considered award worthy by many; so does he place a lot of emphasis on winning them? "I'm not against them but I don't think I would be super duper excited about getting an award in the current time. There have been occasions where I've gotten calls to say that if I attend it's enough, they will give me an award. So you can understand my indifference! It also requires a lot of lobbying which I'm really not into. But I do attend them if it is done by someone I want to support or know." We also don't see him at many other social events, is there a reason for this? "Honestly 90% of the events I do attend are because of obligations. I personally like to go out and have fun with people I'm close to like my school friends. I've actually had the same friends since second grade! That's not to say that I don't have friends in the industry. I'm quite a friendly person and I get along with almost everyone but I rarely connect with people on a deeper level."
The Stress Factor
There are plenty of upsides to a film becoming a box office blockbuster. But what if it doesn't work out and it ends up a flop? "Any actor who says that a flop doesn't affect him is lying!" Ram laughs out loud, "of course it affects us if the film doesn't work. We've put a lot of effort into making that film and we do so thinking that it is the right thing to do. It doesn't however affect me as much as it used to earlier. I was in my teens when I started and back then it used to really hit me and I would get depressed. Now, it matters, but it is not the end of the world for me." Before you start imagining a care-free soul, listen to what he has to say about the one thing he would like to change about himself, "I stress a lot when it comes to work. That's something I would like to change. I'm always worried. That's not to say I'm insecure about other's success. I'm only ever in competition with myself. I am confident that I can achieve anything I set my mind to but I worry about the 'how to'. I also feel like I need to calm down and let go. On location I start taking on the stress of everything that goes wrong even if it is not under my control. It's one of the reasons I forced myself to stop asking people what's wrong on set," he reminisced with a smile, "I come from a production house family so it is second nature to me to try and solve all the problems on set."
Co-stars
Could it be this production background that helps Ram to pick out co-stars like Ileana that are destined for greatness? "I've worked with some very beautiful girls, both on the inside and out. There have been some who have reached massive heights but there have also been others that didn't do that well. But it is true that you can tell while working with the person whether they are headed for great things. For example when I worked with Rakul, she was relatively new, but you could see it in her keen interest that she was going to make it big. She even learnt the language."
Most Eligible Bachelor
Speaking of the fairer sex, it is fair to say that Ram is one of the most eligible bachelors of Tollywood today. Does he have any plans to change that tag? "That tag sounds good so maybe I want to keep hearing it for some more time," says Ram with all the charm that you would expect from him. Of course we dug deeper; unfortunately all we got was, "I guess you can never predict the future."
And with that we skip ahead to the upcoming release – Hyper.
Hyper
"Hyper is a message oriented film but it has a very different message to those shown in other recent films. It focuses on a very specific theme which I'm sure was needed to be shown, be it with a healthy dose of sugar coating of commercial elements." So is it a commercial movie? "Now a days there is a clear divide in audiences. There is a section that only wants completely different films and another section who like only commercial cinema. The fact is that the biggest hits of the year have been these commercial movies; but when you say the word commercial, you'd better be ready for a battering on social media. These guys are anti commercial cinema and will rip you to shreds if they get a wisp of it. But when you talk to people outside, they have a totally different perspective. Take Nenu Shailaja for example. On social media it was a big hit but when I met people outside they would ask me, 'Where were the dances? Where was the energy?' So I guess it is important to balance both. With Hyper you will find that it has a very genuine story and the way we have treated it is in keeping with that. There is no separate comedy track, nor are there unnecessary characters. We have kept it crisp and ensures that everything is done to highlight the script."
As for Ram's future post Hyper? "I'm going to be teaming up with Kishore again, it is yet to be officially announced."
- Maya Nelluri