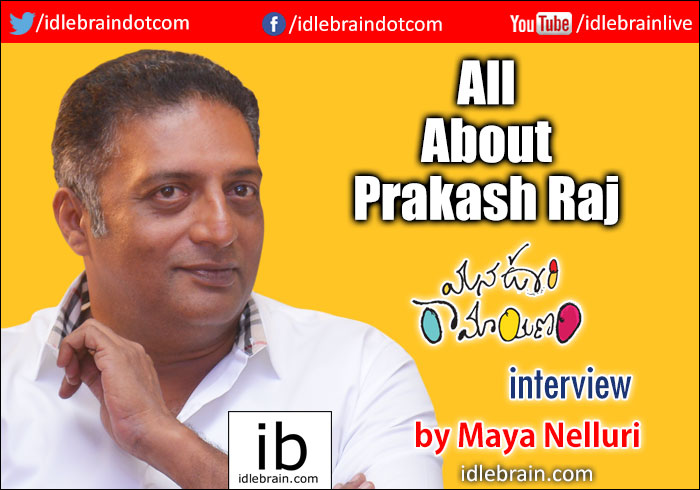 4 October 2016
Hyderabad
Walking into the eclectic world that is Prakash Raj's home was nothing short of entering a wonderland. Each piece of furniture and artefact looks like it tells a story. This multi-talented man though stood out among them. His aura so surreal, that there is no missing it. His intelligence, charm, no-nonsense attitude and humour are an incredible combo – for all those times we wondered how he was able to amass more than 300 films to his credit, numerous awards and a full life, it was finally crystal clear. He is Prakash Raj – there is just no other like him!
In a nutshell
"I come from the 70s generation. We didn't really know what was awaiting us in the future. Our generation was suddenly hit by one invention after another – phone, television, internet – we adapted to all of them. What I mean is that just because I stand at a particular juncture of life, it doesn't mean that I've planned it that way. When I was in college I never knew what I wanted, but I was sure about what I did not want. I was not going to be one of those people who graduate and then get into a 9 to 5 job. I did not know then that I wanted to become an actor. Luckily literature happened to me in college. And after that came theatre and then cinema. I initially started acting to make a living and also for the claps; but as time went on I began to realise the magnificence of it all. I started to read everyone from Shakesphere to Chalam. I started to learn more languages. Tamil literature too opened itself to me.
I was also introduced to K. Balachander. Once acting became my focus, I started receiving love and acceptance from more and more people. At that time there were many assistant directors who were turning directors – some of the best directors of today came from those days. They wanted me to do all these varied roles and they worked. Over time I decided to produce films that appealed to me and I ended up producing 21 films. I was also acting of course but I was starting to slip into a comfort zone as an actor. When the awards started accumulating, around the time I won my fifth National Award, I stopped and thought, 'what's happening? I'm no longer the student, I'm not learning, there is no tension!' So I moved into directing. I feel like it is all a journey and I'm just open to life as a whole."
Set-backs
This superstar's meteoric rise to fame looks effortless from the outside; but was that how it really was? "As you live and you witness things, you mature and grow. I started with just Rs. 120 in my pocket at one time. I was knocking on doors for jobs. Then Balachander happened. Now when people ask me, 'someone denied you?' I feel like that's nothing to fret about. Snowballing and situations happen in our lives to make us see the beauty of life. When you start travelling you might see one horizon, once you reach that, you will notice that there is another horizon and as you go further there is another. At some point you might realise that the horizon that lies ahead of you is the one where you started in the first place. So it is all a journey and people change and grow constantly. Right now I feel like I'm in the right space considering the way joy is coming my way, and how I handle difficult situations."
Favourite off-screen role
Prakash Raj is an actor, director, producer, philanthropist, family man, role model and so much more; leaving us to wonder which role he thinks he fits the best. "I'm in a phase where I can do many different things. I love acting. I strongly believe that when I started acting I wanted to earn but later on you realise that there is so much more to life and you need to explore all aspects. I'm a farmer, husband, father, son, friend, actor, producer, director, literature enthusiast, traveller, and foodie. I have time to farm, adopt a village, read literature, travel, play with my young son, support my daughter who is pursuing painting and singing in London, act, make movies, I keep up with all these and I still have time. I have time to give this interview," he laughs, "and I still have a little more time. If you know the value of time, you will find it. Also wherever I am is home to me. I never have this feeling when I travel that I am home sick or that I need to come back. I believe that you are the centre of the universe so it's safe to say this world is my home." The depth of this conversation is unlike what we've come to expect of celebrity interviews. The more we speak to this great talent, it seems like the more he has to inspire us with.
Being a global citizen
"When I travel I take time out just to sit and observe life and all those around me. When I'm at Heathrow or Dubai airports, I look up and see all these gates leading to flights flying off to all over the world. There's people there of all different races, I feel like I'm here, I'm a part of the entire world. Once I was in a lounge and got talking to an African couple who were speaking about farming, an American couple who had travelled to India and were now returning home. In these situations I feel like a global citizen, where I can interact with different people and share knowledge about where I come from. Being a Kannada actor, a Tamil actor, a Telugu actor, a Hindi actor, an Indian actor, I now have the joy of being accepted by the Golden Globes. The Academy will be watching a film that I was a part of, I'll be talking to the critics, journalists and others there and I will get to tell them about the kind of experiences that brought me to this place." He said with a smile on his face. The excitement was of course evident, but that is present regardless of what the man talks about. It is as if he has a genuine connection with all of existence and is at peace with all that surrounds him.
On-screen persona
Prakash Raj is undoubtedly one of the few actors who have scripts written specifically with them in mind, so how does he feel about it? "That is the joy of acting. When the day ceases to exist where a writer who has never met me sits in a corner writing a character for me, I'll feel like I'm dying as an actor. Today there are those that say that he is commercially viable so I'll earn more with him in the film. There are others who say that he will bring out the right emotion. I cater to both those sides."
There is also the fact that he seems to hold the magic potion to agelessness. This star can play any role from brother to great-grandfather and no one would blink an eye. How does he manage to fit so seamlessly into any role? "I am not a desperate actor. I take what comes my way and I choose from that. I relish being both the good and bad guy. I like the possibility of being a chameleon on-screen. Also as an actor you are like a colour in a painting, you are only part of the picture. When I'm a director, I am the painter. But as an actor, you are sought out, paid and trusted to tell another person's story and that's what I do. An actor's journey is also being able to tell a story, to be needed for a story. I wouldn't want to be an unwanted guest anywhere. I like to work for the scripts that need me."
The most testing role
Talking about a role that tested him the most, Prakash Raj's sense of self became all the more clear. "Nothing tests me," he says, "it demands. If I'm not equipped to do a role, I seek to get equipped. When I was to star in Anthapuram, I had never been to Rayalaseema so I told the director. We researched and I took shelter in the script. When I did Iruvar, I wasn't yet fluent in Tamil. I knew that I'm a bad imitator so I told the director that I will perform and he can guide me. Mohanlal who is a brilliant actor, approached the film in a different way by studying MGR but I'm a totally different kind of an actor. I work from emotion and it worked too."
Philanthropy
"I'm at this place in my life not only because of my talent but because of many other contributions. I may not be able to directly give back to those that helped my journey but right now I'm in a position to give back. I adopted a village because it is my duty to give and there is a certain joy in doing so. I have other resources to share as well such as the ability to get a message heard. People listen to me so I can bridge the gap between those that need help and the government or those that are torturing them. I can give the villagers a voice and help them stand on their own feet. I didn't do it for some effect; it is not my home town or anything like that. I had a farm there and when I was passing by I saw the people – that's the reason I chose that village."
For the love of art
Moving on to a different subject entirely, we quizzed him about the eclectic and unique pieces decorating his home. "I don't like walls. I'm more of a farmer; I like live on my farm – that's me. I believe that every moment of life is a part of my journey and your home is an extension of you. I collect things that I connect to whenever I see them. My wife keeps saying that every time I see something I visualise it in a particular spot at my home or my farm and I buy it. I also have a lot of masks; a whole wall in my farm house is filled with masks that I've collected from different places. When I look at them, it takes me back to the memories of the past."
It is certainly not everyone who can appreciate beauty in such diverse products. Was there a certain style he liked to adorn his home with? "I have some very interesting sculptures. There is a Buddha without lips. When I enquired about why that was, the artist told me that Buddha had already told the world all that he had to. I was touched by that thought. There is another sculpture I had commissioned called 'Abdullah's Buddha'. When I was younger there was a butcher who would talk to me about Buddha. So the sculpture was made with a sheep's head on a butcher's table with the face of Buddha." Who could have guessed that there was so much more to Prakash Raj than what we read all these years?
So what about other forms of art? "I love all forms of art. Poetry, short stories, novels, articles, paintings, sculptures. They are all different forms of narrating a story. A ghazal or a haiku make me think. They give me a high. Some poems have chiselled my personality. I remember a particular one that I was asked to write about in college. It was about the supernatural and it totally changed my perception about it – that's the power of poems. When you read Gulzar, the words are so beautiful that hearing them actually makes me love my woman more. They give me joy that is unparalleled. Even when I look at paintings or sculptures, I buy them for the story they tell and the emotion they convey. They enrich me. All these types of art taught me how to love life."
Mana Oori Ramayanam
Getting back to the art form at hand, Mana Oori Ramayanam, he says, "I saw a Malayalam thriller some years ago and it hit me that I could tell a story like that. It churned within me for three years because I didn't want to do a thriller. Later on I realised that in Indian culture people seek out a person like Rama or Sita but are those characters really among us? And what if there is a Ravana inside us? The deciding factor is how one tames and deals with that aspect within us. When you observe how others talk, you'll notice that they all want to be the 'good guy' but when one is in a crux or alone, the real 'you' comes out. I wanted to bring in that concept and deal with it on screen. I wanted to be able to laugh at this duality and realise how fake the concept of black and white is. In the film, the character is a very powerful one and he boasts a lot. But in his loneliness, he takes a decision which has him trapped in an unusual situation. If he is seen by others in this situation, his whole image will go down the drain so how he gets out of that state is the story. Thrillers are normally thought of as murders or horrors but getting caught off-guard with your foot in your mouth can also be a thriller." It unquestionably sounds like we are headed for an exciting film.
A triple threat
Being the actor, director and producer of the film, we wondered how the one-man-army felt about his current triple role, "I'm in an interesting space right now. There is a producer Prakash Raj. There is also a director Prakash Raj that likes him and wants to be associated with the earlier. Then there is the actor Prakash Raj who is very able and much more available to the producer Prakash Raj than usual. The producer Prakash Raj is also happy because the actor Prakash Raj will bail him out if in need. And the actor Prakash Raj is very comfortable working with the director Prakash Raj because he knows everything about the later and has a complete understanding of what is required of him." We are still reeling from this explanation. No one could have described the emotions of the situation better!
Looking ahead
Apart from MOR, what does Prakash Raj have up his sleeve in the near future? "I've already released the story of Ulavacharu Biryani in three languages. The Hindi version is almost ready; we are in the editing stage. I decided to stay behind the camera for this version because I wanted the experience of working on a project and watching it unveil itself to me. There were so many things left unsaid in the earlier versions. Nana Patekar approached it in a totally different way and it allowed me to put forth a unique perspective."
And that's not all! "I'm travelling to the Golden Globes in a couple of days." His film Sila Samayangel about AIDS awareness is all set to have its global premiere at Beverly Hills. That brought us to the inevitable question; will he want to move to Hollywood? "I'm a very rooted guy. I don't really believe in shifting or moving. If you ask me if I intend to shift to the moon, that would be a no. Otherwise, every place is just a short travel away. When I did Singham in Hindi I was asked, 'How was your journey to Bollywood?' To that I would answer, 'sometimes in Jet Airways, sometimes in Spice Jet'." We just could not stop ourselves from laughing out loud at that – could you?
- Maya Nelluri