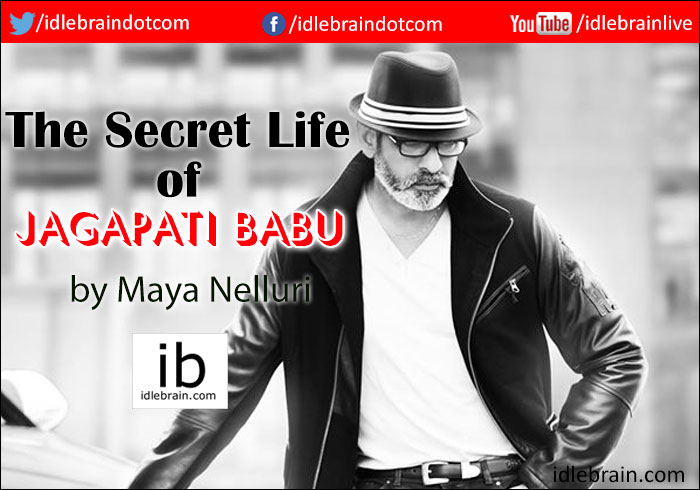 11 October 2016
Hyderabad
"I'm no longer bound by restrictions or responsibilities - monetary or otherwise; I now have the freedom to be myself," says the hot and handsome Jagapathi Babu while speaking of his latest bout of movies. This man's cinematic evolution parallels the greatest in the business. From clean shaven perfect family man to salt and pepper look sporting suave and sexy guy, Jagapathi Babu has done it all. "It was actually when I was jobless for two years that I grew into this look," he laughs, "I was asked to do a photo shoot then and as usual they wanted me to dye my hair black and go for a 'young' look. I said let's try this look, it's new, it's natural and it's me. Luckily it was trending, I fell into that groove and nailed it."
Highs and Lows
We wondered how such a talented man was ever not shooting, "At that point I knew that I had been in the industry for many years and the market was exhausted. It was not realistic to get that market back. People had moved on to newer things. Raghavendra Rao said something to me which I think is very apt. He said I had to go through that situation to get into this situation. What I've learnt through everything is that life is simple it is people who make it complicated. Nothing is a problem. Failure is essentially a stepping stone and the best experience to learn from. Nothing is the end of the world; to me end of the world would only be death of a family member or someone close to me, everything else we can re-earn and re-establish. These days everyone is attached to money or power - that should not be a priority in life. When I sold my house, people were asking me if I was in grief. I'm a practical person and these things don't bother me. If I didn't have that resolution and I didn't have the ability to let go of my 'hero' tag, I would not have made it right now. It wasn't even difficult for me to let go of it. In life one should fight, survive and win. And right now I'm in the best space of my life. I have the satisfaction and freedom to be able to do what I want to do. I can afford to live in luxury or sleep on the floor and I am happy in this space."
The Now
Did that phase ever make him think of changing careers? "I only know cinema. And I am a bad businessman. To be honest I can't even reverse a car properly so I couldn't have even tried being a driver," he laughs. So how has his life changed after the hiatus? "Movies are magic and acting is wonderful. The exposure I've had in my life is incomparable. I've acted with almost all of the big wigs in the industry when I was a 'hero' but now I'm getting to work with even bigger directors and I'm working with the young superstars like Tarak. These are some extraordinary people. Now I'm no longer the Babu," he laughs, "another Babu has taken over. Now I'm just Jagapathi, I'm an actor still but the roles have shuffled. Playing Mahesh's father, a man who is famed as Andhra andagadu, was a feat in itself. I also worked with Mohanlal who is full of knowledge." Speaking of Mohanlal, which language is Jagapathi Babu most comfortable working in? "I am Telugu so I'm most comfortable working in Tollywood but it is great to work in the entire South. Until I go to Bollywood!" Well there is an interesting idea, how keen is he to take that leap? "I want to obviously try it out. There are no limits to wants!" We sure hope we get to see this star's glow through a Bollywood film soon.
Reel or Real?
As for the roles Jagapathi Babu has already played, which most closely resembles him? "Not the recent ones definitely!" he was quick to emphasise, "I am probably a lot like my character in Subhalagnam because I believe that whatever my wife wants, she should get and I will do whatever I can to make it happen." Spoken like the perfect husband indeed! "I am also quite sentimental so the family films work for me. But looking forward I would like to do a role like the Godfather. It is something that appeals to me at this juncture. The negative roles I've done till now aren't the gruesome murderer rapist kinds. If you see Legend, my character was brought down by ego, he wasn't a bad person."
When Legend came up we had to ask him how he managed such an impressive look in the film and since. Does he have to work hard to maintain it? "I can't lie and say that I do anything special. I take care of my diet and go to the gym but it's nothing that others don't do. Even the salt and pepper thing is natural." And does he like his new look? "When I was acting with two actresses in each film, people thought I was a middle-aged man. Now when I don't even have one actress, there are so many teenagers who seem to like me and they tell me about it," he chuckles, "it is a major surprise. Just this weekend I was in Goa. There were two girls around 21 years who were staring at me. They even came up to me and told me that they find me hot and have the hots for me. I was like what?! Are they expecting a sugar daddy?" Now who wouldn't want a sugar daddy like Jagapathi Babu right? Good girls have always had a thing for the bad boys – be it reel or real!
Jagapathi Babu's Wild Side
Then he let us in on the most unexpected secrets. "I also have an extremely wild side to me. I can be shockingly absurdly wild." Now we are intrigued! "That's what prompted my character in Anthapuram. Vamsi approached me for it for the same reason. There have been times where I've danced in front of CM Chandra Babu Naidu's office in the middle of the night. The police actually came to ask me to leave, although that didn't stop me. Another time in Vegas, I was kicked out of Bellagio." For the uninitiated, Bellagio Las Vegas is a luxury hotel and casino; and we didn't realise it was even possible to get kicked out of any hotel in Vegas for being too wild! "I was hanging out with some of my friends at the casino. The staff decided we weren't playing to the rules and when one of them came to talk to me I stared at him with the most innocent expression. He didn't understand what was happening and then I started doing the steps to appidi podi," he couldn't stop laughing as he told the story, "and from there we partied up a storm in the room. Apparently it was too much to handle for them and we were actually smoked out of our room. We must've set off the fire alarm because the whole of Vegas sounded like it was on fire as we took off on our chartered flight." Now that is a wild story!
But wait there's more – as they say in the sales pitches – there was also the time Jagapathi Babu was stuck in Kashmir during a very tremulous clash. "I was in Kashmir for a shoot with my crew when the Hindu-Muslim clashes started. But even then I felt like it was an adventure. I was walking around doing my own thing on the streets during the curfew." Wasn't he or everyone around him scared for his safety? "A lot of people were worried and are worried because of this unpredictable side of mine. Many don't even come near me because of it. But I personally feel that what has to happen will happen so I don't worry too much."
Looking Ahead
Is his character in the upcoming film ISM anything like his wild side? "My character in ISM is not very serious. It is as cool as it looks in the trailers. I play a multimillionaire don." And how was the experience working with director Puri Jagannadh, "Puri is magic, he is something else. He is the coolest director. There are others who make you feel like you are family but Puri doesn't even look like he's working on set. Then when you see the final product, you are blown away. When we were shooting I didn't even feel like I did much but when I came to dub, I was shocked. It is a movie to watch out for."
- Maya Nelluri