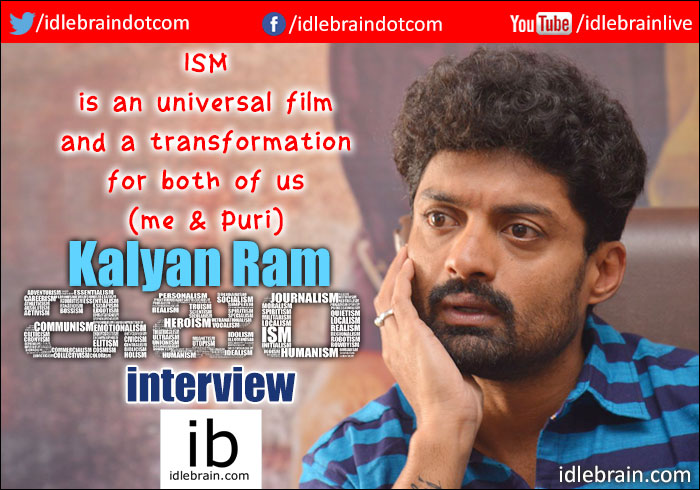 20 October 2016
Hyderabad
Kalyanram Nandamuri has transformed himself by getting six pack and he is aiming big with ISM. He talks about his transformation for ISM and his tattoo in this exclusive interview to idlebrain.com -
You had always been working with newcomers or small-time directors. Why did you go for a big director like Puri Jagan this time?
I had been limiting myself all this while. Experience counts and a prolific and hugely successful director like Puri Jagan has add more to my portfolio. I want to grow as an actor and Puri Jagan is known for extracting best from his actors.
I used to think that my movies should have different themes and good technical values like Bollywood films. After learning the lesson in a hard way with Om film, I changed my orientation and did Patas that has entertainment orientation. I am not satisfied as an artist and Ism has helped to to grow as an actor.
Don't you think Puri Jagan is a risky director? Don't you feel ISM night become a niche film?
ISM is a complete universal films. We can't reveal the story in promos. That's why promos look uber stylish. But, the content of ISM is universal and approach is also universal. We got humongous response for the teaser and the second half is not revealed in it. The basic conflict point of the film is universal. And there is no villain in the film. It's just the system. Puri Jagan tried to suggest a solution for a burning issue in current Indian society.
Puri Jagan said that he is altering his style and pattern with ISM film. His thought process has changed.
We have titled the movie as ISM as it deals with an unique ideology. I play the role of an investigative journalist. ISM reflects the thought process and ideology of Puri Jagan.
Tell me about your looks and physical transformation for this movie?
Puri Jagan said that the hero character has to look tough both physically and mentally. I took it up as an inspiration and transformed myself to get tough looks.
There is an episode that happens in the last 30 minutes of the film where I need to tell some tough dialogues. Puri Jagan said that he saw a lot of sincerity and honesty in me. He wanted that honesty to be reflected in the character i portray in the film.
I wanted to prove myself as an actor. ISM has given me an opportunity to prove myself at a better scale.
Puri Jagan films are known for a typical hero character and teasing scenes. How different is your character in this movie?
Just like I transformed myself for this film, Puri Jagan too transformed himself and tried to give a completely new film with ISM. Titling a film as ISM shows his conviction and belief. Puri Jagan said that he wants to change the way he makes movies and he wants ISM to be the beginning. If it were the old Puri Jagan, he would have titled the film as Tapori or Takkari.
The best part of the film is that there is no villain. The hero fights against system and tries to change it. The burning issue dealt by ISM is faced by everybody in India. In any of the films, a villain represents the problem and killing villain is the solution. In ISM, there is no villain. Hero fights against the system.
First half of the film has a love story and hero follow a girl. But he is sincere in the way he talks to her. It's not like typical Puri Jagan film where hero character talks to heroine in a rough and indecent way.
This film has obtain U/A certificate. There is just one correction suggested by censor board. There is a Sri Sri dialogue in the film which involves a cuss word and censor board has instructed us to mute that cuss word. Other than that, there is not even a single cut in the film.
The usage of smiling mask in the film reminds us of V for Vendetta?
Since V for Vendetta is popular film that uses that kind of mask, people are suspecious that it might be an inspiration. But, there is no similarity between these two films. ISM is not inspired by V for Vendetta. Puri Jagan said that some people start using these masks to hide their identity way back in 16th century. It was first used by Guy Fawkes in UK to fight for Catholics against England king.
Everybody is talking about your tattoo. Tell us about it?
It's been 10 years since I married. I love my wife Swathi. She has done so much and she is everything to me. I fear even getting injected. But, I have decided to surprise her on her birthday (20 September) by getting a tattoo of her name done. It also has love mark and heartbeat on it saying she is my love and she is my life.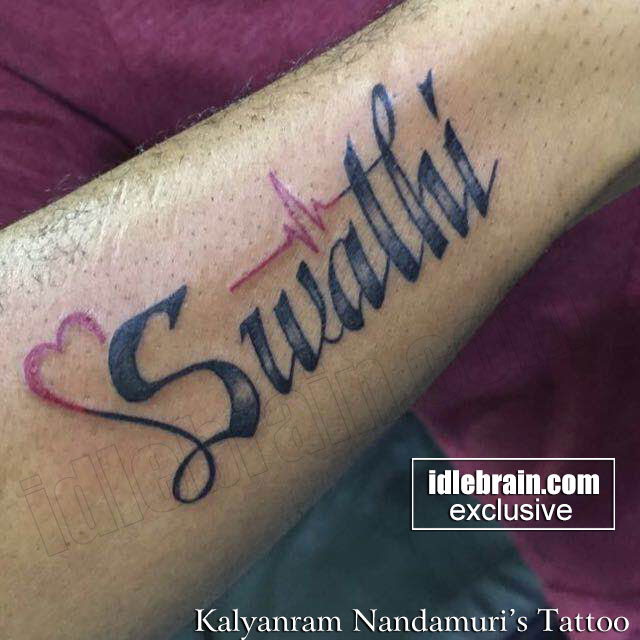 What are your future films?
I have been hearing a couple of scripts. Nothing is finalized yet. We are also planning to do a film with NTR as hero. We are yet to get a satisfactory script for that film.