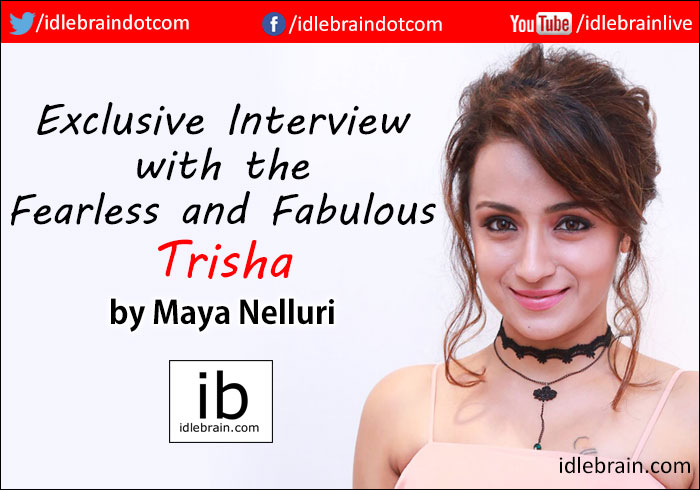 24 October 2016
Hyderabad
Whether you are a 16 year old boy or a 60 year old man, Trisha has to have taken abode in your heart at some point. And if you are a girl or woman reading this, let's reminisce about the times we've watched her in awe or envy, wanting to be just like her. She has that certain charm that no human can escape. How else do you explain a thriving film career spanning over a decade and half and still going strong – case in point is the Diwali release Dharma Yogi! In this exclusive interview the fearless and fabulous Trisha talks about her upcoming film and give us the scoop on her adventurous side.
Adventure Ahoy
Let's begin with the fearless side. Trisha tells us that this is something people may not have heard of as much. "I'm very adventurous. I'm into all kinds of adventure sports, basically there's nothing I wouldn't try once. I've done bungee, deep sea diving, sky diving. And I love to travel. It is my rejuvenation. Any time I get, I love to go on a quick getaway or longer. My favourite place would be New York because my father lived there for 10 to 12 years when I was growing up. I have a lot of friends and half my family lives there so if I get a month off you'll usually find me there." And who does she spend most of her time with? "When I travel it's with my group of friends. I have a very tight knit circle. Some of them I've known since I was four years old." Are these the people we get to see on her social media feed often? She laughs, "I have a very normal life and normal friends. These are people that I know since school and college so what you see online is the real me. We've been there through thick and thin. When I'm working I'm working, otherwise my career doesn't really interfere. I go to restaurants, friend's houses, beaches; I agree that it is not easy for me to go into a mall or a theater without security but it is a small price to pay to do the work I love."
So have these childhood friends gotten up to any mischief together in the past? "There's never a dull moment," she chuckles, "it's always fun with them. I've gotten into trouble for a lot of things in school. I was actually a bully. It was an all girls convent and all the girls were very scared of me. I remember being in trouble all through school. You should ask my mom – she will have a huge list!" Her mum was also mentioned when we asked about the secret to her good looks. Has she found the fountain of youth by any chance? "My genes are it! I know it sounds clichéd but it's true. People look at my mother and grandmother and say that they don't look their age. For me, as an actor, looking good is my USP so I have to ensure that I do so at all times. But to be honest even if I wasn't an actor, I would do the same things to make sure that I stay healthy. That means that I can go to bed and sleep happy. I naturally don't feel good if I've had a binge week. I try and work out whenever I can; if I'm shooting I try to still work out a couple of times a week. I don't enjoy working out so I mix it up. I do yoga, I really like swimming; and if I'm abroad I take advantage of the roads and go for walks or runs."
Trisha, the Criminal Psychologist?
Moving on to college, we found out that Trisha was studying Criminal Psychology and was quite interested in going abroad to study Forensics before she entered the glam world. Does she still hold any interests outside cinema? "I'm a foodie. I don't have much time right now but when I do I would like to start a restaurant; maybe around May 2017. I wouldn't take any risks unless I'm sure about the outcome so before I dive into the food industry I'd like to study a bit and get some knowledge." Coming back to cinema, how has her film career changed her? "The industry has taught me a lot of things. I come from a protected family and was the only child so you can imagine the kind of attention family showers you with. I've learnt to be patient now because there is a lot of waiting in this field; and I've been through many highs and lows so I've learnt to be more neutral. I still have my bad days but I'm on the road to balance. If we are talking about setbacks, my family has always been very supportive and I'm not a very sensitive person so things don't affect me a great deal. It might for a day but I'm over it the next." Could that be the secret to her success?
Favourites
This gorgeous girl has worked with most big names in the industry but does she have any favourites? "If you mean co-stars it's hard to pinpoint any one, I've worked with most in three or four films, and they are dear friends of mine. With directors it was great working with Prabhudeva. He is a tough taskmaster but he brought out something new in me. I also enjoy working with Selva Raghavan and I love Gautam Menon's working style. Shankar, Bala and Mani Ratnam are directors I'd like to work with. There are of course many others that I can mention but these would be my top favourites. Oh, and there are so many new directors coming forward every day that are doing great things. I can think of at least 25 just in Tamil whom I would like to work with. The current crop are doing some wonderful films."
Does she have any favourites in terms of industries? "I've mostly worked in Tamil and Telugu industries. I've only done one Hindi and one Kannada film so I can't say much about them. I've lived in Chennai all my life and my mother tongue is Tamil so there is a soft corner for it and it is my comfort zone. When I stepped into Tollywood I was very nervous because I didn't know the language, people or city; but my experience was amazing, the people here made me feel so at home." With such a huge fan following in Telugu, it's no wonder that all her Tamil films are dubbed in Telugu. And the upcoming Diwali release Kodi alongside Dhanush is no different. The movie is all set to be out as Dharma Yogi in Telugu.
Dharma Yogi
This is the first time ever that audiences will be able to see this talented actress play a character with markedly negative shades. Speaking of it Trisha said, "I haven't attempted a role like this before so I was a bit hesitant before I signed the film. Dharma Yogi is a political thriller; it is a very raw and real film with no masala. Because of this, a lot of care had to be taken to ensure that the negative shades weren't overdone or underplayed – that would result in mockery. There are three to four instances where we, as in my director and co-stars, had to really work to ensure that we captured the reality of such a situation. It was definitely a challenging experience."
Favourite Role
With a career of 17 years, it is a surprise that we are just now getting to see Trisha in a negative role. Of course there have been many unforgettable characters that she's played already. Take for example Sailu from Varsham. When this stunningly beautiful village belle stepped into the rain, there was just no looking away. We wondered which of her roles she was most attached to. "To be very honest so many people have told me that the rural subjects and roles suit me but having been born and bred in a city I didn't see it that way at first. I think the credit goes to the directors for making me seem so real. I am generally more comfortable playing modern roles because that's very me. Favourite characters in Telugu would be from Varsham, Nuvvostanante Nenoddantana and Aadavari Matalaku Arthale Verule. With Dharma Yogi releasing, I have to say that regardless of its success or failure, my role in it will always be special to me. To me it's more about the dimensions of the character rather than worrying about whether it is the heroine or not." Spoken like a true star!
- Maya Nelluri