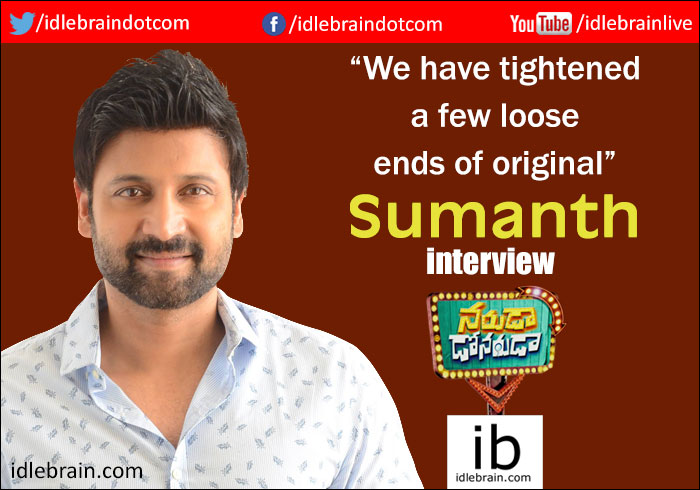 2 November 2016
Hyderabad
Sumanth tells exposes his true self and speaks his heart out in this exclusive interview that's centered around his 4 November release 'Naruda DONORuda' -
There has been a gap of almost 3 years (2 years and 9 months to be precise) since your last film Emo Gurram Egaravachu was released. Why is there so much gap?
Golkonda High School was the last good film I had acted in. After that I have acted in 3 unsatisfactory films because I compromised myself by picking up the better script available for me rather than waiting for the best script. I did those films as I wanted be visible in market. After Emo Gurram Egaravachu, my grandfather passed away and it added to the gap as well. My decision to wait for the right film coupled with a few other events are the reasons for this gap. We have been working on this film for one and half year (including pre-production work).
Producer of your earlier film (John Sudheer) is co-producing this movie as well?
Emo Gurram Egaravachu was an abandoned ship which John Sudheer took over. It was beyond repair when he took over it as producer. I told him in advance that there is a serious problem with second half and it would not work at box office. May be, he saw honesty in me and decided to chip in for this film though the earlier film was a failure. He is also producing 3 other films simultaneously. The producers of this film gave us complete freedom from production side. John Sudheer came to sets for a couple of times. Supriya didn't visit sets at all.
What made you pick Vicky Donor as remake?
I liked the film Vicky Donor from the word go. My grandfather also liked the film immensely when he watched on TV. It was the second last film watched by ANR. The last he watched was 'Gravity'. But, I had to stay away because it was being pursued by other producers and other actors. There were announcements by people like Madhura Sridhar. Lot of names (Siddharth, Nani, Sunil, Varun Sandesh etc) were in circulation. For me an ideal romantic comedy is a film like Vicky Donor. Vicky Donor pushes the barrier for an Indian romantic comedy.
When I met Ram Mohan (Ashta Chemma producer), he has asked me to go to Mumbai and pursue about remake rights. I met John Abraham, who co-produced it with Eros International. They were also looking for capable people and they gave us rights.
Tell us about the director?
Mallik Ram worked with Mohana Krishna Indraganti and Srinivas Avasarala in the past as an associate director. He has worked on production side for Ram Mohan for many years. He has worked in production line of Baahubali. He is sensible and has knowledge on production side also. He has done a brooding short film of a couple whose marriage is disintegrating. It's shot it like a serious Bengali art film. He has honesty in his work and he has a quirky sense of humor. It took us six months to write this movie.
You are perceived as a serious actor with no quirky side to you. Vicky Donor character is more about spontaneity and wickedness. Why did you choose this character?
Somebody said that I am ambivert (a cross between introvert and extrovert). I might look as an introvert for outsiders. But I am an extrovert among my friends. While doing this movie, I had to be an extrovert. I personally possess a lot of characteristics of Vicky. I didn't get this kind of script earlier. So, everybody thinks I am good with characters like in Godavari and Golkonda High School. The character in Naruda Donoruda was quite easy to play for me as I just had to behave.
Lot of people from urban areas have seen Vicky Donor in theaters. It's also available online for a throwaway price. Why should they watch a remake made in Telugu?
I can promise that Naruda Donoruda is at par with original. Vicky Donor is good in some aspects and Naruda Donoruda is good in another aspect. We have made some changes to the script and we bettered the original in that way. We heightened the drama in Telugu version. We have tightened a few loose ends in the original. It's not a xerox copy. But, we stayed true to the characters in the original. The soul of original will be there.
Vicky Donor is an universal subject because it deals with infertility problem. I know so many friends who has gone to infertility clinics. I have so many friends/doctors who work in infertility clinics. Lots of films had been made around the world in different formats on the same issue. There are films like Virgin (Vince Vaughn) and a popular american TV show that's based on sperm donation.
How is the business of the film?
We have shown the film to distributors and they bought the film for NRA after watching the film. I have made a decision to retain few territories because I trust the film. We are happy.
Do you plan to stay single forever?
I am very happy being single. I have no urge to get married. There is no biological need to procreate children and have a family.
What's your next film?
I have 5 to 6 options. But, I am playing the waiting game. My plan A is to get good original scripts from our writers. My plan B is to remake content based films from other languages. I am open to content films if I were to produce. If I were to act, I am open for anything. I am willing to do a negative role if its author-backed. It can't be caricaturish. If nothing comes along my way, I will be happy to produce a film with good content and release it using the infrastructure we are having and without burning my pockets.